This post may contain affiliate links which won't change your price but will share some commission.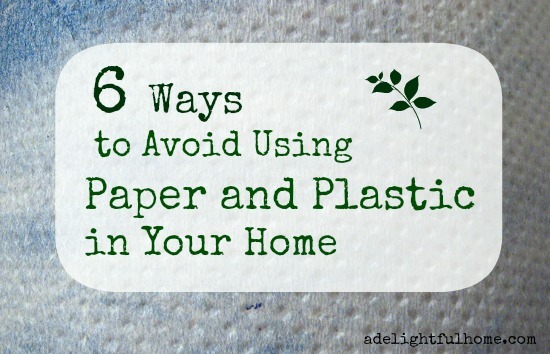 This is a guest post by Hilary Kimes Bernstein of Accidentally Green
While I worked my way through college, being a grocery store cashier was one of my many jobs. Plastic grocery bags had just become popular, and "Paper or plastic?" was a question I could repeat in my sleep.
Now that I'm a wife and mother, I'm trying to make healthy and frugal choices in my home – and I try to avoid using paper and plastic.
Here are six of the easiest ways I avoid using them:
1. Cloth napkins
When my firstborn was old enough to scoot around my kitchen and tear into our pile of paper napkins, I knew something had to change. I didn't want to waste money or paper – plus, the tiny shreds were time-consuming to clean up.
I made the switch to cloth napkins and have never looked back. I started with a dozen cloth napkins my husband and I received as a wedding gift, but have added to my stash over the years. (The frugal side of me loves finding cloth napkins at bargain prices.) I love that they wear well – they're sturdy for dabbing food off of faces or wiping off sticky hands. And after they're washed and dried, they look like new.
2. Dish cloths
I've always used kitchen towels, but within the past couple years I've started using dish cloths, too. My husband and mom had influenced me to stick with disposable scrubbers and sponges, but after being disgusted at the thought of germs, I bought a pack of dish cloths. I love using them. It's so easy to wash a sink full of dishes with them, clean up messy countertops and tables, then stick them in a load of laundry so they can be reused.
I've noticed a paper towel commercial has tried to discredit dish cloths by claiming they're covered in germs– that would be true if they were reused and rarely washed. Just be sure to wash and dry them after each batch of dishes, and you'll have a clean, cheap, and reusable solution.
3. Reusable glass containers
After investing in a couple sets of reusable glass containers, I've virtually eliminated using plastic wrap or aluminum foil. I used to depend on the disposable containers to cover leftovers. Originally I bought the glass containers so I could throw away every plastic container in my kitchen in an attempt to get BPA out of my home.
Now that I'm exclusively using glass containers, I also save glass food jars and bottles. The shapes and sizes can be a little odd, but they're free. And I've found they're perfect for storing homemade dressings, soups, and sauces.
4. Mama Cloth
I never, ever gave a second thought to disposable feminine hygiene products until I was working on my blog, Accidentally Green. My readers' endorsements of reusable feminine hygiene products prompted me to try Mama Cloth – and I've never looked back.
5. Cloth diapers
My children were cloth diapered since they were tiny infants – and except for some unexpectedly busy and chaotic moments in our lives, we tried to cloth diaper as much as possible. With all of the different varieties of cloth diapers that are available, many really are as easy to use as disposable diapers. Surprisingly, the laundering process isn't disgusting. (I promise.) The environmental benefits are huge – you're not adding tons of diapers to landfills.
6. Handkerchiefs
For generations, people wiped drippy noses with handkerchiefs – I knew I needed to try, too. During cold and flu season my family still uses paper tissues if we're frequently blowing our stuffy noses. But for sniffles or a good cry, I love using handkerchiefs because they're so gentle. And I adore my late grandmother's hankies, because they're so pretty and old-fashioned.
Your turn
What ways have you reduced paper and plastic use in your home?
Hilary has written about many other simple, affordable, and healthy choices her family has incorporated into their daily lives in her new eBook, Accidentally Green.