This post may contain affiliate links which won't change your price but will share some commission.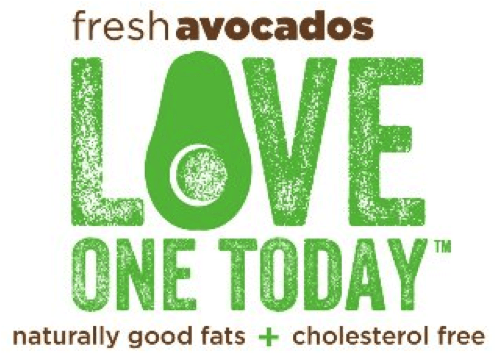 This is a sponsored post written by me on behalf of the Hass Avocado Board.
My husband jokes that if there is a gap in any food, I fill it with avocado!
He's right. I do.
And why not? Avocados are not only tasty, but seriously good for you.
I love that avocados are nutrient dense. They pack a powerful punch when it comes to delivering naturally good fats. In fact, over 75% of the fat in an avocado is unsaturated. Unsaturated fat is the good kind of fat. Nothing to be scared of there. Plus, avocados are cholesterol-free, which is another awesome bonus.
A few of my favorite (and simple) ways to use avocados:
Spread on toast and top with salt and pepper

Mash and add to pasta sauce
Add to sandwiches (super good on grilled cheese)
Make guacamole (add a little lemon pepper, it's delicious!)
Serve a few slices alongside scrambled or poached eggs
Add to salads
Add to egg salad (avocado-egg salad is really good! Serve over lettuce or in a sandwich)
Make avocado-chocolate pudding
In a smoothie (helps thicken and add creaminess)
Here is a fun way to use avocados: Bake eggs in them!
Baked avocado-eggs provide a nutrient-dense meal that feels like a special treat.
Avocado-eggs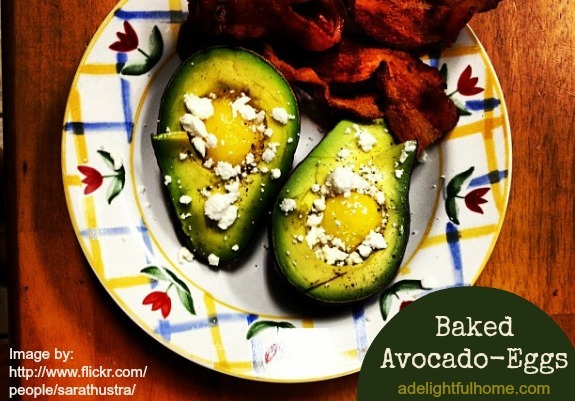 Image by CosmicOutlaw (changes were made to this photo)
Eggs and avocados are a great combination. I usually serve a few slices of avocado alongside my morning eggs, but you can go one step further and cook your egg right in the avocado. Here's how:
Heat oven to 425 degrees F.
Slice avocado in half and scoop out the pit and a little of the flesh, about 1-2 tablespoons (the goal is to make enough room for the egg. So, the amount you scoop out will depend on the size of the avocado).
Crack the egg and gently pour into the dip you have made in the avocado. Place in a small baking dish (even a loaf pan will work). Bake in the oven or 15-20 minutes (until the egg whites have set).
Sprinkle with salt and pepper, or even a little grated cheese (or Feta).
Do you love avocados too? If so, read on for a fun way to share the love: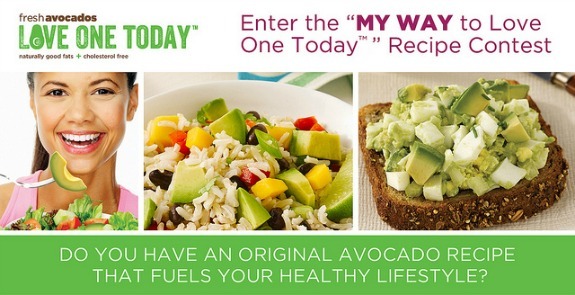 MY WAY TO LOVE ONE TODAY™ RECIPE CONTEST AND SWEEPSTAKES
Love One Today™ has a great recipe content and sweepstakes going on right now.
There are two ways to enter:
1. Share an original avocado recipe
2. Share a Love One Today™ story or tip
Here are the details:
RECIPE CONTEST:
Do you have an original avocado recipe that fuels your healthy lifestyle? Submit your recipe for a chance to win the following:
Grand Prize Package: $2,000 cash, a personal online coaching session with Harley Pasternak (celebrity fitness trainer, nutrition expert, and author) and fresh Hass Avocados gift baskets
Second Place: $1,000 cash
Third Place: $500 cash
Finalists: 7 finalists will receive fresh Hass Avocados
SWEEPSTAKES DETAILS:
Do you have an inspiring story about getting your loved ones to add fresh avocado to their diet?
Enter for a chance to win for yourself and to share avocados with someone you love. Prizes include:
1 of 4 prize packs including $100 and fresh Hass Avocados delivered to your door
Plus an additional package of fresh Hass Avocados delivered to someone you love
Click here to visit Love One Today™ and learn more about the benefits of avocados and share your tips and recipes!
This is a sponsored post written by me on behalf of the Hass Avocado Board.