DIY All-Natural Cleaner (made with Citrus Peels and Vinegar)
This post may contain affiliate links which won't change your price but will share some commission.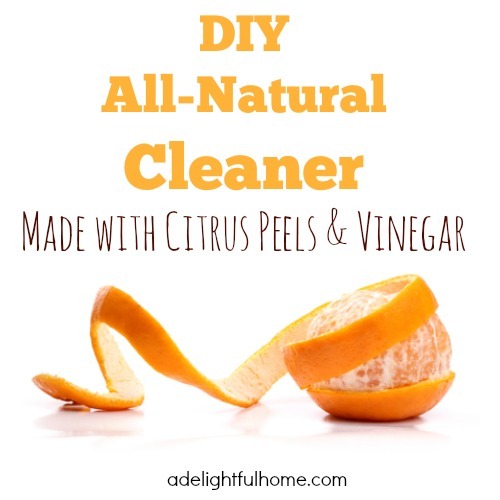 Vinegar is a powerful cleaner, but it doesn't smell very nice. The scent usually dissipates after the vinegar dries, but you still have to smell it while cleaning. Adding a few drops of essential oil will mask the scent and add extra germ-fighting power, but not everyone has (or can afford) essential oils.
Another option for making scented vinegar is to use fruit peels. Orange and lemon peels work best.
All you need to do is:
Fill a jar with fruit peels (use about 5 peels in a quart size jar or 10 in a ½ gallon jar)

Pour distilled vinegar over the peels
Screw on lid tightly and put jar in a dark place for about two weeks (10 days is OK)
Strain out peels and place your fruit-infused vinegar in a jar for storage
To use: dilute using 1 part vinegar to 2 parts water
For example: mix ½ cup vinegar with 1 cup of water
Pour into a spray bottle for ease of use
Use to clean most any surface (it works well on ceramic, porcelain, and laminate surfaces, but always test on an inconspicuous area before using on wood as it make cause discoloration. Not suitable for granite.)
To clean floor, mix 1 quart vinegar with 2 quarts water. 

Notes:
• Save up citrus peels as you eat fruit throughout the week or month. Just put peels in the freezer until you have enough
• Add herbs such as rosemary or mint to create custom scents
• Sprouting jar strainer lids make straining a breeze
Stacy is a DIY obsessed, healthy living advocate. A preacher's wife and mom of three, she loves to encourage others to live a natural lifestyle.
Latest posts by Stacy Karen (see all)