This post may contain affiliate links which won't change your price but will share some commission.
If you have a hard time getting the kids (or yourself) to take elderberry syrup or perhaps you just want to add some variety to your elderberry routine, try this simple elderberry gummie recipe.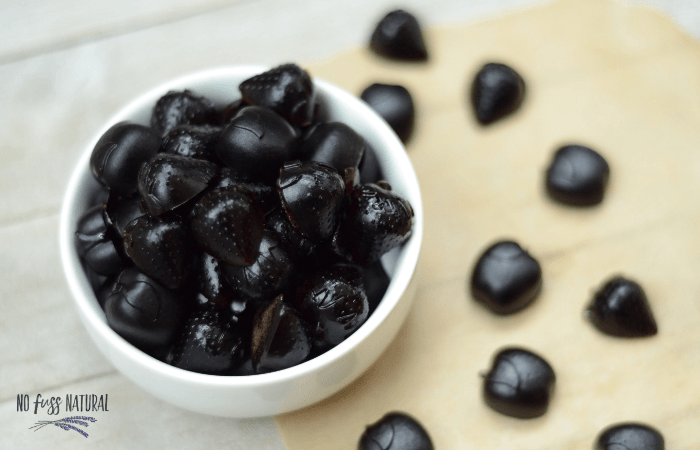 Besides boosting the immune system, these elderberry gummies are also great for the gut because of the beef gelatin that is included.
They aren't just for immune-boosting purposes, these homemade elderberry gummies can even pass as a sweet treat or small dessert!
The base for this elderberry gummy recipe is elderberry syrup. I use homemade elderberry syrup, which is super easy to make. Find the elderberry syrup recipe here.
Because the homemade elderberry syrup is sweetened with honey, these gummies also have a honey-taste to them. If you don't like honey, try my homemade elderberry and apple cider gummies recipe. The honey in that recipe is optional as the apple cider adds a lot of sweetness on its own.
The recipe I am sharing today for homemade elderberry gummies is one of the quickest recipes you can make if you've already got your elderberry syrup ready to go.
Why Make Elderberry Gummies?
Elderberries are high in vitamin C and well-studied as an option for supporting the body through a cold or flu.
You can see the results of one study on the use of Elderberry syrup to treat influenza here. It was shown to reduce the length of the virus. Results showed: and browse a number of others here.
"Symptoms were relieved on average 4 days earlier and use of rescue medication was significantly less in those receiving elderberry extract compared with placebo." (Source)
If you would like to browse other studies, you can do so here.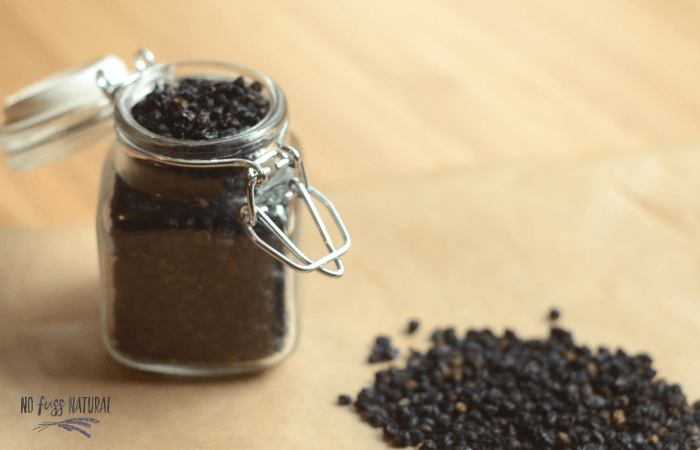 These studies are for the syrup, but we can expect similar results with use of gummies. The gummies are only adding a little extra water and some gelatin.
One reason to use gummies instead of syrup is if you and your children have trouble taking the syrup. Gummies are less messy and can be easier to administer.
You may also wish to have gummies available to add some variety. Perhaps taking elderberry syrup every day throughout the winter has become tedious… mix it up with some gummies!
---
Ingredients and Supplies for making Elderberry Gummies
To make this recipe, you will need:
(This post contains affiliate links.)
Elderberry syrup
This forms the base of the recipe and provides immune-boosting power.
I recommend making the syrup instead of buying as it is much less expensive that way (especially since you will be using an entire cup for the gummies).
Here is my homemade elderberry syrup recipe (to make it you will need elderberries, water, and honey).
Water
Filtered or distilled water is best.
Beef Gelatin
Beef gelatin is what holds the gummies together and makes them, well, gummies! The cool thing is, it doesn't just create the gummy-texture we are looking for, it also brings gut healing benefits.
I love the Perfect Supplements brand of beef gelatin as it is less expensive than many brands, yet extremely high-quality. It does not take like beef at all!
Perfect Supplements Discount Code:

Use code NOFUSS10 to get 10% off your entire order at Perfect Supplements.
Silicone Molds
Silicone molds work wonderfully for homemade gummies. I love (and use) this set of fruit shaped molds.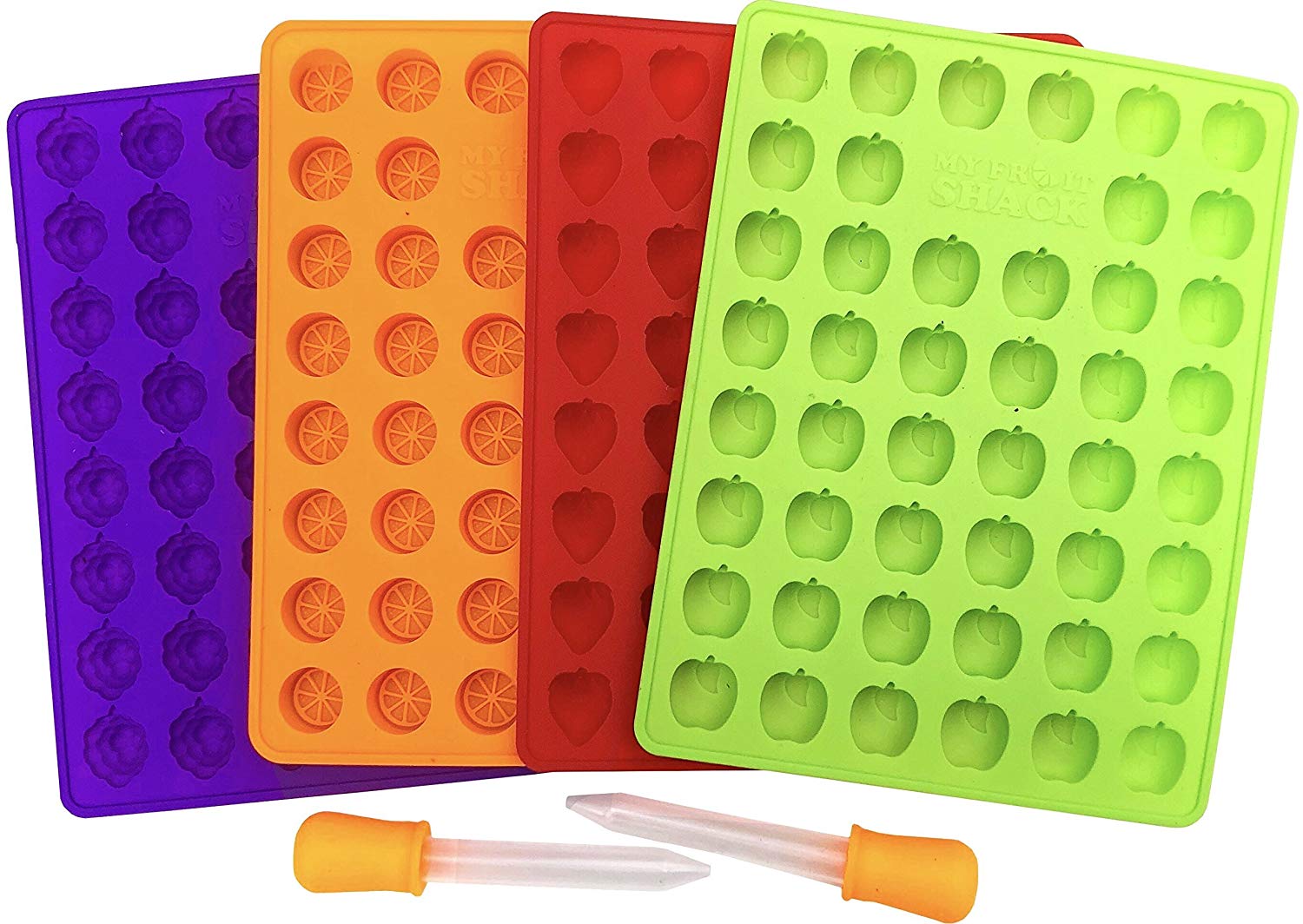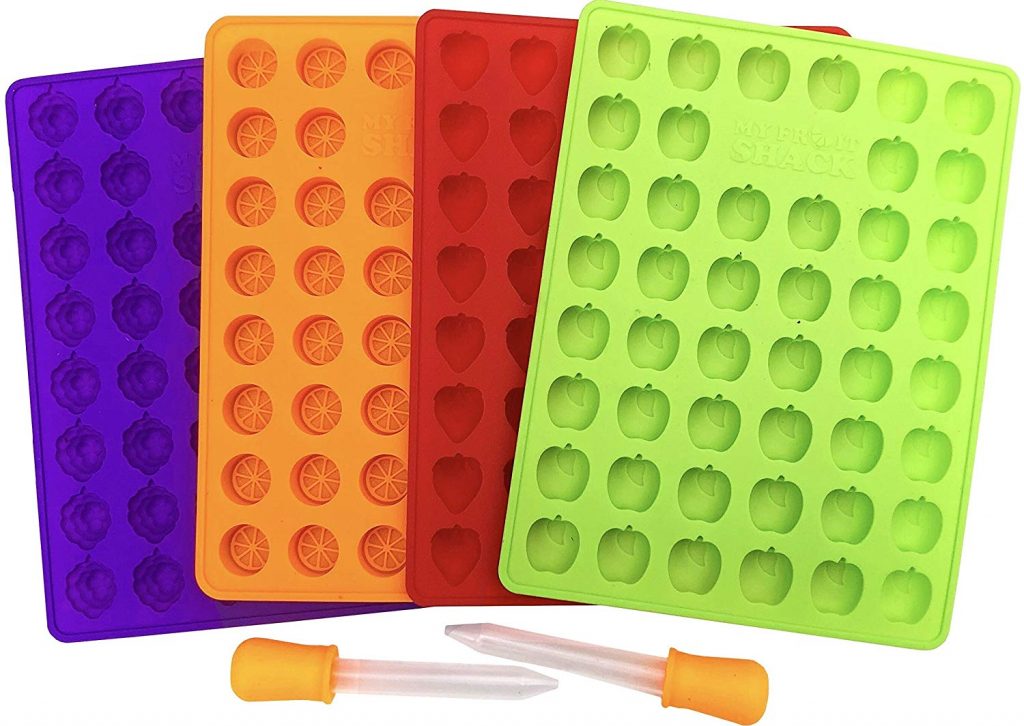 You can get all kinds of silicone molds for gummies. There are fun silicone lego molds, silicone heart molds, and silicone flower molds.
Large glass measuring cup with spout or bowl
I find these 4-cup pyrex glass measuring cups with spout to be the best option for making elderberry gummies. You need to work fairly quickly once the gelatin is added and the spout allows you to get right to pouring once everything is mixed. It also cuts down on mess!
Whisk
A whisk works much better than a spoon for stirring the gelatin into the hot liquid. Gelatin can clump very easily and a whisk helps keep it smooth.
Elderberry gummies recipe
Super easy to make and taste yummy. These homemade elderberry gummy recipes are good for the gut and great for the immune system.
Ingredients
1 cup of elderberry syrup (I use my homemade recipe here)
1/2 cup hot water
3-4 tablespoons gelatin (I use Perfect Supplements brand)
Instructions
Mix 1/4 cup of elderberry syrup with the gelatin and stir in the hot water. Once mixed well, add the rest of the elderberry syrup and stir again.
Pour into silicone molds.
Cool in the fridge until firm (at least 1 hour).
Dosage is between 1-3 gummies per day.