This post may contain affiliate links which won't change your price but will share some commission.
Fire cider recipes vary greatly, but all generally include spicy herbs and vegetables. Adding adaptogens to fire cider is a nice way to give this age old recipe an extra boost. I love adding astragalus because of its historical use in supporting healthy immune function, but other adaptogens work well too.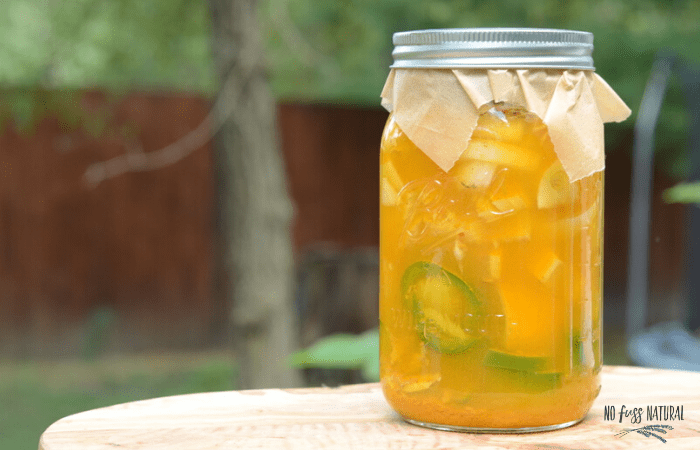 I also give my fire cider an enhanced benefits by adding Manuka honey.
What is Fire Cider?
Fire cider is a spicy, age-old, apple cider vinegar infusion that's often used throughout the winter months.
It's thought to enhance digestion, stimulate circulation, warm the body, and is generally supportive to the immune system during the cold and flu season.
There are many different recipes for fire cider and it can easily be adapted to suit your taste and preferences.
While fire cider recipes vary, most include a few staple ingredients such as horseradish, garlic, onions, ginger, peppers, and some form of citrus fruit.
Another fun addition to consider is an adaptogenic herb, like astragalus root.
The vinegar infusion usually sits for four weeks before it is strained.
Once strained, you may leave as is or add honey. This is entirely up to you and your taste buds. Some prefer fire cider unsweetened, while others can't bear to ingest it without the added honey.
Add honey a little at a time until the desired sweetened is reached. The most common amount is between ¼-½ cup of honey, but any amount that suits you is fine.
Rosemary Gladstar and Fire Cider
Fire Cider is considered a folk remedy passed down from person to person. Rosemary Gladstar is credited with creating and documenting the original fire cider recipe. There was a lot of controversy in 2019 when a company tried to trademark the term. It was taken to court and the company lost! So, fire cider is a free and usable term once more.
Rosemary Gladstar and a number of other herbalists got together and created a lovely book all about making fire cider called, Fire Cider!: 101 Zesty Recipes for Health-Boosting Remedies Made with Apple Cider Vinegar
It is a gorgeous book and packed with fun recipes, not just for making fire cider, but turning it into delicious soups, salad dressings, and beverages. Fire Cider! is a collection of 101 recipes contributed by more than 70 herbal enthusiasts. Besides recipes, it includes tribute songs and amusing anecdotes, capture Gladstar's passionate desire to pass along the fire cider tradition.
Why Add Adaptogens to Fire Cider?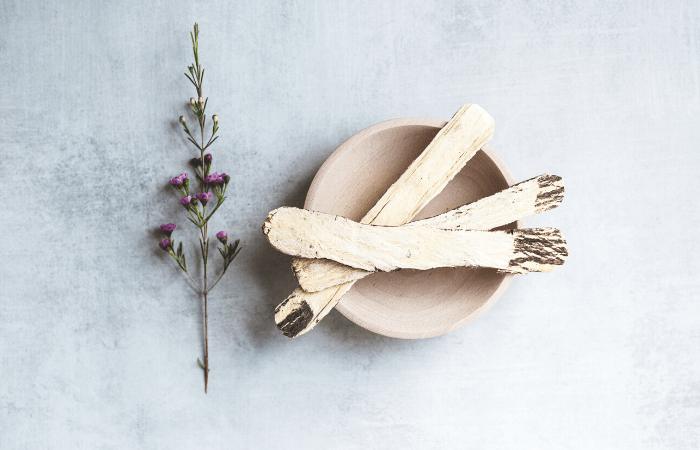 Adaptogens are wonderful for supporting the body through stress may strengthen overall wellness.
There are many adaptogens available these days with each having a slightly different energy and purpose.
Some adaptogens that work well in fire cider include:
Read more about adaptogens here.
I always purchase my adaptogens from Mountain Rose Herbs.
How to Use Fire Cider
There are a number of ways to use fire cider. Here are some of the most common:
Take as a type of "wellness shot" throughout the winter months.
Some take 1-2 tablespoons on a daily basis, while others only use when they feel illness coming on.
If a shot is too much, add to a glass of water or hot lemon tea.
Mix with olive oil and honey to make a salad dressing
Use as a marinade
Add to stews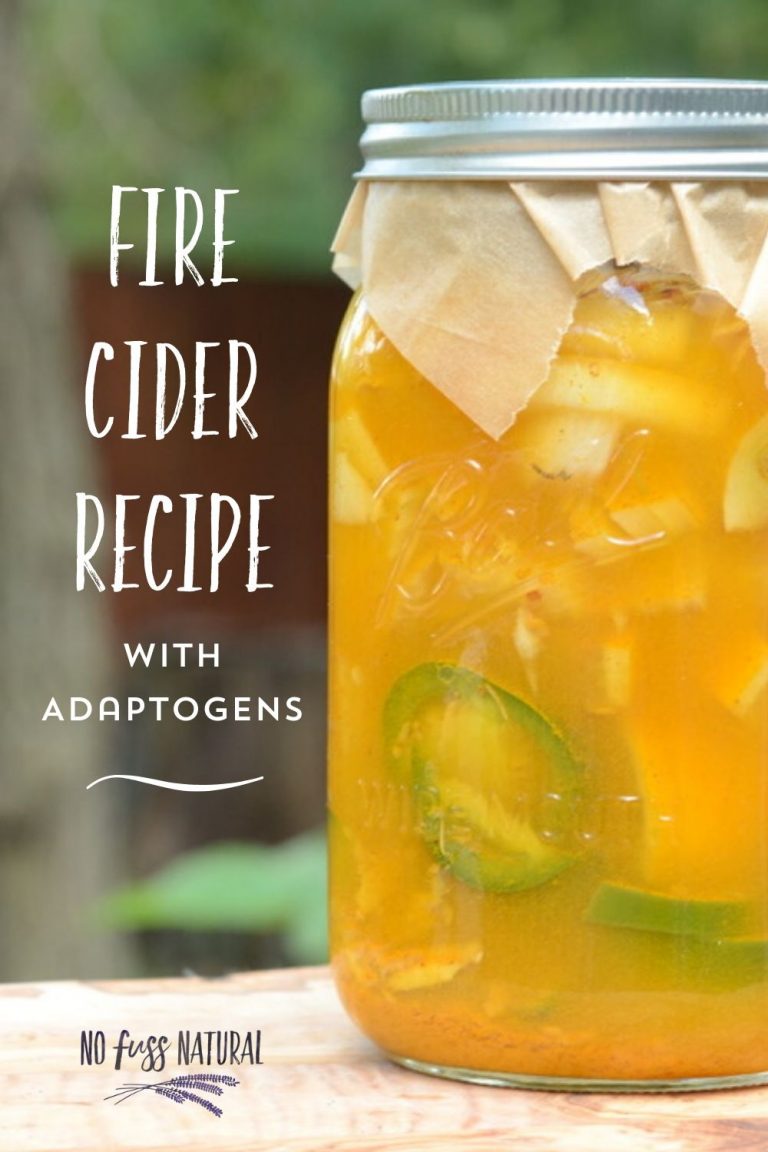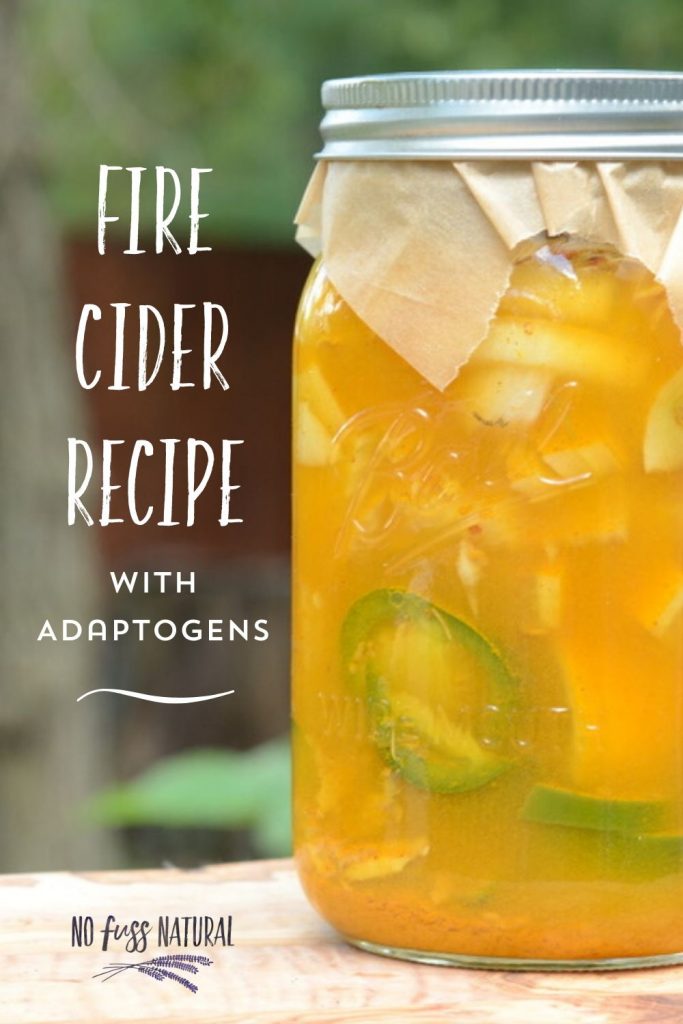 Fire Cider Recipe
Do remember that fire cider recipes can vary greatly, so feel free to adjust as needed.
Use organic ingredients whenever possible.
It is preferable to use raw, unpasteurized apple cider vinegar with the mother. Raw, local honey can also be helpful as it may support those who suffer from allergies. You may also wish to consider Manuka honey since it contains many befits as well.
Ingredients
½ cup fresh horseradish root (or 2 T. horseradish root powder)
½ cup ½ cup fresh ginger root, peeled and shredded or chopped (or 2 T. dried ginger root or powdered ginger root)
1 medium organic onion, chopped
2 organic jalapeno or habanero peppers, chopped
6-10 garlic cloves, crushed or chopped
½ cup fresh turmeric root, peeled and chopped, or 1 T. dried Turmeric root (or Turmeric root powder, if others aren't available)
1 lemon
2 Tbsp dried Astragalus root or 2 slices Astragalus root (may use Ashwagandha root instead, if desired)
4 cups apple cider vinegar
Optional ingredients:
1 tsp. black peppercorns
1 T. dried rosemary
¼-½ cup honey (added after straining)
Tools and equipment
1 quart canning jar and lid
Cheesecloth
Mesh strainer
Bowl for straining
Natural parchment paper to place under lid to prevent rusting
Instructions
Prepare all fresh vegetables, herbs, and fruit by washing, then chopping or grating as stated above.
Place prepared ingredients in jar along with powdered herbs.
Pour apple cider vinegar over ingredients so it covers them by at least an inch or more. I pour vinegar up to the shoulder of the jar. It's important that all ingredients are covered generously with vinegar as some will expand. Ingredients need to stay submerged in vinegar to prevent spoilage.
If using a metal lid, cover top of jar with a square of parchment paper and then close with lid. Shake well.
Place jar in a cool, dark place and leave to infuse for four weeks. Shake daily (if you can remember!)
Place mesh strainer over a bowl and line with cheesecloth. Pour cider through strainer and discard vegetables and herbs.
If you wish to add honey, do so now, adding a little at a time until mixture suits your taste.
Pour liquid into a clean jar and close tightly with lid. Be sure to add a label.