This post may contain affiliate links which won't change your price but will share some commission.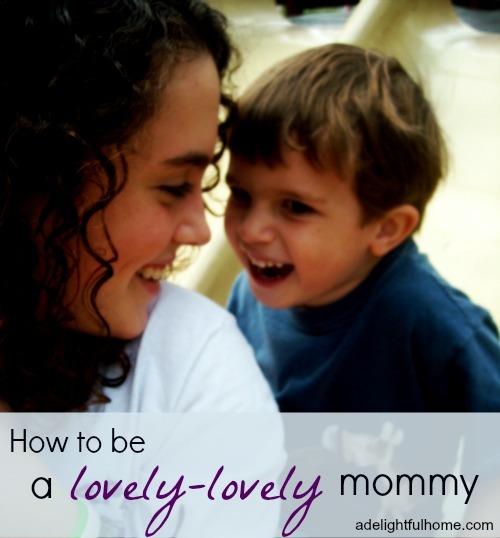 I stumbled across the living room in the early morning, trying to scoop my 3 year old from her bed before she woke her siblings.
She likes to call, "Mommy" as soon as her eyes open.
I sat her on the counter to chat with me while I got the coffee ready then proceeded to turn on my iPod.
On those mornings, when I'm extra tried and groggy, scrolling through Facebook, email, and Instagram helps me wake up.
It didn't take long for my little girl to say, "Turn your iPod off, mommy."
I said I would, in just a minute.
After MORE than a  minute she demanded again, "Turn your ipod off Mommy." It wasn't in a mean or grumpy voice. In fact, her tone was sweet and expectant.
I knew I should turn it off. And I did. But I didn't want to. I wanted to read and look at pictures.
After setting it aside, I looked in her sweet little face. She exclaimed, "Lovely, lovely mommy" and jumped into my arms for one long squeezing hug.

Oh, the reward!
Then I remembered . . .
Making our kids feel loved is not complicated.
It may not be easy, but it's not complicated.
The gist of it is: pay attention to them.
Yes, this can be difficult, and there are times when we need to do other things, but giving our undivided attention communicates love and importance to our kids like nothing else.
"Kid's spell love, T-I-M-E."
– John Crudele
It can't be rushed or glossed over. They need TIME. And lots of it.
All of us have the ability to be a lovely-lovely mommy. I want to be one. Don't you?
Here's my $0.02 for how to be a lovely-lovely mommy:
Spend plenty of time with your kids, playing , reading, listening.
Sometimes all you have to do is ask a simple question, or sit down next to them, and they will do most of the talking. Just be there. And show you are paying attention.
Turn off the computer and put the phone or iPod (or whatever electronic device distracts you) away on a regular basis.
Speak words of affirmation to your kids.
But make sure your spending TIME first. Or else your words will appear empty.
I'm sure there's plenty of other things we could do, but if we can focus on these, I'd say we're well on our way to being lovely-lovely mommies. And that's a good thing.
I love, love, love this quote and am striving to take it to heart (not always easy):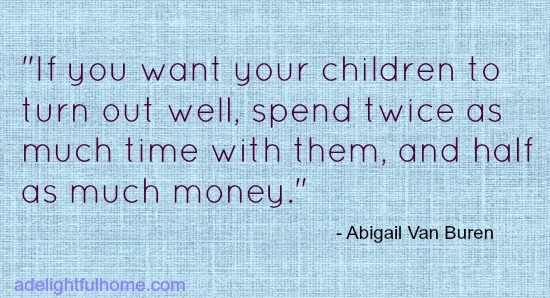 If you need more encouragement to turn off your phone and pay attention to you kids, I suggest you read these posts:
Dear Mom on the iPhone @ 4 Little Fergusons
How to Miss a Childhood @ Hands Free Mama
What would you add? How can we be "lovely-lovely" mommies?