This post may contain affiliate links which won't change your price but will share some commission.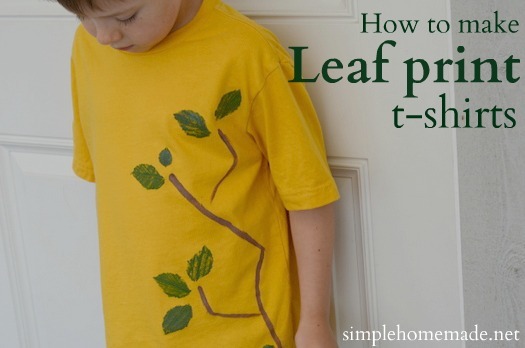 Last week I got a little carried away with some fabric paint and leaves. The end result was unique clothing for my kiddos.
Summer is the perfect time for picking leaves and creating one-of-a-kind, nature-inspired t-shirts.
The past few days I've had a delightful time doing just that. Besides allowing me a little creative expression, it's also provided my kids with frugal clothing that is unique and fun.
I hope this tutorial will demonstrate how simple it is to create your own works of art and inspire you to make some leaf print t-shirts, too!
You will need:

T-shirt
Fabric paint (not the 3-D kind)
Paint brush
Paper towels
Paper plate or other dish for mixing paint
Jar of water for washing paint brush
Cardboard or paper sack
Before beginning, read fabric paint instructions and prepare t-shirts accordingly. Many need to be pre-washed before painting.
Prepare workspace by covering with cardboard, newspaper, or an old tablecloth or sheet. Place paper sack or cardboard inside t-shirt to prevent paint from bleeding through to the back of the shirt.
Paint veiny side of leaf with fabric paint so it is well coated, but doesn't have a lot of excess paint (it will smoosh out the sides if there is too much).
If you accidentally put more paint on the leaf than is needed, dry off a paint brush and use it remove any excess or blot with a paper towel.
Once the paint is applied, turn leaf over and place on the t-shirt. Press down with your finger tips or cover with a paper towel and use the heal of your hand.
It is important to press over the entire leaf so that there aren't any blank spots. Also take care to keep the leaf still and not let is move side to side so as to get an accurate print of the leaf.
I found it most effective to cover the leaf with a paper towel and press down as this prevented my fingers from touching the t-shirt and making extra marks (since there was often a little paint on my finger tips from picking up the leaf. Perhaps you are neater than me and won't have this issue).
You might also try using a clean brayer to roll over the leaf to apply the paint.
Remove the leaf to reveal your print.
Repaint leaf and repeat above steps (most leaves can be reused multiple times). Thick, rubbery leaves can even be washed off and have different colors applied.
Once finished, follow instructions per your brand of fabric paint for washing and drying. Mine required four hours of drying before washing inside out.
I highly encourage you to spend some time experimenting with leaves, colors, and the amount of paint used to find what works and what doesn't. Some leaves that looked like they would make beautiful prints disappointed for one reason or another. Better to know this before applying to the t-shirt!
Think outside the box and try creating different leaf prints and patterns.
It's also nice to use multiple colors on one leaf:
Be careful, once you get started with leaf prints, every plain item in your home is fair game!
Other items to consider printing:
Pillow cases
Sheets
Table cloths or runners
Cloth grocery bags
Skirts and pants
Napkins
Aprons
Cards
Stationary
Journals
Bunting
Throw pillows
The possibilities are endless.
The kids will be wondering why leaves are showing up on all of their clothing!
{"type":"block","srcIndex":1,"srcClientId":"6a8a160f-19fb-484d-a68b-426491f5025e","srcRootClientId":""}