This post may contain affiliate links which won't change your price but will share some commission.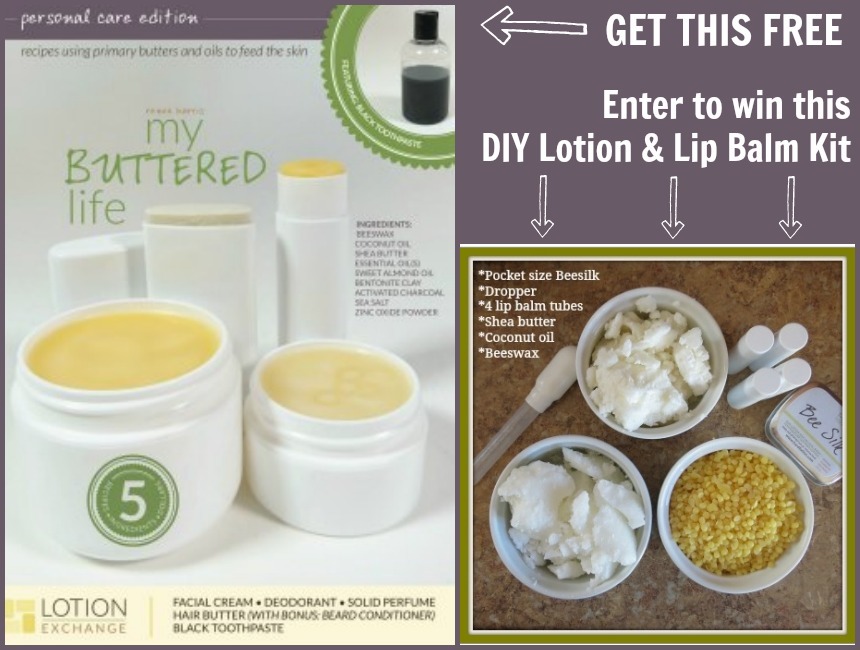 Do I have a treat for you today! Actually , I have two!
A few years ago I discovered MadeOn Hard Lotion bars. I was completely amazed at how a bar, that looked a lot like soap, could be used to moisturize my skin.
What?!
I was hooked.
It wasn't long before I wanted to make my own.
To my surprise, the owner and creator of MadeOn Hard Lotion, Renee Harris, actually shared the recipe on her blog!
In fact, she also let me share the Chocolate Peppermint Lotion bar recipe here some time ago.
I make them for gifts every year!
The best thing about this recipe is that it can be used to make lip balm as well.
One recipe, two products. So easy.
Whenever someone wants to get started with DIY natural body care I always recommend making body scrubs and lotion bars. They are two of the easiest. And they make great gifts.
First treat:
Get a FREE Copy of My Buttered Life: Personal Care Edition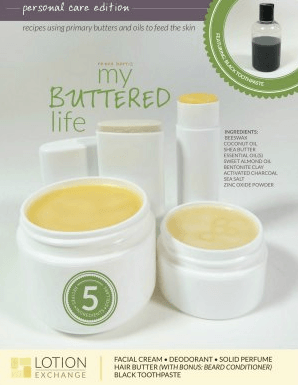 If you want to create your own natural beauty products, this ebook if for you! And Renee is giving offering it to my readers for free this week. How awesome is that?
My Buttered Life: Personal Care Edition includes recipe for:
Facial Cream
Deodorant
Solid Perfume
Hair Butter & Beard Conditioner
Black Toothpaste
The best part: each recipe has five ingredients or less!
Renee's eBooks are ones I frequently recommend because the recipes are uncomplicated and easy to follow. Grab it while you can!
Second treat:
Enter to Win a DO IT YOURSELF Lotion and Lip Balm Kit

Besides offering her ebook to everyone, Renee is giving away one DIY Lotion and Lip Balm Kit!
The DIY Lotion and Lip Balm Kit includes:
4 oz naturally refined shea butter or cocoa butter
4.5 oz beeswax
4.5 oz 76 degree coconut oil
4 lip balm tubes
one pocket sized Beesilk lotion bar (so you know what you're making)
a medicine dropper
instructions.
With this kit you'll be able to make a batch of lotion bars and lip balms for yourself or to give as gifts!
A Bonus treat:
Free Tinted lip balm and 10% off at MadeOn Hard Lotion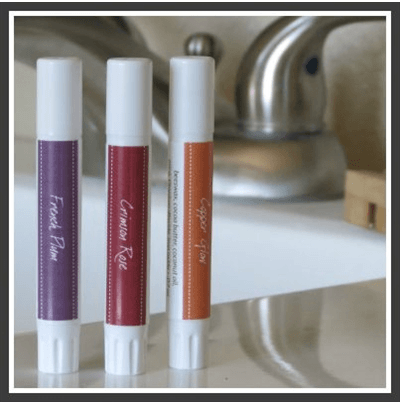 MadeOn Hard Lotion's October special is a free tinted lip balm on orders over $25.
If you want to get started on your Christmas shopping, or just get some natural skin care products for your own family, now is a good time to do so.
Here's what to do to get the lip balm for free:
Visit MadeOn Hard Lotion
Add enough products to the cart to reach $25
THEN add a tinted lip balm  (the lip balm is free, no code needed)
To get 10% off use code: delightfulhome
ENTER to win a DIY Lotion and Lip Balm Kit using the Rafflecopter below:
Giveaway open to US Residents only.
Giveaway ends on Wednesday October 21st, 2015.
Note that some entry options may be completed daily.
Want another opportunity to win? Renee is also running a DIY kit giveaway this week. You'll see it pop up when you visit the .
Don't forget to grab a copy of your free DIY Personal Care ebook here.
This is Day 15 in the 31 Days of Natural Beauty Series.