This post may contain affiliate links which won't change your price but will share some commission.

What is tamanu oil?
Tamanu oil is a beautiful green oil that is wonderful for homemade body care products.
It is an in-edible oil extracted from the fruit of the Tamanu tree (a Polynesian tree). This thick, rich oil has a strong scent and is slow to absorb into the skin. It has a shelf life of about two years.
High in essential fatty acids, Tamanu oil is extremely useful in nourishing dry, damaged skin.
This deep, green oil also has anti-inflammatory, antimicrobial, and antioxidant properties. Many believe Tamanu oil may promote new tissue growth. It is often included in preparations for scars, cuts, abrasions, and rashes as well as preparations for inflammatory skin conditions like acne and eczema.
Tamanu oil is suitable for most skin types as is often favored by those with irritated skin.
Those with allergies to tree nuts should use caution when using Tamanu oil.
How to use tamanu oil
If you're wondering what is Tamanu oil used for, I'm hear to tell you there are many options!
Tamanu oil works well for a variety of skincare applications. It is especially useful in:
Anti-aging skin regenerative serums
Acne-soothing facial serums
Stretch mark creams
Moisturizing creams
Dry skin lotions
Rash ointments
Facial Scrubs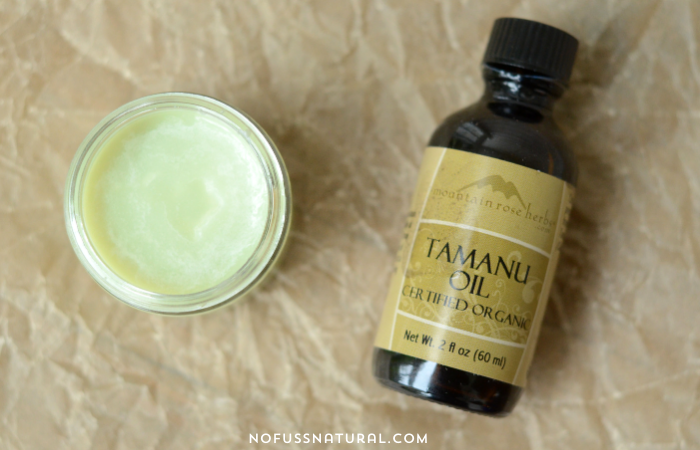 Tamanu oil for skin
For the skin, Tamanu oil shines as a nourishing addition to facial serums. It is often included in small amounts due to the strong aroma.
It is useful for other skin applications beside the face and is excellent in body scrubs, body butters, and balms.
Tamanu oil for Acne
Tamanu oil may be useful in facial serums and washes created for acne-prone skin. It is also helpful for acne scars. A balm or serum made with tamanu is one option for treating acne scars.
Tamanu oil for Hair
To moisturize and encourage strong hair, create a simple tamanu oil hair mask by applying a small amount of the oil to the scalp and brushing through to the ends. Leave on for 10 minutes and rinse off in the shower.
How to use tamanu oil on face
Tamanu oil is easy to incorporate into your skin care routine as it has many uses for the face. Some of the easiest ways to use tamanu oil on the face are to add to facial serums and include in face masks and facial scrubs.
Where to buy tamanu oil?
I purchase Tamanu oil from Mountain Rose Herbs. It is available in a variety of sizes and comes in a dark amber bottle.