This post may contain affiliate links which won't change your price but will share some commission.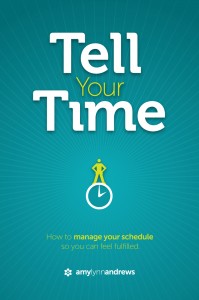 I've already talked about what a great impact the book Tell Your Time by Amy Lynn Andrews had on me. It truly opened my eyes to how I was really spending my time and helped me see that I was not living my life in a way that matched my priorities.
If we want delightful homes, we must be intentional with our time. We can't let life slip us by. Nor can we allow the urgent to direct our days.
With some thoughtful reflection and careful planning, our lives can reflect our true priorities.
In Tell Your Time, Amy shows us how.
I think you will all love Tell Your Time! It is a quick (yet powerful) read. (I devoured all 30 pages in one afternoon. ) Following the principles will change your life.
Seriously.
This book is one of my all-time favorites! It's practical, to the point, and motivating!
If you'd like to win a copy of Tell Your Time, leave a comment below.
For extra entries (leave a separate comment for each):
Follow Amy on twitter (and get lots of awesome blogging tips)
Tweet about the giveaway
Subscribe to A Delightful Home via RSS or email
If you can't wait and just want to read it right now, Tell Your Time is only $3.99 (totally worth it!).
This giveaway will end on Friday at 5pm PST.