This post may contain affiliate links which won't change your price but will share some commission.
Since re-locating earlier this year, I have found myself printing maps frequently. A trip to the park, MapQuest. A trip to pick up my co-op order, MapQuest. A trip to hunt down the location of Trader Joes, MapQuest. And on and on it goes.
I don't seem to remember my way around very well. Perhaps this is because I am so often talking to my children while driving. Or they are talking to me. Whatever the reason, I have found myself re-printing maps to places I've been before! This is far from convenient, a waste of paper, and definitely a waste of time.
If I'm not re-printing, I'm digging around under the seat or in my purse looking for that map I know I had!
So, I started a little car binder.
It is nothing fancy, just a bunch of printed out maps in a three-ring binder. But you know what, it works for me. I can find them when I need them!
Sometimes it's the simple things that help the most. Why it takes so long to come up with solutions like this, I will never know.
So, back to the binder. You could make it more organized and fancy if you like. Put in dividers for stores, friends, physicians, and so on. It doesn't seem necessary though. But if a few dividers help you, then go for it.
The only extra thing I do, is to type in the address and phone number of my destination in the top corner, which is titled "Notes" (picture below). Occasionally there might be some other pertinent information that goes there too. For example, I might put, homeschool park day, 2-4 every other Friday, on the map to the park.  With MapQuest, you need to click the box that says "Print Without Advertisement" for the Notes box to show up so that you can type in it. There is a small, badly drawn, blue arrow next to that area on the screen capture below).
For this example I pretended I was going from Gallup, New Mexico to Disneyland in California. I don't live in Gallup, and have never been to Disneyland, but it seemed like a good route to map out anyway (hee).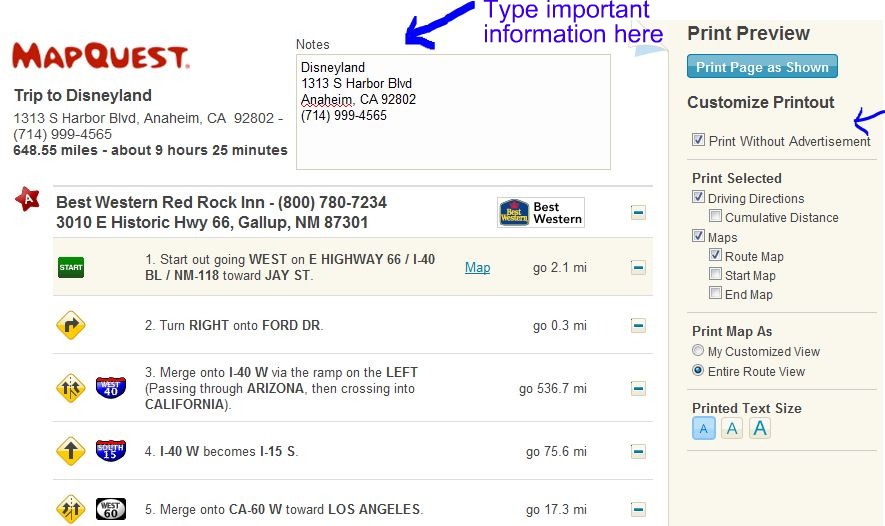 (Click image to see larger)
Do you have any tricks for keeping your maps organized? Do you even need maps? I'd love to know!
This post is linked to Works for Me Wednesday at We are THAT Family.