This post may contain affiliate links which won't change your price but will share some commission.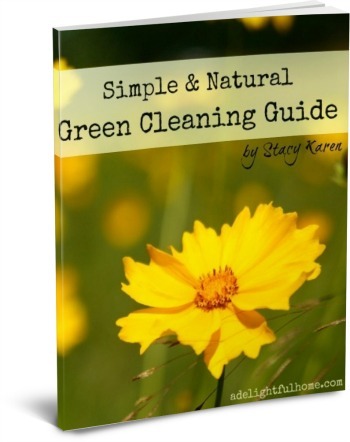 I'm starting an email newsletter, and to celebrate, I've got a free eBook for subscribers!
Want to learn the basics of natural cleaning? Need some cleaning recipes to get you started?
Then you'll enjoy my new eBook: Simple & Natural Green Cleaning Guide.
It's free for my newsletter subscribers for a limited time.
Just subscribe below for instant access.
What's inside?
This 24 page eBook includes practical information to get you started on your green cleaning journey. There's recipes for cleaning the bathroom, kitchen, and walls, floors, and carpets, as well as all-purpose cleaners that will make your life so much easier (and greener)!
Not sure about the newsletter part?
Well, let me assure you, I'll only send you newsletters a couple of times a month, and will be sharing helpful information to encourage you on your journey to a delightful home.
Newsletter subscribers will enjoy free eBooks, like this one, every few months.
Plus, you can unsubscribe at any time.
So, there's not much to loose!
And, I hate spam, so you don't have to worry about that. I'll never share your email address.
Fill out the form below to sign up and get your free eBook!