This post may contain affiliate links which won't change your price but will share some commission.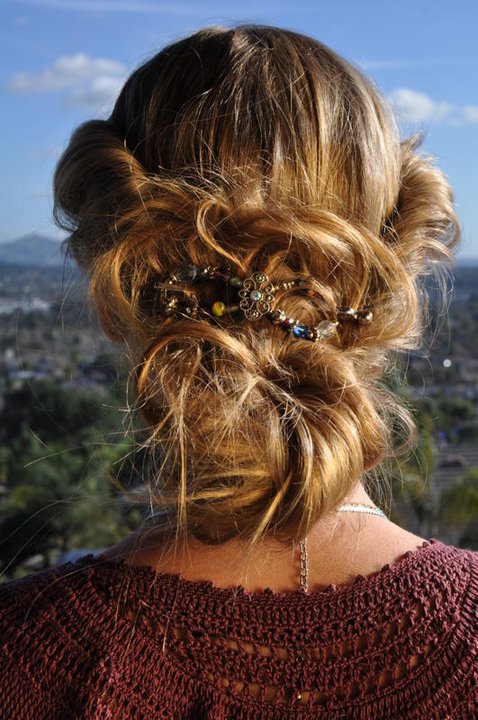 There are many days when I just don't have time to much with my hair.
In the past I'd just put it up in a ponytail (and not a pretty one, either).  In fact, it wasn't really a ponytail because I don't think I ever brought the hair all the way through the hairband. It was more like wading up my hair at the back of my head.
It didn't help me feel very attractive. I can tell you that.
A few years ago I came across Lilla Rose Flexi Clips.
Now when I don't have much time to do my hair, I put it up with a flexi. The flexi clips are pretty and help me not feel like a frump! They are quick and easy to use, so it doesn't take anymore time than the ponytail/hair-wad thing I used to do.
Take a look: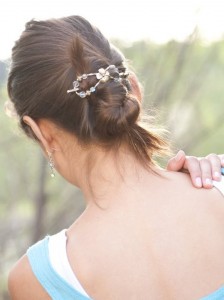 (This is not me. Do you know how hard it is to get a good picture of the back of you own head?!)
There are lots of different styles. This is the one I wear most often:

It's the Antique Band Flexi-Clip. I love the simple, rustic look.
The Flexi-Clips come in a variety of sizes, so they fit perfectly. I like to use mine to put all of my hair up, but they can be used for ponytails, and look lovely in a half-up: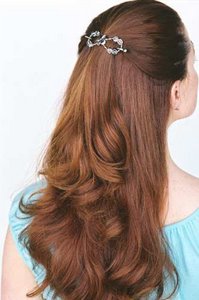 Besides using the flexi-clips for a few years (and let me tell you, they last very well. I haven't had to replace one yet), we have also enjoyed the bobby pins.
Lilla Rose consultant, Sue Ellen, sent me some pretty butterfly bobby pins to try. I love how they look in my daughter's hair: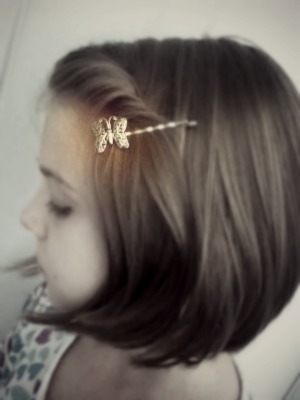 One of my favorite things about Lilla Rose hair accessories is that they provide a simple way to dress up your style. Kind of like throwing on a dress and everyone saying you look nice . . . you know it only took 5 minutes to get ready, but it looks like you put a lot more time and effort into it.
These would make great Mother's day gifts!
The Giveaway
Sue Ellen is giving away one item, any item, from her store (that costs $16 or less). Winner will be responsible for shipping costs.
To enter, use the rafflecopter widget below (Email subscribers will need to click through to see it).
Giveaway will end on Sunday at 11:59pm PST  (4/28/13). Open to US residents only.