This post may contain affiliate links which won't change your price but will share some commission.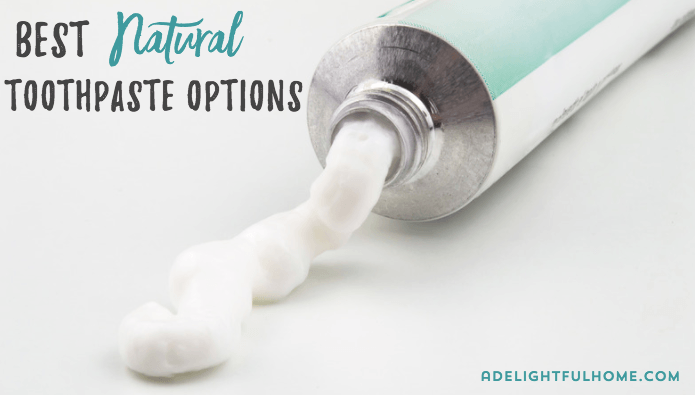 Have you ever flipped over your toothpaste tube and read the warning on the back?
The first time I did it, I was surprised and confused.
Most conventional toothpastes say something like this:
"Keep out of reach of children under 6 years of age.
If more than used for brushing is accidentally swallowed, get medical help or contact poison control center right away."
Wait, what?
Why am I putting this in my mouth every day? And why am I giving it to my kids (older than 6) to put in their mouths every day?
Some of the worst ingredients in toothpaste include:
Triclosan – which is thought disrupt hormones
Sodium Lauryl Sulfate – which has been linked to skin irritation and even cancer
DEA – also linked to cancer (and is easily absorbed by the skin)
Artificial sweeteners – especially Aspartame (which is highly toxic)
Fluoride – is possibly toxic to the body (I'll save this discussion for another day)
I've had many a conversation in my head about this topic (yes, I know, I'm weird). If toothpaste carries such a strong warning, why do so many people use it will ill effects?
Is this something we should worry about?
Here is the conclusion I've come to and the reasoning behind it:
We need to brush our teeth on a daily basis.
Conventional toothpaste does contain some harmful ingredients.
We are ingesting a little of those ingredients each time we use toothpaste.
Our bodies are bombarded with toxins and chemicals every day, adding to our body burden (the accumulation of toxins in our body). This body burden makes us work harder each day. When we are trying to process so many chemicals, we are taking energy away from other functions.
If a simple switch can reduce that body burden, then I'm going to do it.
And I don't think we can confidently say that many people are using conventional toothpaste with no ill effects (as it may seem). These toxins build up in the body and can contribute to disease and general ill health.
Think Changing Your Toothpaste Is Too Small to Make A Difference?
Consider this: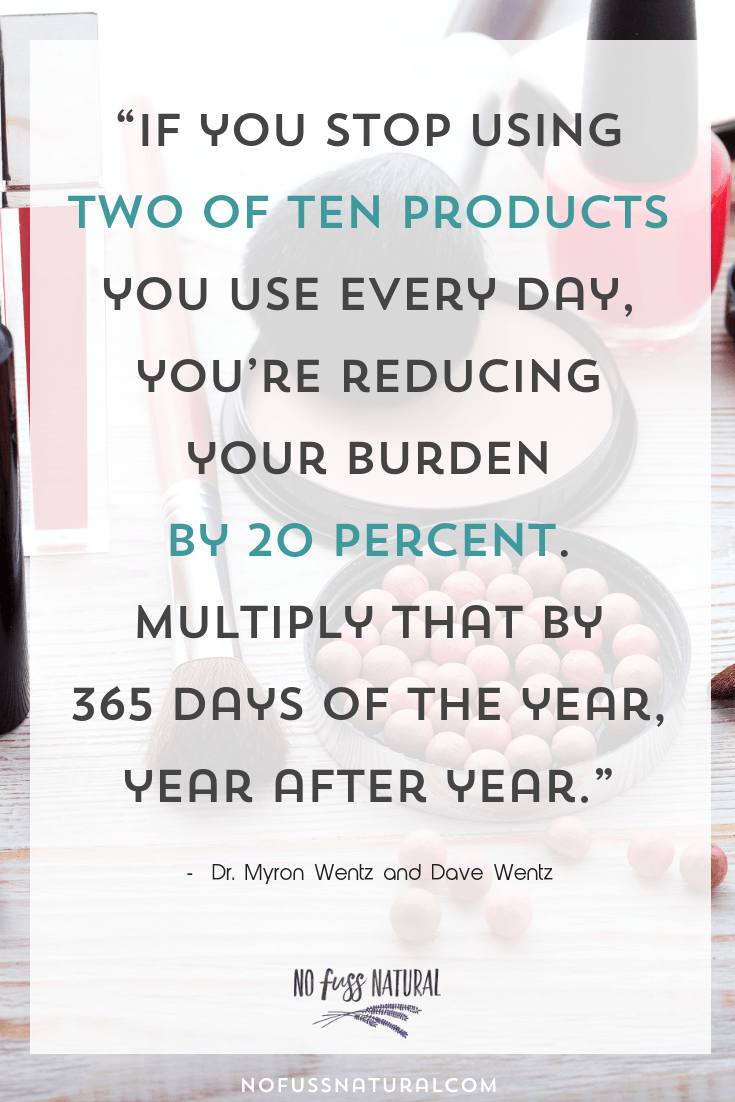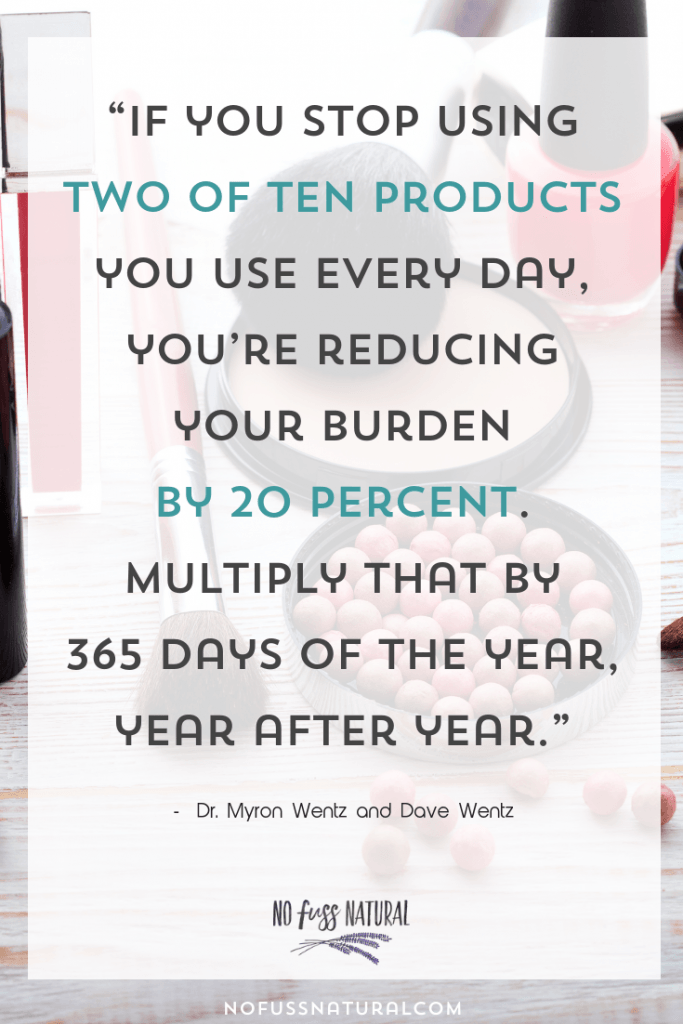 "If you stop using two of the ten products you use every day, you're reducing your body burden by 20 percent.
Multiply that by 365 days of the year, year after year."
– Dr. Myron Wentz and Dave Wentz (The Healthy Home)
Small changes DO make a difference.
They all add up.
As I encourage my students in the Natural Living for Beginners Course, just do what you can do right now. Make the easiest changes first.
They do have an impact on your health and the health of your family.
Switching out conventional toothpaste with a non-toxic version is one simple way to make a positive change.
How to Choose a Natural Toothpaste You'll Actually Use
When it comes to natural toothpaste there are many options, the problem is, some of the options are just too difficult for some of us to implement. One example is tooth powder.
Yes, tooth powder is great. It's actually very good for your teeth and quite effective, however, it takes some getting used to and can be a hard sell if you're trying to get the whole family on board.
Maybe one day you'll move on to tooth powders, but I don't think it's the best first step.
I mean, brushing teeth doesn't have to be super fun and exciting, it's not party time, but let's see if we can make it somewhat enjoyable (and not completely unbearable).
We need to think about ease of use as well.
If it's too hard to use a natural toothpaste, the chances of actually using it are pretty small. (Toothpowder is not really that hard to use, but is takes getting used to.)
If you are new to natural living, or just beginning to address natural tooth care, I suggest switching to something that's close to regular toothpaste.
Here are a few of my favorites:
All three have excellent ratings in the Environmental Working Group Database.
Davids Natural Toothpaste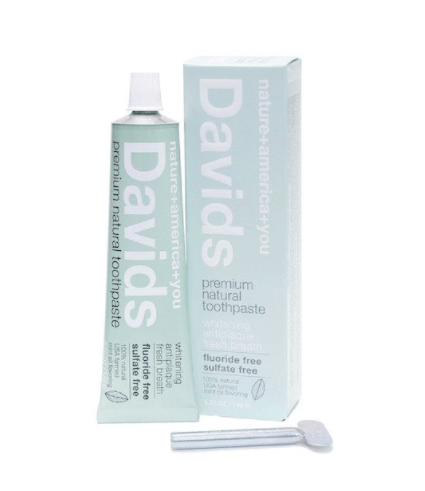 This toothpaste is the closest to feeling and tasting like regular toothpaste that I've found. It's free of fluoride and sulfates and has a wonderful minty flavor.
This toothpaste comes in a recyclable metal tube (yay for non-plastic!) which is so pretty. It's nice when the products we use every day are also pleasing to the eye. Each tube also comes with a metal roller to help you get all of the toothpaste out, so nothing is wasted.
The ingredients are 98% USA Origin Ingredients, which is awesome. The mint oil flavoring is USA farmed and the toothpaste itself is made in the USA.
Buying this toothpaste is not only a good way to avoid toxic chemicals, it also supports the American economy! Win-win!
Find Davids toothpaste at the Detox Market or Amazon.com
Neem Toothpaste from Desert Essence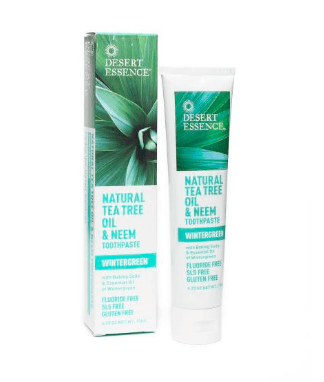 I love this toothpaste and have used it for many years.
It's pretty and white, just like regular toothpaste, and works very well.
Desert Essence Neem Toothpaste is free of sodium laurel sulfate and gluten, plus it includes the antispectic power of tea tree oil, which can help soothe oral inflammations, reduce gum bleeding, and slow tooth decay.
Buy Neem Toothpaste at Thrive Market or Amazon.com (it's cheaper at Thrive Market).
OraWellness Healthy Mouth Blend

If you're feeling adventurous, OraWellness Healthy Mouth Blend is a great way to enhance your toothpaste and really improve the health of your teeth and gums.
It's not toothpaste, obviously, but is still easy to use.
OraWellness Healthy Mouth Blend is a mixture of organic and wild crafted essential oils of: cinnamon leaf, peppermint, spearmint, clove, myrrh, and manuka in a base of certified organic almond oil (or certified organic jojoba oil for nut-free version)
Just add a few drops to your toothpaste.
It can be used as a stand-alone, but needs to mixed with baking soda. So, it depends on what you feel is feasible right now.
Learn more about OraWellness here (they have some great articles on natural tooth care). Their products are also available on Amazon.
It's worth it
It's truly worth your time and money to find a natural toothpaste you love. I know it can seem daunting to step away from the usual brands. But, the benefit to your teeth and overall health is worth it.
A quick note:
I've been ordering some of my personal care products (including toothpaste) from Thrive Market. It's a great place to get lots of healthy products, including skin care, beauty products, as well as tons of pantry staples and snack items.
Have you tried natural toothpaste? I'd love to hear about your experience!