This post may contain affiliate links which won't change your price but will share some commission.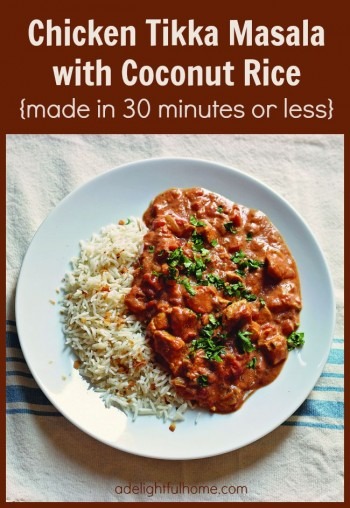 This Chicken Tikka Masala recipe is not only quick to make, it's full of flavor!
A tomato-based curry,  Chicken Tikka Masala, an Indian dish, is often thought to have originated at a restaurant in the United Kingdom, where it is now a favorite comfort food.
This recipe can be made in 30 minutes or less; it's great for busy nights.  This chicken tikka masala recipe can be made ahead and stored in the fridge for up to two days or in the freezer for two months. It is also gluten-free!
You could pair this with plain rice, but why not add some extra exotic flavor by using coconut rice? It's easier to make that you might think. Recipe below.
Chicken Tikka Masala Recipe
This recipe comes from Jessica Fisher's new book, Good Cheap Eats, Dinner in 30 Minutes (or Less!)
Ingredients
2 tablespoons olive oil
2 tablespoons butter
1 pound boneless, skinless chicken breast, cut into bite-size pieces
1/2 medium onion, chopped (approx. 1 cup)
1 teaspoon minced garlic
1 teaspoon chopped fresh ginger
1 serrano chile, cored and finely chopped, or more if you like it very spicy
1 (15 ounce) can petite diced tomatoes, drained
1 (8 ounce) can tomato sauce
2 teaspoons garam masala
1 teaspoon curry powder
1/2 cup heavy cream
Handful of fresh cilantro, chopped (approx. 1/4 cup), for garnish
Instructions
In large nonstick skillet, heat the oil and butter together over medium-high heat until the batter is melted. Add the chicken, onion, garlic, ginger and serrano chile. Saute until the chicken is mostly cooked and the onion is translucent, about 7 minutes.
Stir in the tomatoes, tomato sauce, garam masala, and curry powder. Reduce the heat and simmer for 10 minutes. Stir in the cream and heat for another 5 minutes. Garnish with the cilantro and serve.
Coconut Rice Recipe
Ingredients
2 tablespoons coconut oil or other vegetable oil
2 cups long-grain white rice
3 cups water
1 cup canned light coconut milk
Fine sea salt and freshly ground black pepper
½ cup coconut flakes, toasted
Instructions
In a large skillet with a lid, heat the oil over medium-high heat. Add the rice and sauté until it becomes opaque, about 5 minutes.
Stir in the water and coconut milk and bring to a low boil. Cover and reduce the heat to low. Cook until the liquid is absorbed, about 20 minutes. Fluff with a fork and season to taste with salt and pepper. Sprinkle the coconut flakes over the top and serve.
Serves 4.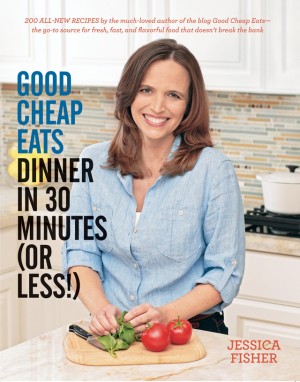 If you'd like to get healthy meals on the table without spending hours in the kitchen, you'll want to check out Jessica Fisher's new book, Good Cheap Eats, Dinner in 30 Minutes (or Less!).
It's packed with 200 delicious recipes that are fast and flavorful, as well as cost effective!
I own a number of Jessica's cookbooks and love them!
They are down-to-earth, no fancy, hard to find ingredients included!
Plus, each cookbook is laid out in a way that's super easy to read and navigate. The recipe instructions are always clear and uncomplicated. Which is perfect for my tired-mom-brain.
Good Cheap Eats, Dinner in 30 Minutes (or Less!) was just released (and is really inexpensive – last time I checked, it was less than $10 on Amazon!)!
This book helps save time in the kitchen and enables you to cook economically too!
It also comes with a number of bonuses, including:
What's your favorite dinner that can be made in 30 minutes or less?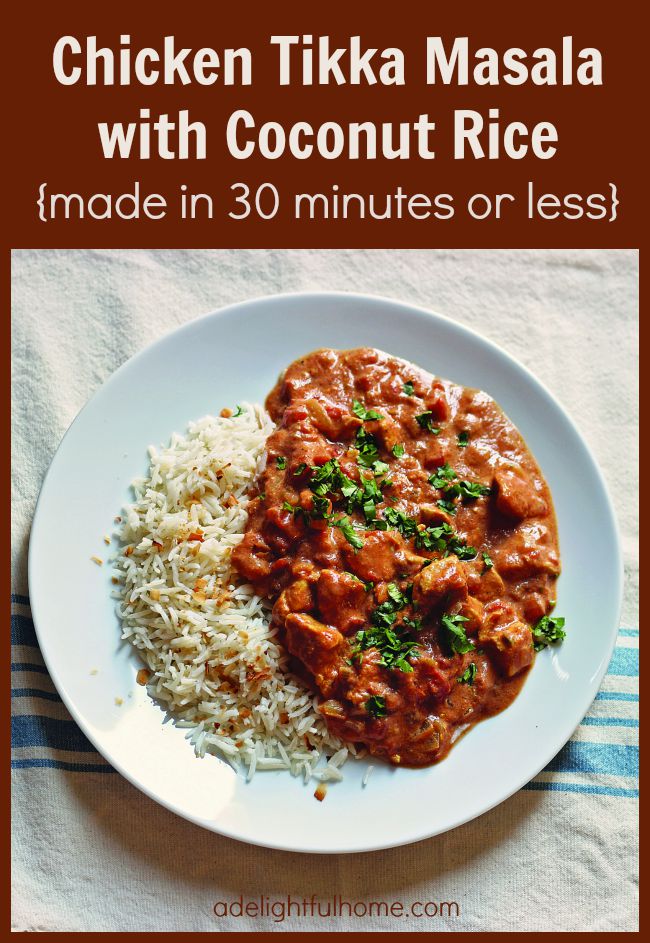 This post contains affiliate links.