This post may contain affiliate links which won't change your price but will share some commission.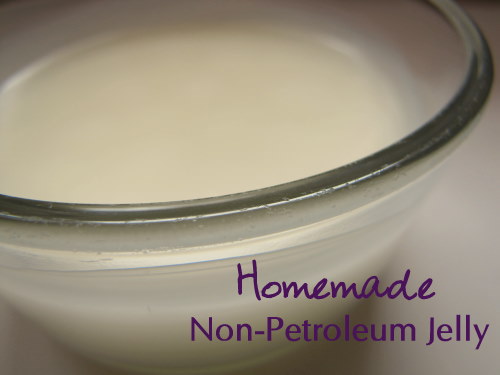 This is Day 2 in the 31 Days of Peace and Joy at Home Series
Does it seem weird that I'm suggesting you make non-petroleum jelly so you can have peace and joy at home?
If you know me in real life, you know I get really excited about this kind of stuff. Giddy, actually. It's ridiculous.
Here are the reasons making my own non-petroleum jelly brings me peace and joy:
Peace because I know exactly what ingredients it contains and I can stay far away from Vaseline (which is made from petroleum).
Joy because it is just plain fun to make something like this from scratch. It's so easy the kids can help.
I honestly think I'm addicted to the feeling of satisfaction that comes from making my own stuff.
If you make this, I'm certain you will feel very accomplished and smart!
How to Make Non-Petroleum Jelly

Ingredients
1/8 cup grated beeswax (about 1 ounce)
1/2 cup olive oil

Method
Combine beeswax and oil in a small saucepan. Melt over very low heat or in the top of a double boiler.

Pour into a jar to cool.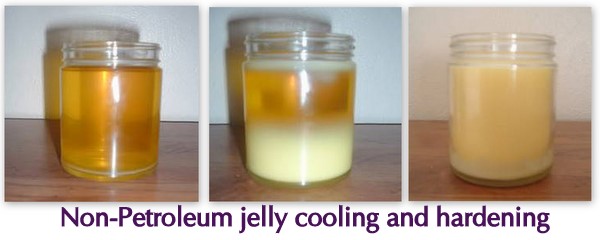 Kids will enjoy watching the mixture harden from the bottom up (I know I did).
Once completely cool, add lid and close tightly.
If you want a softer consistency, add more oil. It's okay to remelt the jelly after it has hardened. Just keep working on it until you are happy.
Some ways to use your homemade, non-petroleum jelly:
To smooth dry patches of skin
To provide a protective layer or barrier
Around your hairline when coloring your hair so the color doesn't get on your skin.
As a lip gloss
Any way in which you might use a petroleum-based jelly, like Vaseline.
Have you made non-petroleum jelly before? If not, do you think you'll give this a try?