This post may contain affiliate links which won't change your price but will share some commission.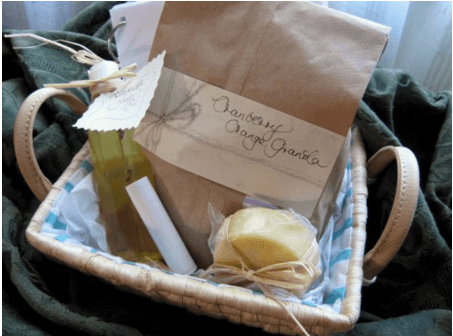 I'm currently in a sea of suitcases, frantically trying to get my family ready for our big trip to Australia! Posting will probably be more sporadic than usual. But I figure you are all busy too.
This week we had a very early Christmas with my husband's family, since we won't be together this year. (By the way, I got THE coolest tripod for my camera from my mother-in-law. She is wonderful.)
I made the above little basket for my sister-in-law.
It contains:
Homemade Lavender Body Oil
This stuff is super quick and easy to make. And from everything I hear, it is more effective than lotion when it comes to locking in moisture. It smelled lovely and I can't wait to make some more for myself after our trip.
If you want to make some, you can find the instructions at Crunchy Betty: Nourishing and Fragrant Body Oils
Hard Lotion Bar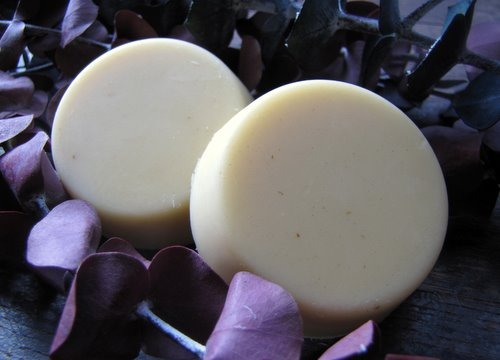 I LOVE these things. Just rub it between your hands to moisturize them.
Again, they are very easy to make. Just three ingredients. All you have to do is measure, melt and pour (which is the way it is for most of the body products I make).
One reason I like these so much is because they are unique. Hard Lotion is not a well known product.
I followed the instructions from Made On Hard Lotion Bars: How to Make Hard Lotion (video and written instructions)
Her recipe yielded 11 round lotion bars (I used a muffin tin for the mold).
Lip Balm
Made from my tutorial over at Saving Naturally: Natural Lip Balm Tutorial
Also, VERY EASY!
The basket also included a bag of homemade granola. I made Cranberry Pecan Granola from the Earthbound Farm Cookbook.
And last of all, since my sister-in-law is interested in trying out some homemade body product and cleaner recipes, I printed out Crunchy Betty's nifty recipe cards, added a title page and put a ring through them. Ta-Da!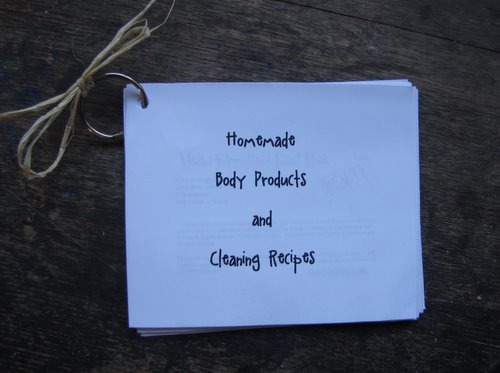 I later thought it would have been cool to print those out and give her some supplies for making a few of the recipes. Maybe next time!
After spending a good chunk of change on our tickets to Australia, we are striving to be as frugal as possible. I didn't calculate the cost of this little basket, but I'm thinking it was a good deal considering it would be quite pricey to buy all of those items from a store. Plus it was fun to make them!
What would you like to receive in a gift basket?
(Amazon links are affiliate links)