This post may contain affiliate links which won't change your price but will share some commission.
Flowering tea is a unique experience. The visual beauty is just as important as the tea itself.
If you are a fellow tea lover, you likely enjoy the ritual of making and drinking tea as much as the taste.
If you love ritual, then you'll love flowering tea!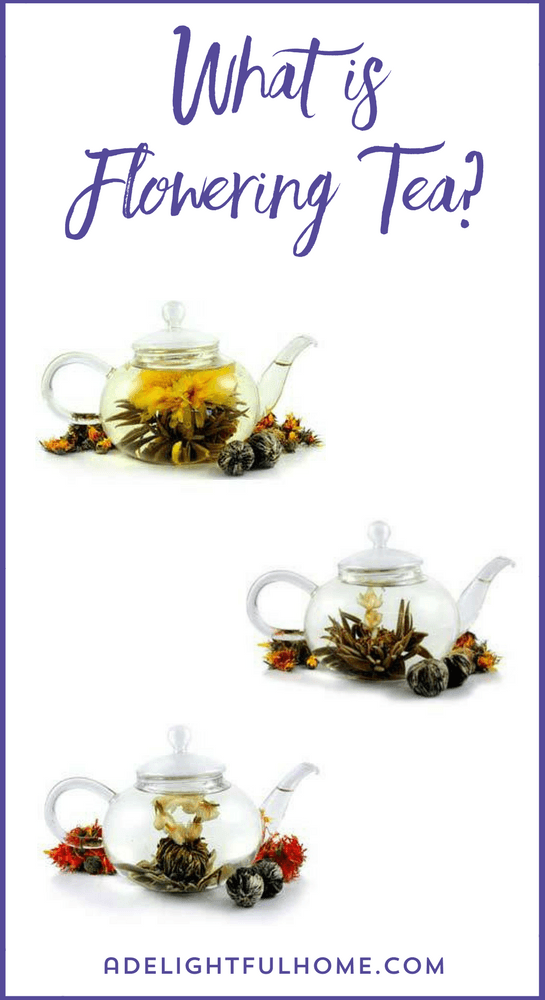 Flowering tea is also called Blooming tea, Blossoming tea, and tea blooms. Made by artisans in China, Flowering tea is created with tea leaves and edible flowers. These teas are fragrant as well as visually appealing.
How is Flowering Tea Made?
Tea leaves are wrapped around flowers such as Jasmine, Rose, Lily, Chrysanthemum, or Marigolds. They are then bound together with cotton threads and left to dry. This creates a small bundle, often in the shape of a ball, but different methods create slightly different shapes.
Once hot water is poured over the bundle, the tea leaves unfurl, revealing the beautiful flower inside.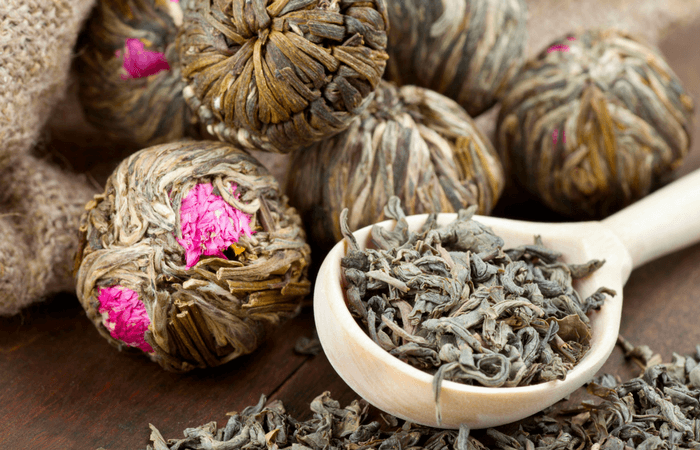 How to Brew Flowering Tea
This beautiful tea is brewed by placing a dried flower ball into a pot or cup of very hot water.
It can also be made by pouring the water first, then placing the tea ball into the pot or cup (instead of pouring water over the top).
In general, it takes 3-4 minutes for the flower to "bloom."
Because this is such a visual experience, flowering teas are after steeped in clear glass teapots, like this one.
Where to buy Flowering Tea
Mountain Rose Herbs carries three lovely flowering teas that are all organic and hand-crafted in the remote gardens of China's Yunnan province.
If you are new to flowering tea, I highly-recommend their Organic Flowering Tea Sampler Set (pictured below). It includes two flowering buds of each tea combination (8 buds in total).
The sample set comes packaged in an amber glass jar, which is great for a variety of uses once your tea is gone.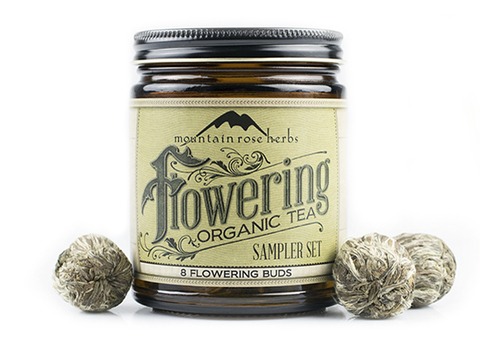 What Does Flowering Tea Taste Like?
Flowering teas don't generally have a strong flavor but are subtle and aromatic, although the strength will depend on how long you steep the tea.
Many flowering teas can be steeped 2-3 times in the same day, but will produce a less potent flavor with each brew.
Flowering teas are a nice treat and the perfect way to unwind. They make great gifts, especially when paired with a glass teapot or mug.
Many people find observing the tea ball bloom to be quite relaxing. It's certainly a good way to calm down and bring some peace to your life. Even if it's just for 5 minutes!