This post may contain affiliate links which won't change your price but will share some commission.
li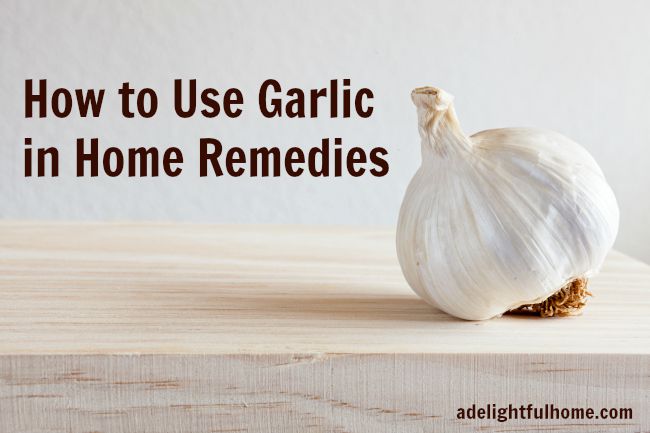 Did you know that  garlic was used in World War I to treat wounds?
According to Susie Wilson, in the Kid's Herb Book, garlic juice was diluted with water and put on sterilized clumps of sphagnum moss. It was then applied to wounds. This helped prevent infections and promoted healing.
Garlic really is a superstar when it comes to home remedies.
In fact, Rosemary Gladstar, a pioneer in the herbal movement, says in her book, Medicinal Herbs:
"Were I forced to have only one herb in my kitchen, garlic would be it. If there's anything that enhances the flavor of food more or improves health better than garlic, it's yet to be discovered."
It's wonderful that such an herb is so easy to procure! No special ordering required (like other herbs or superfoods)!
Health Benefits of Garlic
Garlic is antbacterial, antimicrobial, antifungal, and antispectic.
Garlic has been used to:
decrease high blood pressure
lower cholesterol
slow atherosclerosis (hardening of the arteries)
fight cancer
reduce duration of coughs, colds, and flu
stimulate immune system
reduce blood sugar levels
treat intestinal worms
treat fungal infections
repel ticks and mosquitos
So, you may be wondering how you can use garlic to create natural remedies. Here are a few options:
Add to Meals
Garlic can be added to soups, stews, casseroles, and more. Just crush and drop it in. Sauteeing garlic brings out the flavor, which I personally enjoy. You do lose some of the benefits but it's not enough to worry about, especially when adding to foods.
If you are coming down with a cold or flu, it's probably worthwhile to consume raw garlic instead of cooked. In this case, you can mix it with some honey, make a super-garlicky guacamole, or blend into pesto!
It's worth getting a good garlic press to make crushing garlic easier. This is the garlic press I've used for over 4 years now. It's a good one!
Let it Sit
The health benefits of garlic can be increased by chopping or crushing garlic and allowing it  to sit for  3-5 minutes. It can then be taken internally, if using raw, or cooked and added to a meal.
Make a Garlic-Olive Oil Spread
Fill a small canning jar with crushed garlic, pour olive oil over until the garlic is completely covered. Let sit to infuse. Use as a spread.
Make a Garlic Poultice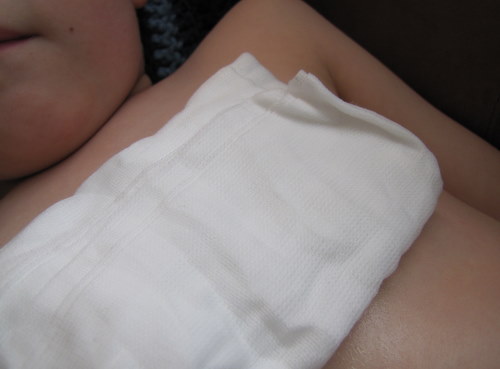 A garlic poultice is helpful when taking garlic by mouth is not an option (read: upset stomach). It is also an easy way to administer garlic to kids who dislike the taste or are too young to swallow pills or chew garlic cloves.
To make a garlic poultice, place crushed garlic on a few layers of cheesecloth or a thin washcloth.
Fold up the cheesecloth like a burrito, folding two opposite sides over the garlic and then the two other sides over the top of that.
Place poultice in a bowl of warm water and leave for a few seconds.
Squeeze out the excess water and lay poultice on desired spot; generally on the chest or bottom of feet. It is a good practice to apply some olive oil or non-petroleum jelly to the skin before applying a garlic poultice (this helps protect the skin form irritation).
See further details, warnings, and instructions here: How  Make (and Use) a Garlic Poultice.
Use to Treat Ear Infections
Make a simple garlic oil by slicing two cloves of garlic and adding to the top of a double-boiler. Pour 2 tablespoons of olive oil over the garlic and warm for 10-15 minutes. Strain out the garlic, making sure no garlic pieces remain.
Add a few drops to the ear when experiencing pain due to an ear infection. Do not use when a burst eardrum is suspected or infection is caused by water, such as swimmer's ear.
Make Fire Cider
A well-loved tonic, Fire cider , is thought to prevent cold and flu as well as reduce the symptoms and duration of cold and flu once they are present. Fire cider can be used as a preventative measure and taken throughout the fall/winter months. Increase frequnecy of dosage when symptoms are present (up to 3 pr 4 times a day).
While there are some variations of the recipe, Fire cider usually includes a hefty amount of garlic, horseradish, ginger, and onion.
Want to learn how to make it? Heather, of Mommypotamus, has a great tutorial and recipe for making Fire cider here.
As you can see, there are a ton of ways to use garlic to improve your health! Be sure to keep some on hand at all times!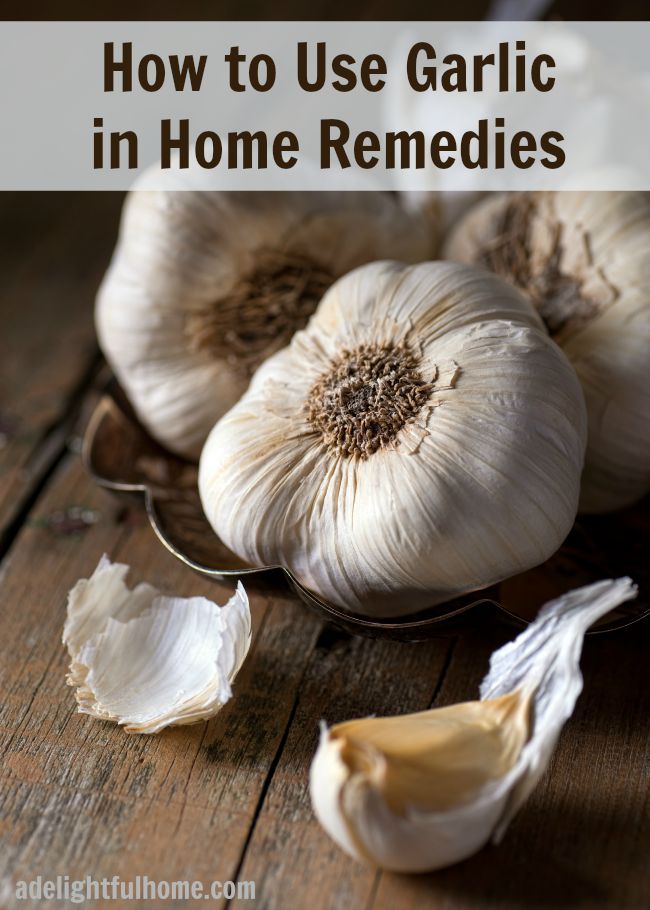 Sources
Raw Garlic Consumption as a Protective Factor for Lung Cancer, a Population-Based Case–Control Study in a Chinese Population
http://cancerpreventionresearch.aacrjournals.org/content/6/7/711 .abstract
2. Naturopathic treatment for ear pain in children. Sarrell EM, Cohen HA, Kahan E. May, 2003.
http://www.ncbi.nlm.nih.gov/pubmed/12728112
Gladstar, Rosemary, Medicinal Herbs, Storey Books, 2012
Tierra, Lesley, A Kid's Herb Book, Robert D. Reed Publishers, 2000