This post may contain affiliate links which won't change your price but will share some commission.
Geranium essential oil has a rose-like aroma with herbaceous undertones and a touch of citrus.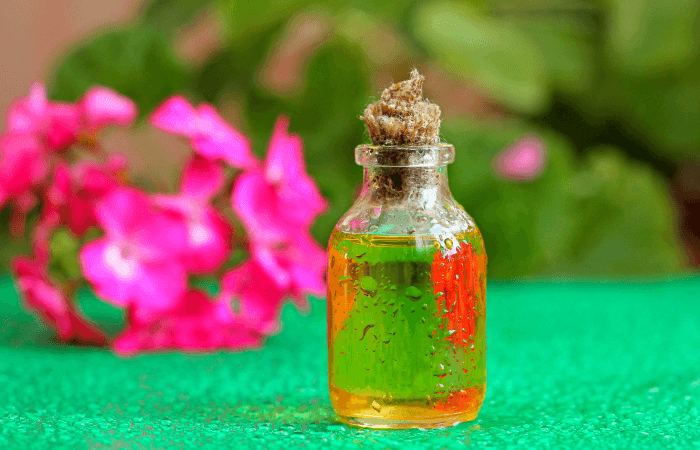 Why is Geranium Recommended for Rose-Themed Products?
Geranium is often suggested as a substitute for Rose essential oil.
Why?
First: the rose-like scent.
Geranium's rosy aroma is a good replacement for rose essential oil in rose-themed natural body care products. It's not exactly the same, but similar enough to work.
Second: Cost
It is far less expensive than Rose Essential Oil.
To give you an idea of the difference in pricing, .5 ounces of Bulgarian Rose Essential Oil is currently $677.50 on Mountain Rose Herbs whereas .5 ounces of Geranium Essential Oil is $15.19!
Obviously, they are not the same thing, but if you are going for a little rose-like fragrance in your homemade body scrub, I think we all know which one to choose!
Especially if the product is only applied for a few minutes then washed down the drain!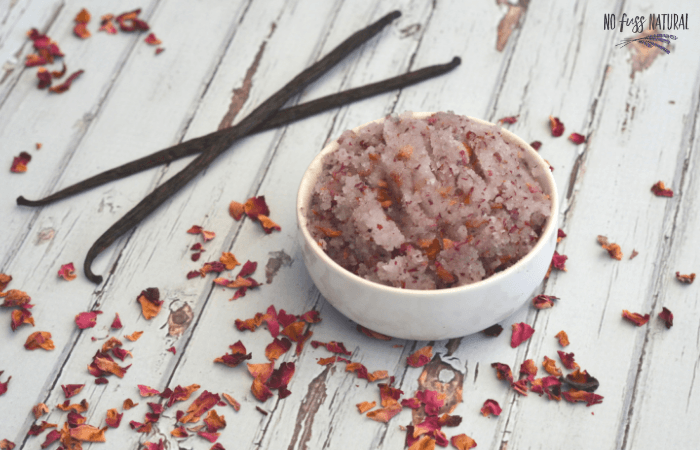 One reason for the large difference in price is that geranium yields a lot more essential oil than roses do when distilled.
You will find this is the case for most essential oils; the less a flower produces, the more expensive the oil will be.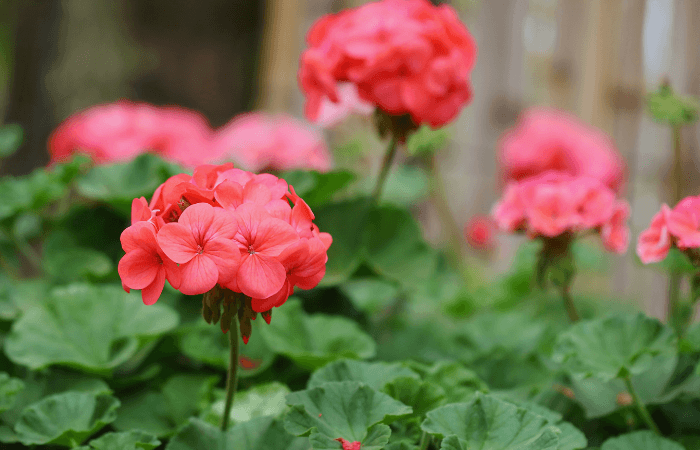 What does Geranium Essential Oil Smell Like?
The scent of geranium essential oil is quite strong and definitely on the floral side. It easily overpowers other scents, so use with a light hand.
Many people find geranium essential oil fragrance uplifting, yet soothing.
How to Use Geranium Essential Oil
You will find geranium essential oil in many blends created for dry skin. It is also popular in blends targeted to reduce inflammation.
Geranium essential oil is also a favorite in perfumes. It is a middle note and pairs well with many other fragrances.
Great products to include geranium essential oil:
face wash
facial steams
facial serums
bath soaks
body scrubs
What essential oils does geranium blend well with?
Geranium blends well with many essential oils, including:
bergamot
chamomile
clary sage
clove
cypress
frankincense
ginger
grapefruit
helichrysum
jasmine
juniper
lemon
mandarin
neroli
palmarosa
patchouli
peppermint
rose
rosemary
sandalwood
ylang ylang
Geranium Essential Oil is 25% off at Mountain Rose Herbs this month!