This post may contain affiliate links which won't change your price but will share some commission.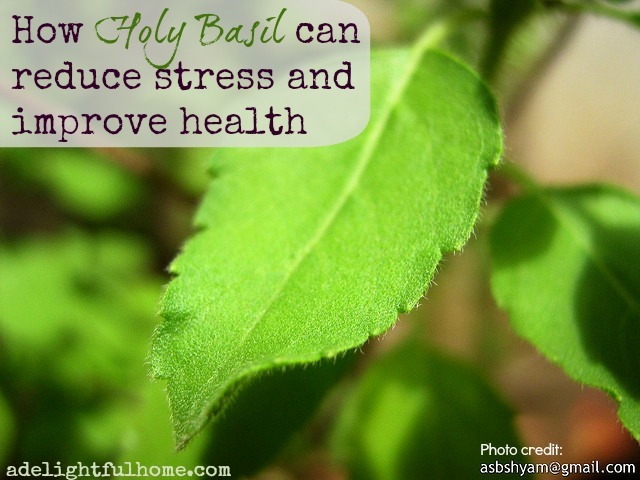 Holy Basil is a wonderful herb that can significantly improve your health.
Ever heard of it?
Holy Basil is also known as Tulsi and is different to common basil.
Holy Basil is primarily used for fatigue, arthritis and other inflammability disorders.
The best things about Holy Basil is that it is an adaptogen.
What is an adaptogen?
Herbs classified as adaptogens don't have specific actions of their own, but rather help the body adapt to change.
Other herbs classified as adaptogens include: Ginseng, Ashwaganda, and Astragalus.
Many of these supportive herbs are known to build the immune system, fight fatigue, and reduce stress.
MedicineHunter.com states:
"Adaptogens greatly improve your body's ability to adapt to stress, whether it's a hectic schedule, heat or cold, noise, high altitudes or any number of other stressors".

(Read more here.)
Learn more about adaptogens here.
Holy Basil is thought to be particularly helpful in fighting fatigue and reducing stress.

With the way life is these days, I think most of us could use a little help in these areas!
Besides helping the body deal with stress and fatigue, Holy Basil  has many other benefits, such as:
supports normal cortisol levels (stress levels)
helps support normal blood sugar levels
enhances athletic performance
anti-inflammatory
strengthens respiratory system
anti-bacterical (not strong enough to fight infection, but is a great suppport)
helps increase milk supply
primarily used for fatigue, arthritis and other inflammability disorders
no-contraindications
helps reduce mental fog
helps with recovery of brain trauma
Note: some studies suggest Holy Basil depletes fertility. This is not an overwhelming possibility, but something to be aware of if that is a concern for you.
How to include Holy Basil in your diet:
Holy Basil is readily available in capsule form at most health food stores. It can also be purchased from a variety of online sources, including Amazon.com (affiliate link).
Simply take a few capsules a day (as directed on the bottle) and that's it.
Since my recent bout with a stress-related illness, I'm adding Holy Basil to my daily supplements. I love how it is able to enhance the good stuff that is already going on in my body, and provide aid in dealing with the not-so-good things.
Have you tried Holy basil? Did it help?