This post may contain affiliate links which won't change your price but will share some commission.
I'm eating Thanksgiving dinner in the garage.
But it's not just any garage!
It's a Thanksgiving themed garage!
Yes, my family takes Thanksgiving rather seriously.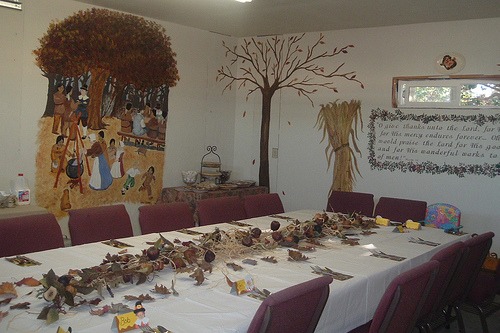 A picture of our Thanksgiving in my mother-in-law's garage a few years ago.
When my grandmother-in-law had a shiny, new garage built, she decided it would be a perfect place for Thanksgiving dinner. Her house is fairly small, so it was difficult to squeeze everyone around tables for a meal. This was the prefect solution.
She painted many of the pictures herself (she has since passed away. So, these are even more special!). My sister-in-law also painted some along with other family members (including my own mom).
I love this garage.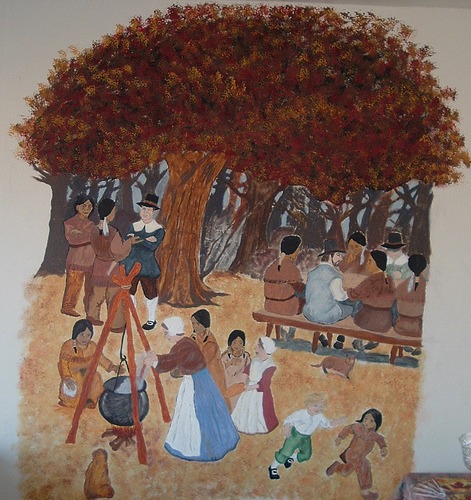 One of my favorite things about living in America is the Thanksgiving holiday.
I still remember the first year I took part, a young bride from a foreign land (well, Australia), sitting among my new extended family, learning to eat pumpkin pie! It was a treat.
This year I'm especially thankful to have my sister and her family, my sister-in-law and her family, and my dad with us! It's quite exciting.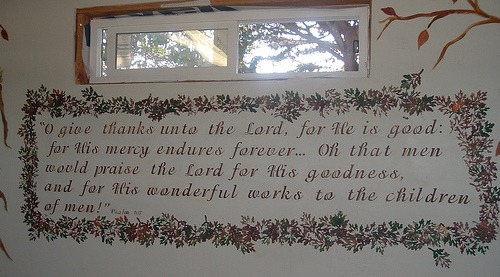 I also wanted to take a moment to say thank you to YOU.
I appreciate all of you who take the time to read here. You bless me.
Thank you for being part of A Delightful Home.
I pray you have a wonderful day and are able to see all the many blessings in your life.
Take the time to count your blessings, for it's not the happy who are thankful, but the thankful who are happy.
As the old song goes:
When Upon Life's Billows
When upon life's billows you are tempest tossed,
When you are discouraged, thinking all is lost,
Count your many blessings, name them one by one,
And it will surprise you what the Lord hath done.
Are you ever burdened with a load of care?
Does the cross seem heavy you are called to bear?
Count your many blessings, every doubt will fly,
And you will be singing as the days go by.
So, amid the conflict, whether great or small,
Do not be discouraged, God is over all;
Count your many blessings, angels will attend,
Help and comfort give you to your journey's end.
Count your blessings, name them one by one;
Count your blessings, see what God hath done;
Count your blessings, name them one by one;
Count your many blessings, see what God hath done.
Love to you.
Stacy