This post may contain affiliate links which won't change your price but will share some commission.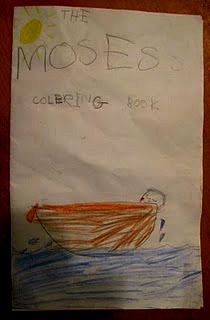 On Fridays I go to Ladies' Class. My children come with me.
The class is in the church building and we set the table up close to the nursery. Another mother comes with her children and our kids play together in the nursery while we have class (Don't worry, the nursery door has a big window! We can see them) The Ladies are so good about having the kids there, even when things get rowdy on occasion!
My daughter decided she wanted to make this play time into Bible class time. She is the oldest (8 years) and wanted to be the teacher. Without asking for help or ideas, she began preparing lessons each week. Often we will hear the sound of children singing "Jesus Loves Me" wafting through the door. The older ladies seem to really enjoy this.
As I sit there (or rather stand there swaying – trying to get my baby to sleep), I can hear my little girl reading a bible story…and the kids actually listen to her! Two weeks ago she made coloring books for her three students. She stapled paper together like a book and drew the story of Moses (pictured above) She also brings snacks and plans out what songs they will sing. Not just any songs either, songs from the song book …grown up songs 🙂
Here is a picture of the lesson plan she scribbled out: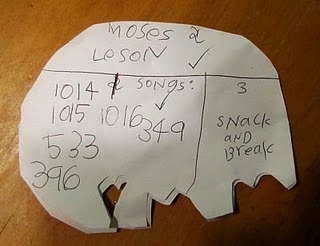 1. Songs
Some of those songs are: I am a Sheep, Jesus Loves Me, Jesus Loves the little children, and No not one.
2. Lesson
3. Snack and Break
(As you can see, she had been cutting hearts out of this paper)
This is pretty much how I teach Bible class too!
I am grateful for her desire to teach, for the initiative she has taken, and for her courage.
It feels like a reward. A little glimpse of the woman she may become. A wonderful benefit received for all the times we have gone to Bible class…even when we didn't feel like it.   It certainly made her Grandmother proud!
I'm also very grateful for the graciousness of the other women who allow us to attend and make us feel welcome.