This post may contain affiliate links which won't change your price but will share some commission.
Know God. It's as simple (and as complicated) as that.
All the other tips and tricks I plan to share may help a little, but without God, it won't matter.
He made you.  He loves you.
And that is a comfort.  As much as we learn and experience in this life, we still can't see what God sees.  He is the One who knows all and made all.  From beginning to end, He is.  And He wants the best for us.
How can we know God?
Read His word.
The Bible is God's word.  He has revealed Himself to us in those pages.  If you want to know what God is like, read the Bible.  If you want to know what God would do if he lived on earth, read the Bible (especially Matthew, Mark, Luke and John).  If you want to know what God thinks of you, read the Bible.  Its all there.
Some of my favorite passages of scripture are the ones in which God describes Himself.  I like knowing what God says about who He is.  It's better than what man could say of Him.  We don't have to wonder if it is truth, since it is impossible for God to lie (Hebrews 6:18), so we can believe His descriptions wholeheartedly. ( I'll be posting a list of some of these verses next.)
If you are not a daily Bible reader, I encourage you to become one.  Even if it is just a few verses.   Something is better than nothing. Work up to a chapter a day.  Once that is a habit, add a little more.  Just 3 chapters a day and you will read the entire Bible in a year!
We will talk more about daily Bible study in future posts.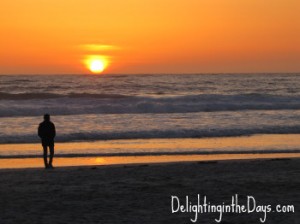 Experience His beautiful creation.

The world we live in is God's handiwork.  He made it.  By getting outside and gazing upon his creation, we can see that God is truly a masterful designer, an exceptional artist, and fantastic engineer.  If we look closely, we can even see His sense of humor.   He did not have to make the world beautiful, but he did.
I've heard it said that you can know a lot about a person by the way they decorate their home, or even the way they decorate their blog! What does the way God has decorated our world say about Him?
Experiencing God's creation with all our senses leads us to know Him a little more.   Touch, taste, smell, see and hear the world God made.  Get outside, or sit by your window and take a few deep breaths.  Next time you take a bite of a delicious apple, notice it's sweetness.  He made it that way.  He is good.
The amazing part is that God, this holy and majestic being, actually cares about us.  Not only that, He listens to us.  He even made a way for us to be with Him eternally.
I'm convinced that knowing God is the foundation of a peaceful home. I pray that if you don't know Him, you will come to.  If you do know Him, then I pray you will know Him more fully.