This post may contain affiliate links which won't change your price but will share some commission.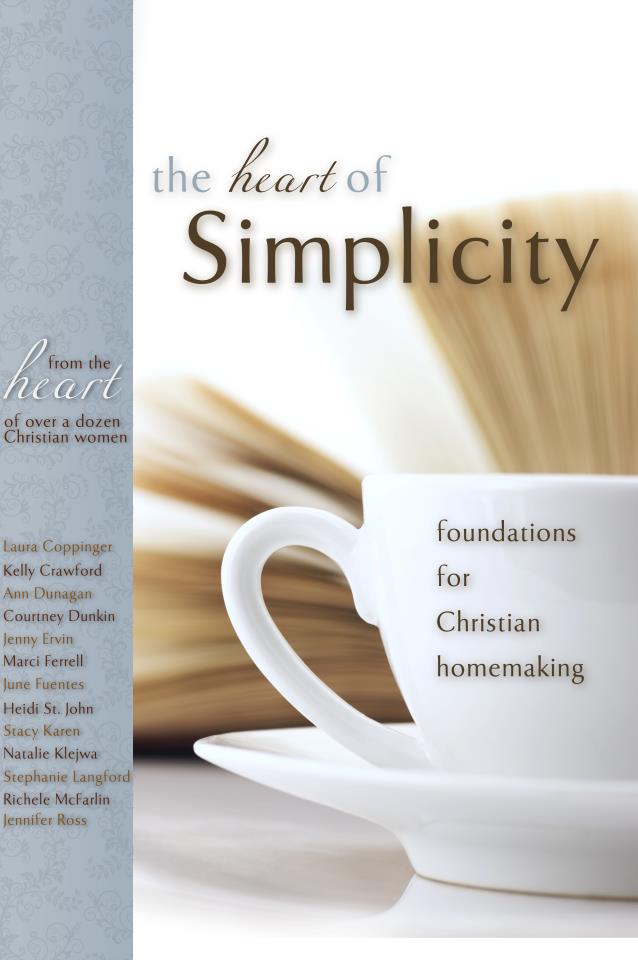 Do you ever feel like you could use some encouragement and practical advice when it comes to homemaking?
I certainly do!
In fact, as a newly wed, I longed for some instruction and guidance. How do I clean my home? How often should I change the sheets? What are the healthiest foods to feed my family? How can I reach out to others when I am so busy at home? How can I show my husband I love him?
The questions were endless.
Often times, they still are.
Today The Heart of Simplicity: Foundations for Christian Homemaking ebook launches. I wish I had it when I was a new bride.
This book brings together 13 different writers (who happen to be some of my favorite bloggers), all believers in Christ, sharing their hearts with other Christian homemakers.
You may have heard of many of the authors. Besides me, there is: Stephanie Langford, Kelly Crawford, Natalie Klewja, Ann Dunagan, June Fuentes, Courtney Dunkin, Jennifer Ross, Heidi St. John, Jenny Ervin, Richelle McFarlin, Laura Coppinger and Marci Ferrell.
Our goal is to share simple, practical ways to live out your calling as a homemaker, to keep your focus on what is truly important, and to do it with grace.
What's inside?
Chapter 1: The Foundation: Surrendering our Homes to the Creator

Chapter 2: Marriage: Nurturing a Love that Lasts a Lifetime

Chapter 3: Motherhood: Delighting in our Children

Chapter 4: Missions: A Home-Based Vision for God's Great Commission

Chapter 5: Family Economy: Embracing the Simple Power and Peace of Contentment

Chapter 6: Education: Growing Hearts and Minds for God's Glory

Chapter 7: Health: Bringing God Glory by Caring for our Bodies

Chapter 8: Cleaning: Tending the Gardens of Our Homes to the Glory of God

Chapter 9: Organizing: Reflecting our Orderly God by Keeping an Orderly Home

Chapter 10: Time Management: Managing our Hearts to Use Time Wisely

Chapter 11: Hospitality: Welcoming Others into our Homes

Chapter 12: Giving: Showing the Love of Christ through Simple, Intentional Generosity

Chapter 13: A Mother's Legacy: Storing Up Treasures in Heaven
Each chapter is written by one woman. Study questions are included at the end of every chapter; making this perfect for a ladies group study.
Can you guess which chapter I wrote?
(Did you guess Chapter 12: Giving: Showing the Love of Christ through Simple, Intentional Generosity? That's the one!)
The ebook will be $9.99, but can be purchased at 50% off TODAY ONLY! That's $4.99

An excellent deal on full-length ebook that's bursting with practical wisdom and encouragement.
Use coupon code SIMPLE50 to get the sale price. (code will be available until midnight Wednesday, May 30th only).
Here is what our editor had to say about the ebook:
"I don't think I've ever cried while editing until I edited this book. Encouraging, inspiring, convicting…a must-read for every wife and mother! I was so, so blessed while editing. It's like the Lord put it in my lap because He knew I needed the message. "
-Erin Odom, editor and blogger, The Humbled Homemaker
You can find more reviews here.
Buy a pdf download here.

Buy for Kindle here.
Where you like me as a newly wed? Not knowing what to do?