This post may contain affiliate links which won't change your price but will share some commission.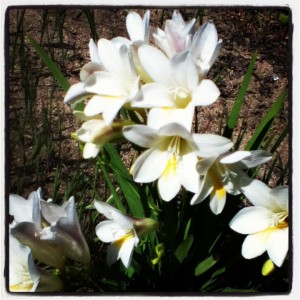 Freesias in our sandy backyard.
I've been composing this post in my mind for over a month and I still don't know what I want to say . . .
I feel awkward talking about myself to in this way, but I know when a blogger I read stops writing very frequently, I wonder what is going on. Is there anything wrong? Are they okay?
So, I thought I'd give you all a little run down of what is happening behind the scenes here.
When I started this blog, my youngest was still taking two naps a day. I used the first nap to do school work with my older children and the second nap to blog or do something else I enjoyed.
Well, the two-nap days must end at some point, and they are now but a distant memory. In the past I would send the older two for a quiet time while my toddler napped and then I would blog or work on dinner, or exercise, or whatever.
Now I find myself trying to squeeze in story time or math help while the whirlwind in asleep.
It's just easier.
But there goes my quiet time. (This is only temporary.)
I'm really going around and around about how and when to fit in creative outlets for mom while staying true to my family's priorities.
I want to serve my family. To train my children. To love my husband.
I also want to feed my own soul. Yes, doing these things does bring satisfaction to me. But mama needs quiet some of the time, too.
It's a tricky balance.
I find it way too easy to fill every minute of the day with some activity or another. It may not be going out and about, but simply being busy at home.
The problem is, when I make myself a to-do list that couldn't be accomplished in three days let alone one afternoon, I become stressed and frustrated. My family starts to seem as if they are in my way rather than being my focus and joy.
That is sad.
I want to push my kids on the swing without thinking that I should be doing x, y or z instead. I need free time and lots of margin to do this.
As you can imagine, this affects my blog.
I love to write here and I have pages and pages of notes scribbled down that I want to share with you. The trouble is I can't seem to find the time to do it.
Oh yeah, I forgot to tell you that I am also trying to make sleep a priority.
This is still a work in progress.
But again, this affects my blog.
I am striving to forgo staying up late writing since it inevitably leads to a hard day. It's not easy to be nice, sweet, and patient when you are exhausted.
I'm also freaking out that my oldest will soon be eleven! The years of having her at home are numbered.
So what does this mean?
Well, I don't know.
I toyed with the idea of quitting blogging completely, but for someone who scribbles ideas during dinner prep and while falling asleep at night, blogging is a good outlet.
What I'm trying to do is keep my blogging and writing in a neat, little box.
I know this won't happen perfectly, but my goal is to set aside time to write and then write during those times and leave it at that (for the most part).
This may mean fewer posts here. But it may not. It all depends on how quickly I write, I suppose.
I've stepped down from one of my contributor positions also. A hard decision, but one I felt the need to make.
I'm also taking down my advertising option. I don't want to feel the need to write here when I am dealing with a sick child or some other need. And if someone has paid me to advertise, I will feel obligated. I don't want to let them down.
This season of motherhood is short. I don't want to miss it.
I want my kids to see that mom has passion and does things she enjoys, but I also want them to know without a doubt that she has time for them and enjoys their company.
I don't want to rush through bedtime or cut conversations short because I need to write.
I still want to write. I still plan to write. But I'm still figuring out when and how.
I feel totally nervous sharing this with all of you. As if I haven't explained it well enough or that you will think badly of me. But I want to be honest and I want to do what is right.
I want to encourage you to love your families and create delightful homes. I must be living that example in order to have anything worth saying.
If you've read this far, thanks for indulging me.
You are appreciated.
With love,
Stacy