This post may contain affiliate links which won't change your price but will share some commission.
First of all, do you say "distractible" or "distractable"?
I could get totally distracted trying to figure that out.
From my research, it seems that both are acceptable. But before we get carried away, let's dig into today's topic:
How can I stick with Whole 30 when I'm super busy and easily distracted?
If you are extremelly busy or easily distracted, you might find that it's hard to even remember you're doing a Whole30 at times. I know, it seems crazy, but it's true!
A highly creative person, someone with ADD/ADHD, a mom with kids needing attention and care (umm, that would be all), a boss with tons of responsibilities, and so on. There are many who could fall into this catergory.
I fall into all of the above! And I managed a Whole30. Even though I'm busy, distactible, and forgetful!
It kind of feels like a miracle (since it's difficult for me to stick with things like this), but it's really just preparation and some very specific strategies.
So, here we go:
Make it as easy as possible
Now is not the time to decide every meal should be gourmet! Keep things as simple as you can.
Buy Whole 30 approved dressings and marinades when your budget allows, and realize you don't have to cook a complicated dinner every night. Simple veggies with some protein and fat is perfectly acceptable.
If you want to make it extra easy, get the Whole 30 Fast & Easy Cookbook. It's a lifesaver!
A service like Real Plans is also extremely helpful! They plan Whole 30 meals for you in just a few clicks, plus, they create a shopping list and provide step-by-step preparation instructions. Everything is customizable and it's super easy to use.
Another way to make your Whole 30 as easy as possible to put some work in on the front end… that means food prep! This could mean making a couple of soups or stews, Shepherd's Pie, and so on and stashing them in the freezer. It can also simply mean cooking meat and chopping veggies so they are ready whenever you need to make a meal.
Prepare Meal Components Ahead of Time
Preparing meal components is one of my favorite forms of food prep. It is often easier than making full meals in advance and allows you to stock the fridge and freezer with lots of healthy food that's ready to be made into a variety of meals.
Some example of Whole 30 meal components that can be made ahead:
Shredded chicken
Seasoned ground beef
Salads
Chopped veggies
Shepherd's Pie base
"Pasta" sauce – I just use ground beef with homemade tomato sauce
Sweet potato hash browns
Chicken salad
Egg salad
Roasted vegetables
Cauliflower Rice
These are the ones I do most consistently, but I'm sure you can think of many more!
Keep things in front of your face!
By things, I mean reminders, menu plans, encouragements and so on.
I am so distractible I could actually forget I am doing the Whole 30. No, seriously! I could. Someone else has got to feel me on this one? Surely!
A couple of ways to keep things in front of your face (and therefore, on your mind):
Keep a list of meal components (or meals you've made ahead) in a prominent location.
I have mine on a large chalkboard
Keep your menu plan in a visible location
Mine is on the chalkboard too! But it could go on the fridge, on a small whiteboard, whatever works for you.
Keep the Whole 30 rules and meal template in an easy-to-access location
I have mine taped to the back of the spice cabinet door.
See the Whole 30 resource section for Printables.
Write encouraging thoughts on sticky notes and place them in prominent areas of your home.
The fridge, bathroom mirror, and kitchen cabinets are great places.
Set reminders on your phone for meal prep or other important Whole 30 tasks. Or uses it to send yourself encouraging thoughts throughout the day.
Implement Easier Food Prep Techniques
Once upon a time, I tried to cook a month of meals in one day. I just about did it, but I had no energy left to clean my kitchen and it took me days to recover!
Now I usually make meal components ahead of time instead, since I can prep a bunch of the same thing without a lot of hassle. But I also love to double or triple some meals I'm making, like Shepherd's Pie.
Here are some of the easy food prep techniques I use to save time:
Shred Cooked Chicken Breasts with Beaters
This works really well if you have a Kitchen Aid mixer, but can be done with a hand mixer too.
Just be sure you have a deep-sided bowl and use the mixer on low speed.
To make this even easier, I cook the chicken breasts in the crockpot, don't even thaw them out before cooking. Just toss in a cook!
Make Sweet Potato Mash in the Crock Pot
I love this because it means I don't have to peel, chop, boil, or strain! It's fantastic!
Add 5-6 sweet potatoes to the crockpot and cook on low for 6 hours or high for 3 hours.
Get a Food Processor for Shredding
I know a food processor can be an investment, but man does it ever make life easier!
I don't know that I'd even have sweet potato hash if I had to shred the potato by hand. And it's my favorite Whole 30 breakfast!
Bake your Bacon
Oven baked bacon is nice and crispy! cooking it this way means you don't have to stand by the stove to flip it every so often.
To prepare bacon in the oven:
Preheat oven to 375 degrees F.
Lined a rimmed cookie sheet with parchment paper. Lay bacon evenly on cookie sheet. It's ok for it the strips of bacon to barely touch, but they shouldn't overlap.
Bake for 15-20 minutes.
Purchase a Whole30 Kit or Sample Pack
Barefoot Provisions has put together some amazng kits and sample packs that make Whole30 much easier!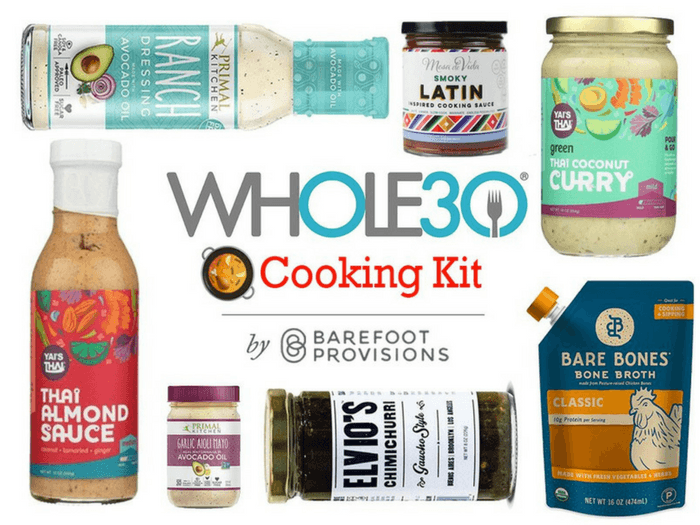 They have a variety of Whole30 kits to choose from.
My favorite is the Cooking Kit because it contains sauces, condiments, and dressings that make putting a delicious Whole30 compliant meal together much faster!
There' nothing worse than balnd food on the Whole30, but I find that having some tasty sauces and condiments on hand helps me eat well and not feel deprived.
The Mega Whole30 Kit would be handy for emergency snack situations. It's also a great way to try out a bunch of different items without going to the store! So it's an awesome time saver as well.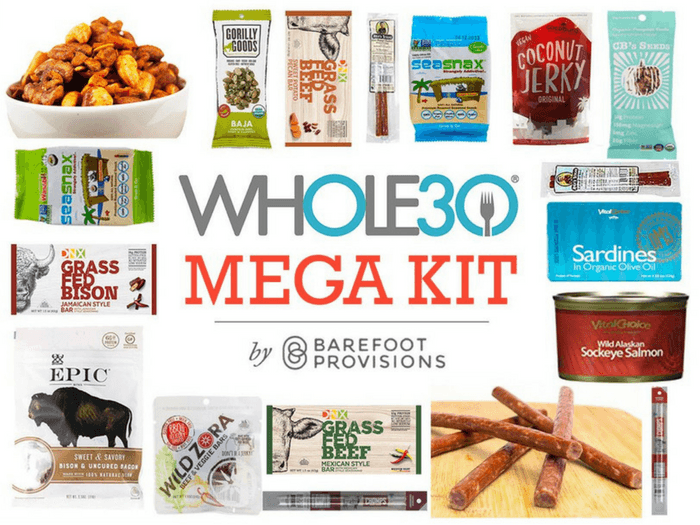 Barefoot Provisions also has mini kits, spice sets, Phat packs (with all the awesome cooking fats), dressing collections, and nut pods.
They are defitley worth checking out and are a great resource for simplifying your Whole30.
I hope this post has given you a few ideas making your next Whole30 a little easier.
With some planning and a few strategies to keep you on track, you can do the Whole 30 no matter how busy (or distractible) you are.
Do you have any special tips and tricks for sticking with the Whole 30? I'd love to hear them!