This post may contain affiliate links which won't change your price but will share some commission.
The world of beauty and skincare is currently filled with cutting-edge ingredients and high-tech devices. However, when it comes to handling some of the most common skincare issues, it is better to go traditional. Numerous simple and natural options are as effective as the scientifically engineered solutions when it comes to nourishing and treating the skin.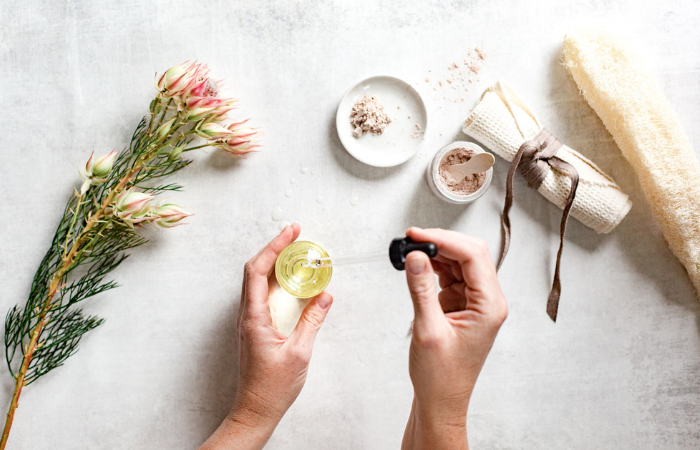 Many store-bought skincare products contain a long list of chemicals that have the potential to cause harm to your body. While some people may accept this as the cost of having a radiant and glowing complexion, there are numerous natural ingredients that you can supplement the chemical products with for similar or more satisfactory results. They include the following:
Coconut Oil
Researchers are continually supporting the use of coconut oil as a natural skin soother. Extra virgin coconut oil has the potential to suppress some of the body's biological inflammatory agents, therefore, making the skin a better barrier. Many people also utilize coconut oil to soothe itchy and dry skin and skin conditions such as psoriasis and eczema.
Additionally, coconut oil is an excellent antibiotic. It is beneficial in blowing out any fungi, bacteria, or viruses that you may have on your skin's epidermis. It is also incorporated into a wide range of hair products to moisturize and strengthen the hair.
Tea Tree Oil
Tea tree oil has been in use for hundreds of years to treat inflammation, breakouts, and redness on the skin. The skin can tolerate tea tree oil to treat acne without any side effects.
Tea tree oil is also a remarkable anti-fungal, anti-microbial, and anti-inflammatory ingredient. It is filled with phytochemicals, chemical compounds produced by plants, making it one of the most versatile and popular natural skincare ingredients. You can apply tea tree oil directly to the skin to achieve the desired results.
Rosewater
You have probably heard many beauty influencers endorse the use of rose water as a skin toner. This is because it is an effective ingredient for the overall health and beauty of your skin. It can treat irritated skin and acne effectively. It also helps to soothe and cool down the skin, therefore increasing its glow and elasticity.
Rosewater acts as an effective anti-aging ingredient because of its rejuvenating, toning, revitalizing, and softening properties. It can also moisturize dry skin while cleansing oily skin, therefore, restoring its natural glow. Rosewater contains many anti-inflammatory and anti-bacterial properties, along with natural antiseptics. It is friendly with all skin types.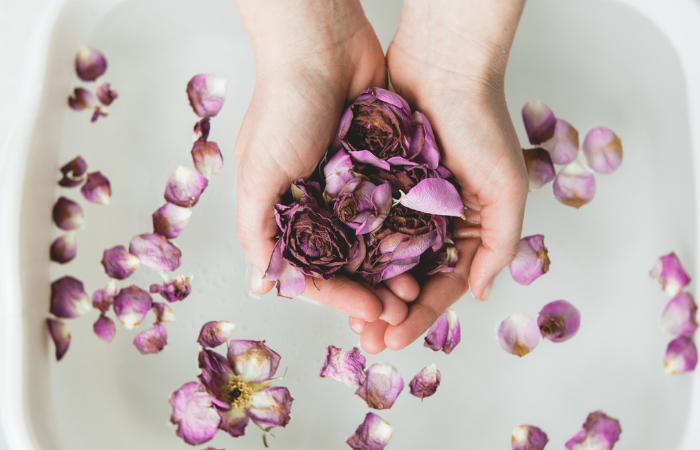 Shea Butter
Shea butter, derived from the nut of a shea tree, is used as an ingredient in many moisturizers. Since it is loaded with fatty acids, it is effective in hydrating the skin. The ingredients contained in shea butter also have an anti-inflammatory and calming effect on the skin. 
Shea butter is one of the most valuable and effective ingredients in soothing and treating eczema. It is also improbable to cause skin allergies, making it an effective moisturizer for sensitive skin types.
Grape Seed Oil
Grape seed oil is a popular ingredient in all-natural skincare products. It is extracted from grape seeds after the wine has been extracted, and it is a common food ingredient as well. Like coconut oil, grape seed oil contains plenty of antioxidants, and it is rich in linoleic acid, which retains skin moisture while reducing acne.
Grape seed oil is non-comedogenic, and it does not clog pores. It is, therefore, friendly to individuals with sensitive skin types. You can apply grape seed oil as a cream alternative to lighten dark circles. It is also popular as a moisturizer for acne-prone skin because of its anti-inflammatory properties.
Since it does not leave any residue on the skin, grape seed oil can act as a good makeup base to protect the skin underneath. It also enhances the production of collagen to reduce stretch marks and fine lines.
Oatmeal
Oatmeal is a popular ingredient in mask recipes. It contains anti-irritant and anti-inflammatory chemicals known as avenanthramides. It is also filled with moisturizing starches and glycans. Oatmeal baths are effective in treating skin conditions such as rashes and eczema.
If you wish to use oatmeal for skin care, opt for colloidal oatmeal. This is a powder that is derived from preparing and grinding oats into tiny particles.
Coffee Beans
A good skincare routine should contain a dose of antioxidants. Fortunately, coffee beans offer precisely that. Like green tea, coffee has great antioxidant capabilities. It has the capacity to cause dramatic improvement in people with hyperpigmentation and wrinkles.
Coffee is also a great ingredient to include in your DIY body scrubs. It helps to remove any dead cells on your body, while evening out your overall skin tone.
Apple Cider Vinegar
Apple cider vinegar is another commonly known natural skincare product. It contains a portent acetic acid which is excellent for skin cleansing. Apple cider vinegar is also effective in killing off bacteria, fungi, and other pathogens on the skin, and it is ideal for soothing the skin and reducing acne.
Besides providing your skin with numerous benefits, apple cider vinegar can benefit your body internally when it is ingested. It can help to optimize liver function while promoting a healthy level of bacteria in the digestive tract.
Adzuki Beans
Adzuki beans contain saponin, which is a natural foaming agent. It helps to remove dirt and clean pores. They are also thought to absorb excess oil.
Pretty cool, right?
Besides the cleaning factor, Adzuki beans provide gentle exfoliation to aid in removing dead skin cells. Exfoliating with ground Adzuki beans leaves skin feeling soft and smooth and looking vibrant.
Adzuki beans are suitable for all skin types.
S
Sea Salt
Nothing is quite as refreshing as a warm sea salt bath. Sea salt crystals accumulate loads of minerals, including magnesium, calcium, sodium, and potassium, as they make their way from the vast ocean to the shore. These minerals have numerous benefits to your skin cells.
It would be best to apply sea salts topically, and you can use additional ingredients such as avocado and honey to make a facial scrub. These ingredients are also fantastic antioxidants.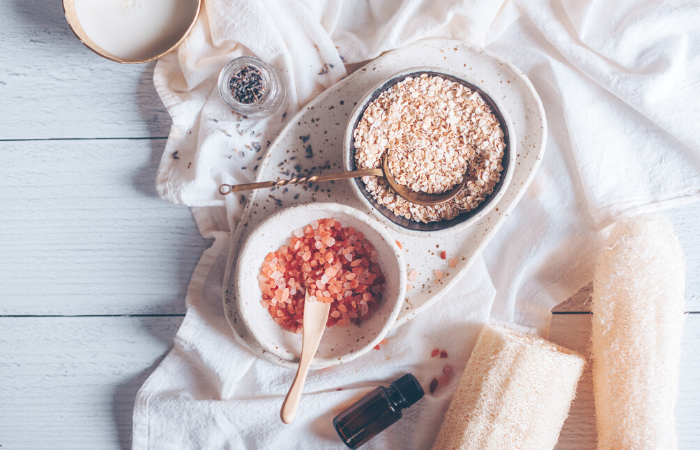 Witch Hazel
Witch hazel is a staple home remedy ingredient that has been in use for many centuries. It acts as an excellent ingredient in moisturizers and toners to offer hydration and reduce redness while providing oil control. It is applicable in curing swelling, bruises, and sores, making it a popular ingredient in aftershaves.
If you are considering adding witch hazel to your skincare regimen, opt for the natural product. The witch hazel astringent found in drugstores usually has alcohol additives that can strip your skin of its natural moisture.
Almonds
When it comes to optimum beauty and nutrition, almond nuts are a veritable powerhouse. They are a great source of vitamin E, an excellent ingredient for nourishing the skin. Their antioxidant components are also beneficial in protecting the skin from UV rays.
You can either apply almond oil topically to your skin through a moisturizer or body scrub to soothe and soften the skin. Moreover, almond oil is a combination of oleic and linoleic acids, making it readily absorbed into the skin and less greasy than the other oils.
Besides making your skin more radiant and younger-looking, almond oil can help reduce the scar tissue formed from dark spots, acne, and stretch marks. Although it is safe for use on the face, consider using almond oil on your body only if you have oily skin.
Incorporating natural ingredients is the best route that you can take for your skincare routine. Consider trying out some of the ingredients mentioned above to help treat uneven pigmentation, breakouts, oily or dry skin, and prevent sun damage.