This post may contain affiliate links which won't change your price but will share some commission.
Table of Contents

[Hide]

[Show]
I've recently been experimenting with adding more smoothies to my diet as a way of enhancing my nutrition. The main goal is to add more fruits and vegetables but I've found it's also a convenient way to add a number of superfoods to my daily regimen.
One such superfood is Spirulina.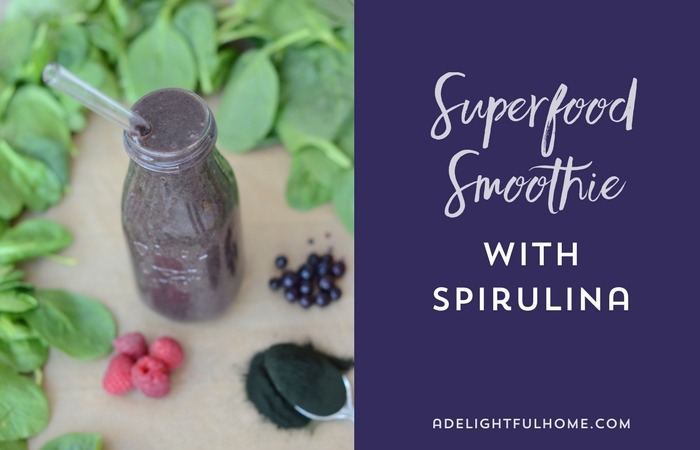 If you've never tried Spirulina, you might be wondering what it is. Well, the short explanation is that Spirulina is a blue-green algae.
Yes, you read that right. It's algae.
Spirulina is packed full of nutrients and trace minerals, so much so that some say it's the most nutrient-dense food on the planet.
And I'd have to agree.
If you'd like a more in-depth explanation, go here to read all about Spirulina.
The one drawback I found when trying to incorporate Spirulina into my diet was the taste!
Let's just say it's rather strong. And very algae-like. Kind of seaweedy.
But here's the thing, since it's so nutrient-dense, you don't need much to reap the benefits. In fact, adding a 1/2 teaspoon to a smoothie is actually providing lots of valuable nutrition.
And if you don't want to know you are consuming it (or perhaps you'd like to hide it from your children), the dark green color can be masked by adding berries to the mix.
If you're ready to try adding Spirulina to a smoothie, but want to mask the flavor (and color) I recommend the following recipe. It's fruity, sweet, and full of healthy goodness.
Note: since Spirulina absorbs trace minerals from the water in which it grows, it's important to choose a brand you can trust, or else you may be adding extra toxins to your diet instead. To be beneficial, Spirulina must be grown in a clean, healthy environment. I trust Wilderness Family Naturals and recommend their brand of Spirulina without hesitation.
Spirulina-Berry Smoothie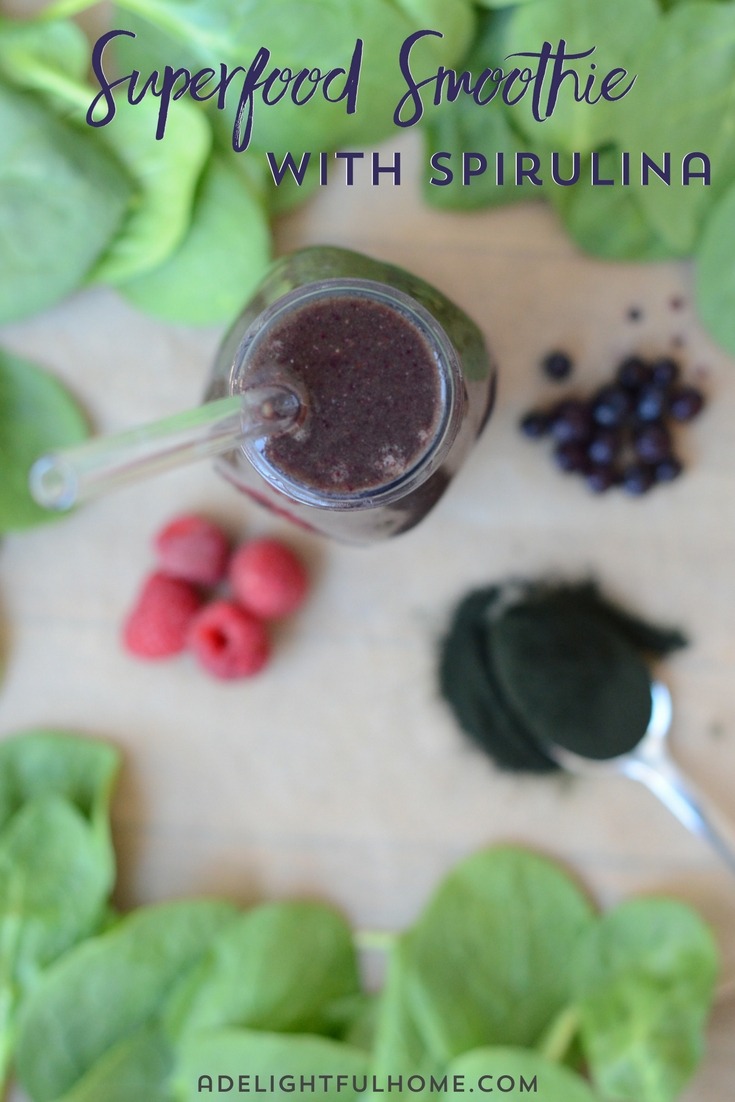 Ingredients
1 frozen banana
1/2 cup of frozen blueberries
½ cup frozen raspberries
1 cup spinach
1 cup water or coconut water
½ – 1 teaspoon Spirulina (here is the brand I use)
Optional extras:
1-2 pitted dates, to add sweetness
1 tablespoon collagen powder for extra protein (If you are a vegan or vegetarian, substitute hemp or rice protein powder)
Method
Add the spinach and water to the blender and blend until no leafy chunks remain.
Add the rest of the ingredients and blend until smooth.
Serves 1
Besides adding to smoothies, I've discovered a number of other ways to use this powerful superfood. You can read more about that in the post I wrote for Wilderness Family Naturals: 7 Healthy & Fun Ways to Use Spirulina (you'll also find another delicious Spirulina smoothie recipe over there).
Have you tried Spirulina? What do you think of it?