This post may contain affiliate links which won't change your price but will share some commission.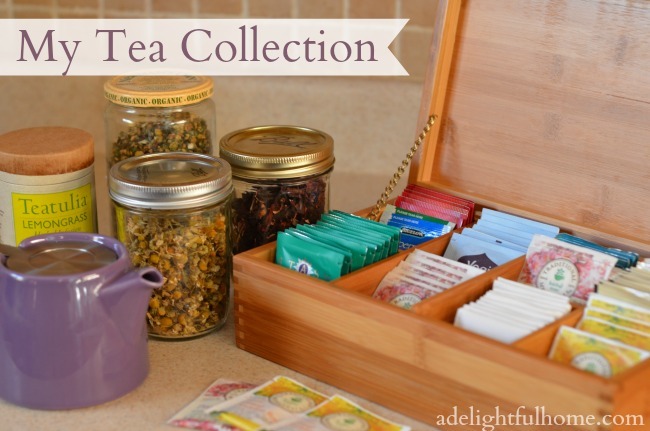 I grew up watching my parents drink a lot of tea. They are both from England, so it's in the genes, you know.
Tea became a love of mine, too, especially when I lived through a few chilly Colorado winters. I had a nice little tea drawer, full of herbal tea varieties that I'd pull out whenever anyone stopped by.
Things changed when I took up coffee drinking. Tea faded into the background and my love for it waned a bit. But, since removing coffee from my diet (I discovered that I'm allergic to it!), tea has taken it's rightful place again: front and center.
You may have read this from me before, but it bares repeating:
The most wonderful aspect of tea is that it is the simplest (and easiest) herbal remedy available.
The act of drinking tea is, in and of itself, very soothing and relaxing. However, it also delivers many other excellent benefits, depending on the herbs used.
Since giving up coffee was somewhat painful, I found it important to make my tea drinking as pleasant as possible. I wanted to enjoy every aspect of it, from the smell and taste of the tea, to the feel of the mug. I even wanted to pouring of the water to be enjoyable.
When you live with many stresses in life, these things can be a delightful bright spot in the day.
Here is my current tea collection: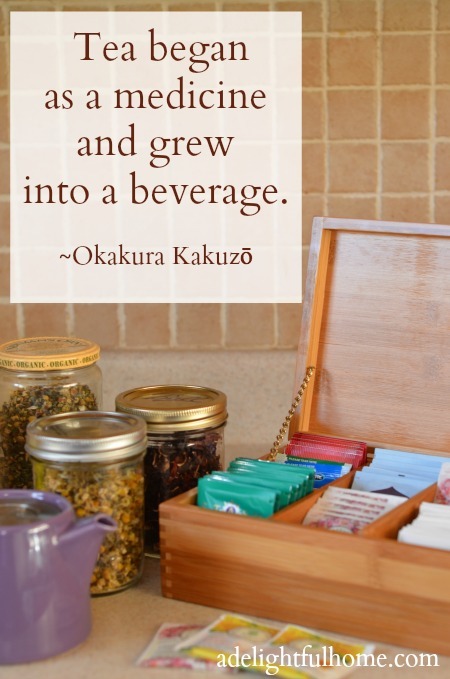 It changes from time to time as new teas are tried and new herbs are learned about. If I can address a health concern by adding a certain herb to my diet through consuming it as a tea, I do.
Single sealed tea bags are housed in this lovely Lipper International Bamboo Tea Storage Box: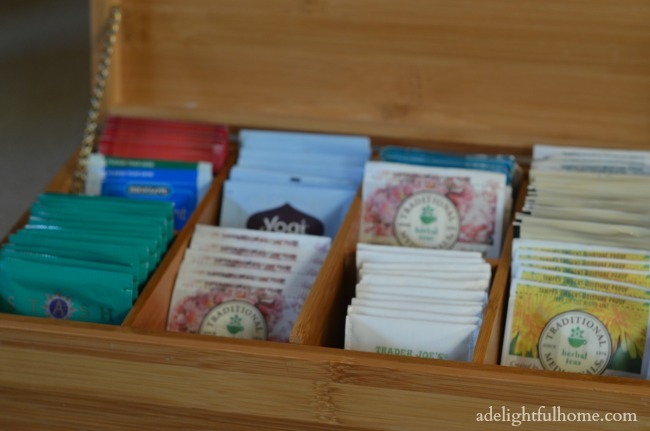 It has eight compartments and can hold a good amount of tea. I like to get this out when we have guests, as it is a simple way to display the tea options available.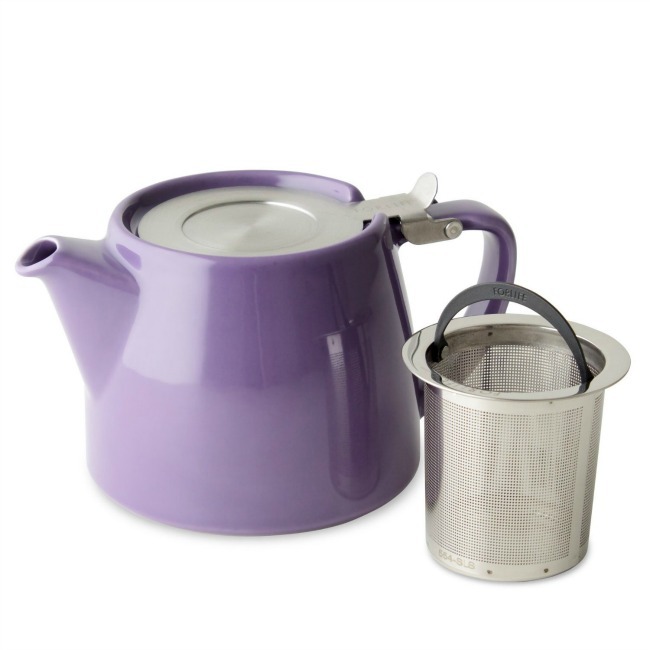 This ForLife Stump Tea Pot is usually used for loose tea, but also works with tea bags. It holds about 18 ounces and makes approximately two-three cups of tea. It's perfect for one or two people.
The strainer/infuser is excellent; it is made from extra-fine 0.3 mm stainless-steel and has a small handle on top so it can be lifted out easily. Plus, the holes are small enough to keep small particles of herbs and leaves from escaping into the water (something I've had happen a lot with other tea strainers).
Favorite Teas
Here are a few of my current favorite teas: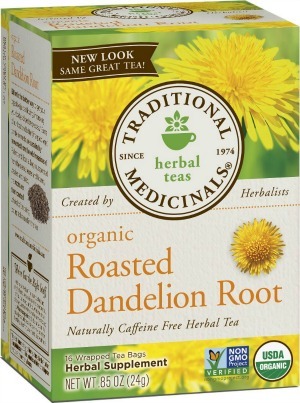 Roasted Dandelion Root has an earthy flavor and is what I usually drink in place of coffee. I didn't like the taste at first, but somehow grew to love it.
Dandelion is known to stimulate the liver and support digestion.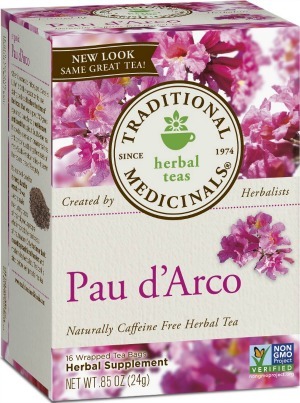 Pau d'Arco became a favorite in recent months after I learned about it's benefits in ridding the body of candida. It needs to used in conjunction with other herbs and dietary changes, but is effective in boosting the immune system and helping viruses go dormant. (I learned this from Christa Orecchio's Candida Cleanse).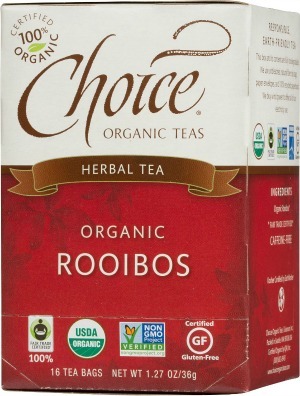 Rooibos is a red bush tea from South Africa. I've got to say, it's one of my favorite tea flavors! It's sweet, yet earthy and has a lovely golden color.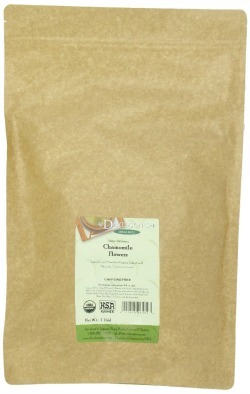 This particular brand of chamomile tea is one of the strongest, sweetest-smelling I've ever purchased. Opening the bag is simply delightful. Just open it and take a long sniff and you'll feel happier.
It can be used alone or mixed with other herbs, such as in this chamomile-lemon balm tea recipe.
I love buying it loose, so I can use the flowers to create other home remedies, such as tinctures, facial steams, and bath bags. Chamomile is a great herb for enhancing beauty and reducing stress.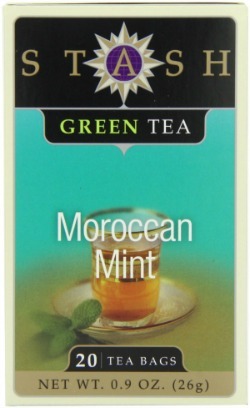 This is one of my husband's favorites. It brings a fun twist to green tea by adding lemongrass , spearmint, and peppermint. It's delicious hot or iced.
(It's super awesome that you can now buy 100 moroccan mint tea bags in one box! I just did!).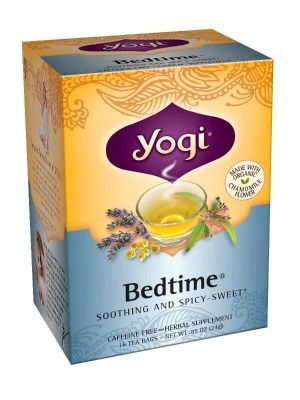 Of all the sleepytime/bedtime teas available, this one is the most flavorful I've tried. It combines chamomile, passionflower, licorice, cardamom and cinnamon for a warm, sweet taste that's relaxing and calming.
More Tea
It's also fun to make different herbal combinations to produce delicious tea. If you'd like to try some DIY recipes, see: 52 DIY Tea Recipes
Tea bags are easy to make too! See my photo tutorial here: How to Make Tea Bags (Using Press 'n' Brew Bags)
Feel free to ask me any questions about tea, I love to discuss it!
This post contains affiliate links.