This post may contain affiliate links which won't change your price but will share some commission.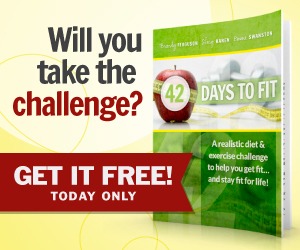 Last year my sister and I ran a fitness challenge with Brandy of The Marathon Mom. It was very successful: participants lost weight and formed healthy habits in just 42 days.
Well, now it's a book!
And it's free today only until 6pm EST!
Wondering if 42 Days to Fit is for you?
42 Days to Fit is for anyone who is sick of feeling tired and out-of-shape, and who wants to get fit and healthy and stay fit and healthy.
The workout plan is laid out for you, as well as specific nutritional habits to implement each week.
This is a realistic plan that will get you on the right track.
Plus, it's FREE today. So what have you go to lose?