Hearty Breakfast Casserole (High Protein and GAPS friendly)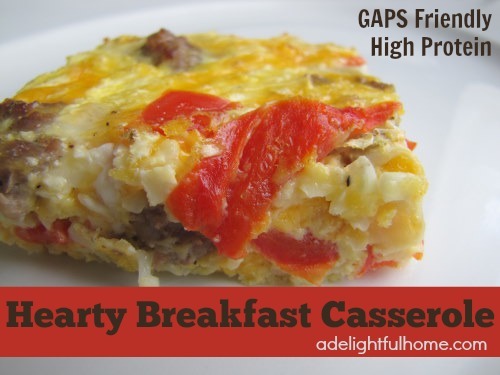 A good, solid breakfast is a great way to start the day. I've noticed my children are more apt to focus and stay on track when they eat a high-protein meal in the morning.
Protein rich breakfast foods have a lot of great benefits, thus I am attempting to include more of them on the regular meal rotation.
The following breakfast casserole is adapted from, Internal Bliss. A cookbook designed for those following the GAPS diet. The original recipe does not call for sauteing the veggies.
Breakfast Casserole
2 cups shredded Cauliflower
1 cup shredded Cheddar Cheese
1 cup chopped Sausage,
1 Onion, chopped
1 Red bell pepper, chopped
8 eggs
Salt and Pepper to taste
Melt a little coconut oil and saute peppers, onions, and sausage in a pan until sausage is cooked through.
In a large bowl, beat the eggs. Add the shredded cauliflower and cooked sausage and vegetables. Stir to combine.
Bake at 350 degrees F for 35 to 40 minutes, until the center is firm.
Spinach or green chilies would also be great in this (although you might want to check the GAPS diet list as I'm not sure they are approved).
Everyone loved this and I was so happy to serve it since it contains so lots and lots of good nutrition for my family.
Next up I plan to try mixing it up at night and seeing if it bakes well the next day. It's always nice to be one step ahead in the morning!
This posted is linked to Real Food Wednesday, Simple Lives Thursday.
Stacy is a DIY obsessed, healthy living advocate. A preacher's wife and mom of three, she loves to encourage others to live a natural lifestyle.
Latest posts by Stacy Karen (see all)