This post may contain affiliate links which won't change your price but will share some commission.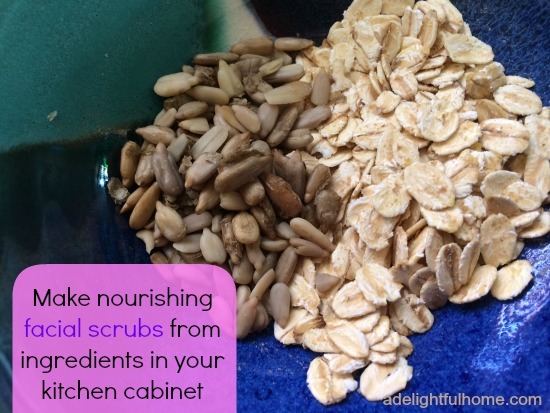 It's easy to make nourishing homemade facial scrubs for glowing skin. Just combine a few basic ingredients, apply, and wash off with warm water.
Choose one or two dry ingredients (such as ground oats or nuts) and mix with a wet ingredients (such as oil or water). Mix approximately 1 tablespoon of dry ingredients to 1 teaspoon of liquid/wet ingredients. This works out to roughly 3:1 ratio (three parts dry to one part wet). The emphasis here is on roughly. Your goal is to create a paste that will hold together.
These scrubs are intended for immediate use and not generally suitable for storage. So, jut make enough to use right away.
Some ideas for dry and wet ingredients:
Dry ingredients
Oat bran
Baking Soda
Almond meal (finely ground almonds)
Sunflower seeds, finely ground
Oats, finely ground
Cornmeal
Wheat germ
White Cosmetic Clay – good for sensitive skin
Dried herbs, ground
Choose herbs such as: calendula petals, chamomile flowers, peppermint leaves, lemon balm, lavender, or rose petals
Wet ingredients
Water
Milk
Cream (for dry skin)
Yogurt
Avocado, mashed
Strawberries, mashed
Bananas, mashed
Honey
Herbal Tea – such as chamomile or peppermint.
3 examples of nourishing, DIY facial scrubs:
Corn and Honey Scrubber
1 Tablespoon cornmeal
½ teaspoon honey
Enough water to make a paste
Honey-Almond Scrub
1 tablespoon ground almonds
1 teaspoon honey
Add water if necessary
Herbal Oat Scrub
1 tablespoon ground oats
1 teaspoon freshly brewed chamomile tea
This is an excerpt from my eBook, Simple Scrubs to Make and Give.