This post may contain affiliate links which won't change your price but will share some commission.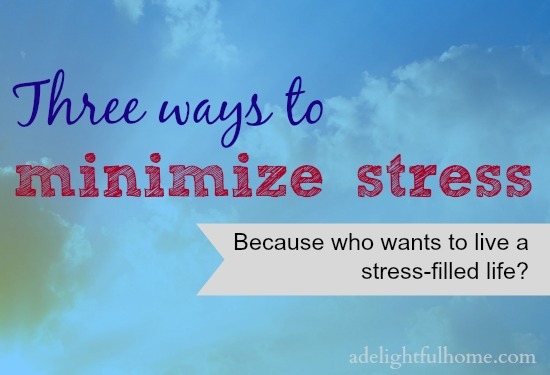 Are you ready to stress less?
I am!
Reducing stress has been a major project for me for the past six months. I can honestly say that I am getting there. Six months ago I had an anxious knot in my stomach almost daily, but now it's rarely there.
I thank God for that!
Today I'm going to share three habits that will minimize stress and help you feel more relaxed and peaceful. You probably already know these, but a reminder can't go astray.
Prioritize sleep
I know this can be very difficult, but truly, sleep has a great impact your well-being.
According to recent studies, lack of sleep is damaging to the brain. It's almost the equivalent to getting knocked in the head!
Sleep is where the brain cleanses itself of toxins, and most of us know, that sleep makes the world a better place. Really!
Do you ever go to bed stressed or worrying about problems, only to wake up and feel that things are more manageable? Lack of sleep makes problems feel larger and every day tasks more difficult.
If you are having trouble controlling your temper, sleep might be a huge part of the issue.
It's becoming easier and easier to stay up late. Artificial light and entertainment are available 24 hours a day. In order to get your body ready for sleep, it's important to dim the lights. This signals the brain to start winding down. So, turn off those electronic devices.
If you're just not getting sleepy at night, it may be that you are overstimulating your brain. Shut things down and get quiet. Read a book or do some easy stretches.
If you are a mom, this can get tricky. I understand. But, at least do what is within your power to make sleep a priority. You will reap the benefits.
Practice a Morning and Evening Routine
Creating routines for the morning and evening is a great way to reduce stress.
Waking up and knowing exactly what to do, with give you more peace and aid productivity. An evening routine will set you up for the following day and help relax the brain for a good night's rest.
These routines do not have to be long and involved, just a few steps to start and end the day on the right foot.
If you don't already have a morning and evening routine, pick one to start with. Jot down a few steps on a post-it note and attach it to the bathroom mirror (or other place you will see it).
Don't make these huge items to start with, maybe just get dressed, take vitamins, make breakfast. . .
If you need further ideas, see Crystal's post on developing routines.
Go small
If you are feeling stressed on a consistent basis, it might not be the right time to set large goals or take on new projects. It's OK to go small, to step away from activities, and rest for a season. It's more than OK, really. It's healthy and good.
Focus on the tasks at hand and just do the next thing.
Breathe.
Notice the little things and take joy in them.
Keep a gratitude journal and pay attention to the seemingly small things that make up this wonderful life.
Remember, there are only 24 hours in a day, and you are one person. Don't try to do it all. Try to do the best you can with the most important things.
I hope and pray 2014 will be a year where you will find more joy and less stress in life. 
What are your best tips for stressing less?
If you need more ideas, see my other post on stress: 20 Ways to Reduce Stress.