This post may contain affiliate links which won't change your price but will share some commission.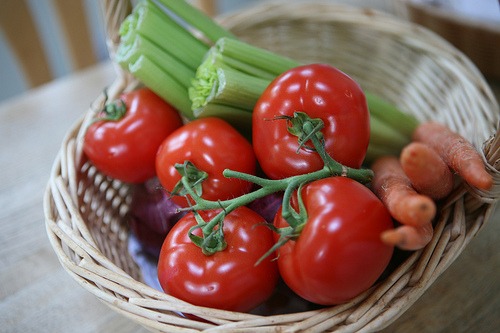 Most of us could use a few more vegetables in our diet.
But there's so much washing and chopping, they can often get overlooked.
Today I'm sharing some tips for adding more vegetables to food you are already cooking. In this post my goal to give you some ideas for increasing your veggies intake without increasing your stress level or creating  a lot more work.
We all know that vegetables are good for us; they can help protect against many chronic diseases, aid weight loss, and provide vitamins and minerals.
Yet, even with this knowledge, a good portion of the population don't eat enough vegetables.
I know my family could eat more.
Even if you do consume a decent amount of veggies each week, I'd venture to say you could add more; if not more in relation to the amount, then possibly more variety. Variety is important because each vegetable provides different nutrients.
It is easy to fall into a rut and eat the same thing every week. Most of us are busy and it can be difficult to find the time to try new recipes or learn to prepare produce we've never used before.
The following tips are intended to  add more vegetables to meals you're already cooking, without adding too much extra work:
1. Add Finely Chopped or Shredded Vegetables
Finely chopped or shredded vegetables are easily incorporated into many dishes. For added flavor try sautéing them in a little butter or avocado oil before adding.
To prepare in ahead: shred (or finely chop) vegetables, divide between small ziplock bags, and store in the freezer (this is a great time to make use of a food processor if you have one). Pull out a bag to add to a meal when needed.
Some suitable meals for shredded vegetables:
Vegetables to use:
Zucchini, onion, red pepper, and carrots mix well with many family dinners. Also considering sautéing them and adding to sandwiches, burgers, omelets or quiche.
2. Add Vegetable Puree
It's taken me a while to get my head around the idea of adding vegetable puree to my meals. Vegetable puree reminds me of baby food! But really, it's an excellent way to add extra vegetables to meals without anyone even noticing.
To prepare ahead: Cook vegetables by steaming, boiling or roasting, allow to cool, then puree in a food processor or blender. Pour into ice cube trays or measure out 1/4 to 1/2 cup portions into freezer bags and freeze.
To use: thaw puree and stir into suitable dishes.
Meals and sides suitable for vegetable puree:
Mashed potato (add a little cauliflower)

Pizza Sauce

Burger patties

Casseroles

Lasagna
The best veggies for making puree: cauliflower, carrots, yellow squash, broccoli, zucchini, spinach. Avocados are also great, but they don't have to be cooked (You can also sneak avocado into chocolate pudding.)
3. Soup-up Side Dishes
Instead of having plain rice or couscous with a meal, try cooking the grains in vegetable broth, adding a bag of frozen veggies to the water while cooking, or creating a baked side dish like this
Broccoli Rice
.
4. Make a Bi (or Tri) Weekly Salad
Including salad with one meal a day is an excellent way consume more vegetables. Especially during the spring and summer when fresh produce abounds.
To make it easy,
prepare a large salad at the beginning of the week
(without dressing) and serve it in addition to any other side dishes you usually serve. If the salad is big enough it could last a few days, depending on your family size (and serving size). Once it's gone, make another one. Two or tree large salads a week should have you covered.
5. Add Greens to Smoothies
If you haven't tried a green smoothie yet, you should! They are not as scary as they sound.
Adding one or two handfuls of spinach to a smoothie of bananas, berries and water, milk or kefir makes a healthy breakfast or snack. The spinach is barely noticeable as the fruit masks it very well.
Other greens to consider adding: kale, parsley, lettuce, dandelion greens, and chard.
6. Replace Less Nutritious Ingredients and Side Dishes with Vegetables or "Vegetable Versions"
For example:
Use Spinach noodles instead or regular noodles

Use Zucchini noodles or spaghetti squash instead of pasta

Serve Bolognese or Pasta sauce over broccoli instead of pasta

Make sweet potatoes fries instead of white potato fries
 7. Fill-in the Gaps
My husband accuses me of adding avocado wherever there's a gap, and he's right! It's so easy to spread on sandwiches, include in Quesadillas, and top salads.
Many other vegetables are great fillers, too. Try adding sprouts, mushrooms, beets (pickled or shredded), grated carrot, and mixed greens to sandwiches or salads.
Do you have any tricks for adding more vegetables to your meals?