This post may contain affiliate links which won't change your price but will share some commission.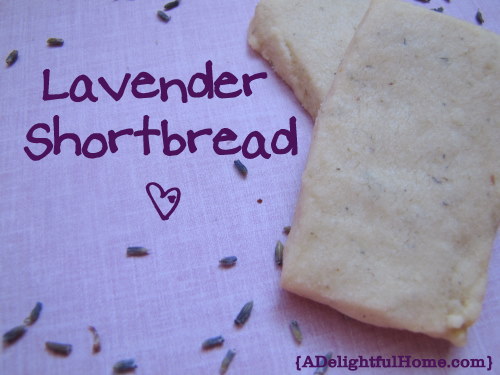 Eating lavender wasn't something I considered until recently. I've always used it in my homemade body products and displayed dried lavender around my home, but had never thought about adding it to food.
Obviously I like lavender. It's in my blog header and on my business cards! I love the color and the rustic look of lavender.
The following lavender shortbread cookies are easy to make and have a light lavender fragrance and taste. I think they are a combination of buttery goodness and surprise. TI expect they are not everyone's cup of tea (one of my kids can't get over the fact that lavender is supposed to go in soap!), but, perhaps you might like to try them and see what you think.
Lavender Shortbread
This recipe is adapted from The Herbfarm Cookbook by Jerry Traunfeld. It is full of amazing recipes that use herbs in unique ways.
Ingredients
8 ounces (2 sticks) unsalted butter, room temperature
4 teaspoons fresh lavender or 2 teaspoons dried
½ cup sugar
2 cups unbleached, all-purpose flour
Method
1. Make Lavender Sugar:
Place ¼ cup of the sugar and all of the lavender in a spice mill, clean coffee grinder, or blender. Grind until fine.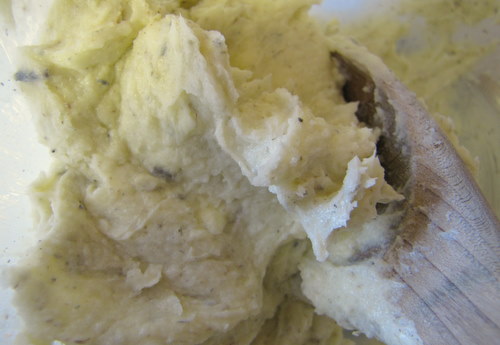 2. Mix the dough:
In a large bowl stir together the butter and lavender sugar until smooth. Add the rest of the sugar and stir well.
Add the flour and continue to stir until a soft dough forms.
Wrap the dough in plastic wrap and refrigerate for one hour.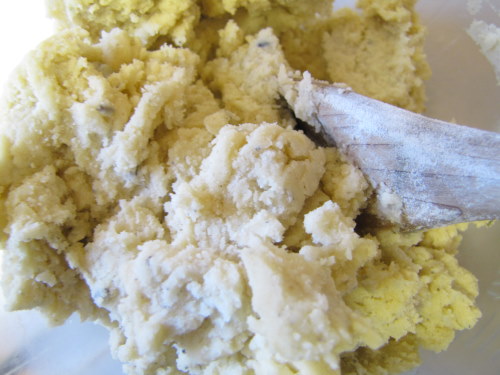 3. Roll and cut the dough:
After the dough has chilled for an hour, unwrap and place on a lightly floured surface.
Press dough into a rectangular shape. If any cracks form, push them together.
With a rolling pin, roll the dough into a 12 x 9 inch rectangle that is about ¼ inch thick.
Slice into bars approximately 3 inches x 1 inch. Use a spatula to place the bars on a cookie sheet that is been lined with parchment paper. Leave about ½ inch between each cookie.
Place cookie sheet (with cookies) in the fridge for 30 minutes.
4. Baking:
Preheat oven to 300 degrees F.
Bake cookies until they are lightly colored. They should not look brown, but instead resemble sand. This will take about 20 to 25 minutes.
An excellent way to check and see when they are ready is to lift one cookie with a spatula and see if the underside of the cookie is a shade darker than the top (This tip is in the original recipe by Jerry Traunfeld. It helped turn out a cookie that was firm, but not crumbly. I loved it).
Allow the cookies to cool completely on the pan.
Once cooled, place your lavender shortbread in an airtight container. They will keep at room temperature for one week.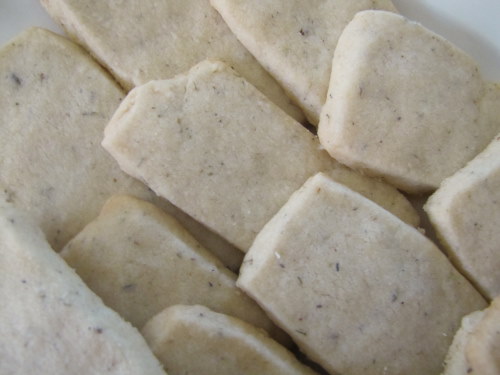 What do you think? Is this a perfect tea party cookie? Have you used lavender in cooking or baking before?