This post may contain affiliate links which won't change your price but will share some commission.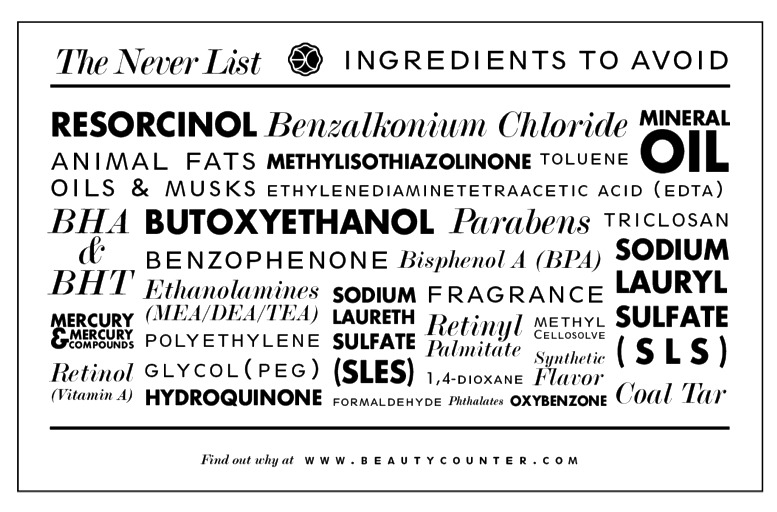 Did you know the United States has not passed a federal law to regulate the ingredients used in personal care products since 1938?
That's a long time.
Many ingredients used in make up and skin care products in the USA are banned in other countries. And for good reason. They are harmful. Especially when used long term.
The European Union has spent the past two decades banning or restricting more than 1,300 ingredients, the US has only banned 11 to date.
There are more than 80,000 chemicals on the market today. Many don't have any safety data. This is particularly true of those used in the skin care and beauty industry.
Only about 10% of the 10,000 chemicals commonly found in personal care products have safety data.
For this reason, I want you to know what ingredients are bad for you and avoid them like the plague! 
How to know which skin care ingredients are toxic
There are so many ingredients, it's hard to know which ones are bad for us and which are good.
But we have to learn. At least a few of them.
Use the EWG Database
You can easily look up your beauty products in the EWG SkinDeep database and see how it's rated.
What is EWG SkinDeep database?
From the website:
EWG's Skin Deep is an online safety guide for cosmetics and personal care products, launched in 2004 to help people find safer products, with fewer ingredients that are hazardous or that haven't been thoroughly tested. Skin Deep combines product ingredient lists with information in more than 50 standard toxicity and regulatory databases. The database provides easy-to-navigate safety ratings for tens of thousands of personal care products.
It's a great way to see how toxic (or not) the products you currently use are.
Print Out the NEVER List
BeautyCounter has put together a list of toxic ingredients that they will never use in their products (one reason why I love them!).
Here is a sample:
Benzalkonium chloride: a disinfectant used as a preservative and surfactant associated with severe skin, eye and respiratory irritation and allergies. Found in: sunscreens, moisturizers.

Benzophenone and derivatives: a possible human carcinogen and hormone disruptor used as a fragrance ingredient and to absorb ultraviolet light. Found in: nail polish, sunscreen.

Bisphenol A (BPA): a hormone disruptor that may also alter DNA, used in plastics and resins. Found in: plastic bottles, lining of aluminum food cans, possibly in eyeshadow and styling gel.

Butoxyethanol: a solvent used to control viscosity, or a "fragrance" additive. It irritates skin and may cause cancer and reproductive toxicity. Found in: fragrance, hair color.
Click here to see the full list. It includes a description of each ingredient and it's hazards.
From the same page you can get access to a pocket-sized list which you can keep in your wallet. This list has the names of each ingredient without the description. That way you can check the labels when shopping at a store.
TODAY'S ASSIGNMENT: Go an Print a copy of THE NEVER LIST.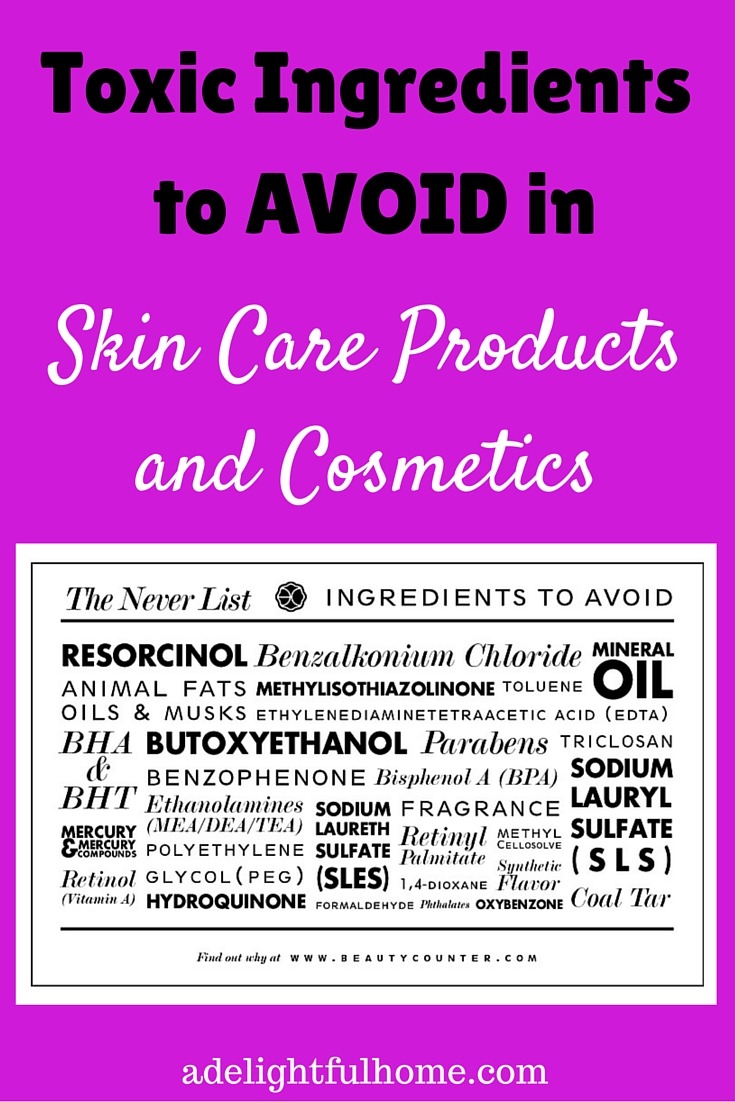 This is Day 19 in the 31 Days of Natural Beauty Series.