This post may contain affiliate links which won't change your price but will share some commission.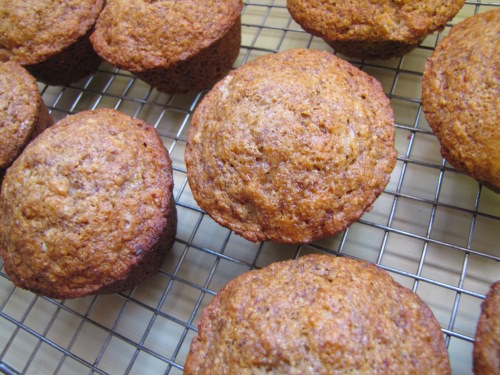 This month, Hyacynth posted a Simple Swap challenge that was right up my alley: Swap out unhealthy fats for healthy ones (replace with coconut oil, if possible).
As you may (or may not) know, I like to use coconut oil in cooking and baking. For some reason I still get a little nervous each time I try it, even though it usually works very well. I hate to waste ingredients!
For this swap I chose to update a banana muffin recipe and replaced canola oil with coconut oil. I also couldn't help switching the brown sugar for sucanat.
I know that canola oil is portrayed as a healthy oil, but I don't believe it is! (I plan to write a post on why. But for now, read this).
On to the recipe:
Healthy Maple-Banana Muffins
Ingredients
2 cups whole wheat pastry flour (sprouted flour would be even better)
1 1/2 teaspoons baking powder
1/4 teaspoon baking soda
1/4 teaspoon salt
1/4 teaspoon ground ginger
1/4 teaspoon ground cinnamon
2 large eggs
1/2 cup maple syrup
1/2 cup sucanat (sugar)
1/3 cup milk
1/4 cup melted coconut oil
1/4 teaspoon vanilla extract or vanilla bean paste
4 mashed bananas
Optional extras:
3/4 cup chopped walnuts
1/2 – 1 cup chocolate chips
1/2 cup dried raisins
1/2 cup dried cranberries
Method:
Preheat oven to 375 degrees F.
Grease muffin pans with coconut oil.
In a large bowl, combine the flour, baking powder, baking soda, salt, ginger, and cinnamon. Stir to combine well.
In a medium-sized bowl, place the maple syrup, sucanat, milk, vanilla, oil, and eggs. Whisk to combine.
Add the mashed bananas and stir to thoroughly combine.
Add  wet ingredients to dry ingredients and stir until just combined. Fold in any extras (like walnuts). Don't overmix the batter – it will result in tough muffins! No one wants tough muffins.
Pour batter into muffin tins, filling to just under the brim.
Bake for about 20 minutes (up to 30 minutes), until golden brown.
Take out of the oven and allow to cool for 10 minutes before removing from the muffin pan.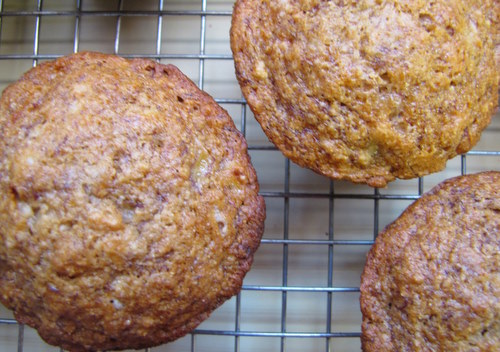 I'm sharing this post at Healthy 2day Wednesdays @ Day 2 Day Joys