This post may contain affiliate links which won't change your price but will share some commission.
Natural hair care is an important part of your healthy living practice. One of the reasons being that the follicles on our scalps are wide open and ready to absorb the chemicals and toxins found in the hair care products we use.
Because hair care products are used on such a regular basis, finding natural options is beneficial (and reduces our toxic load).
When searching for natural hair care products, one company, in particular, caught my eye: Morrocco Method.
The reason: they aren't like any other hair care company.
Just take a look at their website and you'll see why I was so intrigued.
All of Morrocco Method's natural shampoos are raw, and vegan. They are also chemical free, gluten free, paraben free, paleo friendly, and sulfate free.
They have a very interesting line of shampoos, conditioners, treatments, and styling products.
According to their website, "every Morrocco Method product contains each of the 92 trace minerals. Each product is carefully designed to both detoxify and nourish." I don't think many hair care lines can say that!
Morrocco Method sent me two mist conditioners to try and I am excited to share my experience with you. (It always helps me to read about products in detail when considering a purchase, so I hope this is helpful in that regard).
I tried the Sapphire Volumizer Mist Conditioner & Moisturizer and the Diamond Crystal Mist Conditioner & Moisturizer.
Both mists can be sprayed on wet or dry hair and left in throughout the day or overnight. They are created to stimulate, condition, and rejuvenate the hair and scalp.
Here's my attempt at action shots! 🙂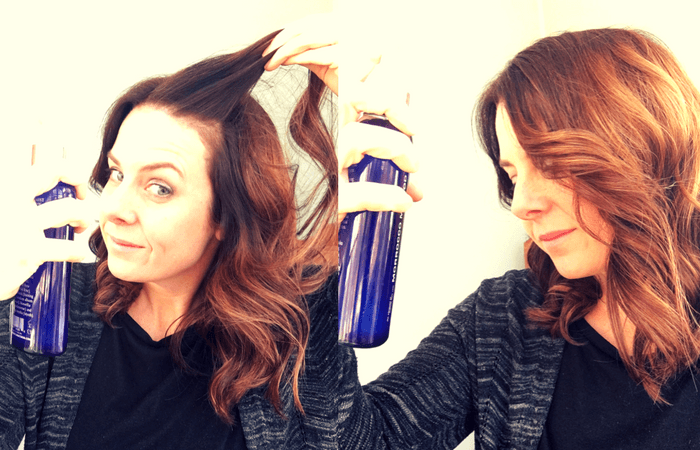 Both mists smell lovely and fresh.
I really enjoyed the scents, which was a welcome surprise; I can be quite sensitive to certain smells, so it's always a little risky when trying something new. (If it's the wrong scent, I get an instant headache that lasts for hours.)
Both mists did a great job of conditioning and moisturizing my hair without weighing it down.
One aspect of these mists that surprised and delighted me: they are multi-purpose!
And by multi-purpose, I didn't mean they can be used for other hair treatments…
These mists can actually double as a refreshing body or facial spray. Crazy, right?
I've never purchased a hair conditioner that could be used as a facial or body spray before! Have you?
Here is a little deeper dive into each product:
Sapphire Volumizing Conditioner & Moisturizer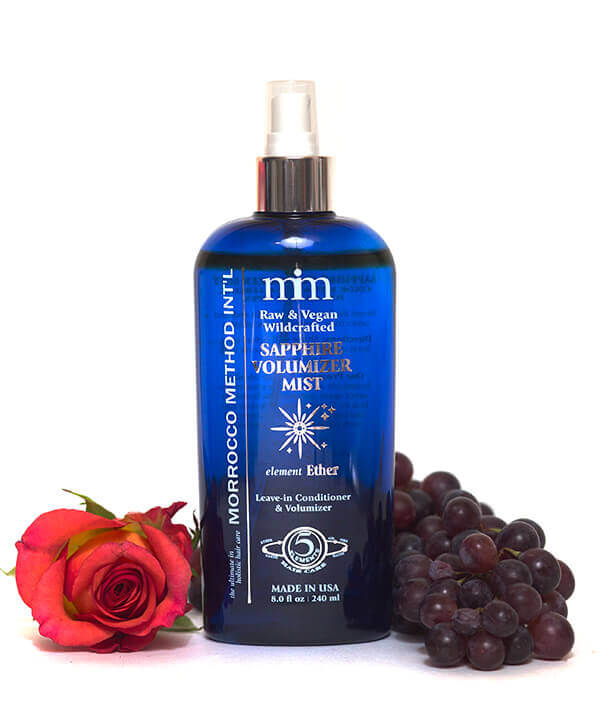 Since my hair is fine, I tend to use theSapphire Volumizing Conditioner & Moisturizer mist most often. I like the added volume it gave my hair. It wasn't anything crazy, but gave it a nice lift.
Here's a look at the ingredients:
Aqua (Water), Vitis Vinifera (Grapeseed) Oil, Rosa Rubinigosa (Wild Rose), Oenathena Biennis (Evening Primrose), Santalum Albus (Sandalwood), Boswellia Carteri (Frankincense), and Commiphora Myrrha (Myrrh) Essential Oils
Morrocco Method states that the Sapphire Volumizing Conditioner & Moisturizer "promotes long-term thickening results with grapeseed extract." I haven't used it for long enough to see if that's true, but I love the idea.
I believe the prolonged use of either of these products would have a nourishing and healing effect on the hair and scalp.
Diamond Crystal Mist Conditioner & MoisturizeR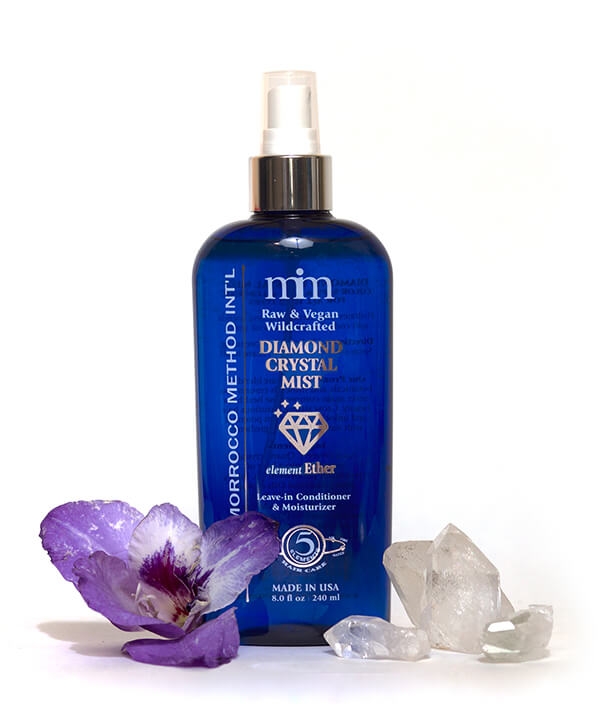 I favored the Diamond Crystal Mist as a detangler and leave-in conditioner.
It was especially nice to use this on my daughter's hair (which tends to get knots) without worrying about any added toxins or chemicals. It worked beautifully to remove tangles and smooth her hair.
Here's a look at the ingredients:
Aqua (Water), Quartz crystals liquefied into a base of Hypericum Perforatum (St. John's Wort), Rosa Rubiginosa (Wild Rose) Oil, Santalum Album (Sandalwood) Oil, Boswellia Carterii (Frankincense) Oil, Commiphora Myrrha (Myrrh) Oil, Acacia Concinna (Shikakai) Oil
If you read those ingredients carefully you may have noticed one very special ingredient: Quartz crystals
These crystals (from the Himalayan Mountains of India) are liquefied. I don't pretend to know how this is achieved. But I must say it is pretty cool!
I like the way the Diamond Crystal Mist softened my hair. The ingredients feel quite luxurious but are formulated in a such a way that you'll want to use it daily. I venture to say you'll get addicted to this stuff (both to the smell and the way it make your hair feel).
The antibacterial and conditioning properties of the Diamond Crystal Mist makes it a great aftershave. Perfect for use after shaving your legs!
Are you as intrigued as I was?
I think this company is absolutely fascinating and I'm so happy to have had a positive experience with their products so far. I look heartily recommend them (and look forward to trying other Morrocco Method products soon).
Morrocco Method has a lot more to offer besides these conditioning mists. click here to learn more about Morrocco Method.
Get 15% off Morrocco Method!
Use code Delightful15 to get 15% off total purchase at Morrocco Method!
Coupon is valid from 2/10 – 3/10.