This post may contain affiliate links which won't change your price but will share some commission.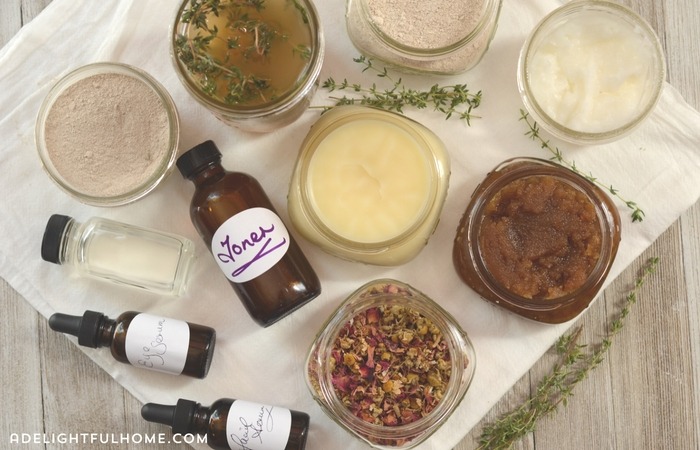 Once you start making natural beauty and skin care products, it can be hard to stop!
If you've ever wanted to replace all (or most) or your beauty care products with natural versions, I've got just the thing for you.
The following could be used as a special treat or spa night, or incorporated into your regular beauty and skin care routine. Make these products for yourself or give as a gift. (This would make a fun gift basket!)
We will make:
herbal face steam
cleansing grains
facial toner
moisturizing face serum
eye serum
face mask
hair mask
hair rinse
body scrub
hand lotion
Most of the recipes have appeared on the blog before, but I have put them in a specific order to make the workflow easier and faster.
I took an overhead video while preparing these goodies. It's basically unedited (I've cut out long boring pauses and sped it up so you don't have to sit here for an entire hour! I managed to cut it down to less than 7 minutes! Woo hoo!). If you'd like to see more of these, let me know in the comments.
The best thing to do before you begin: set out EVERYTHING you need (come back next week and I will upload a shopping list for you).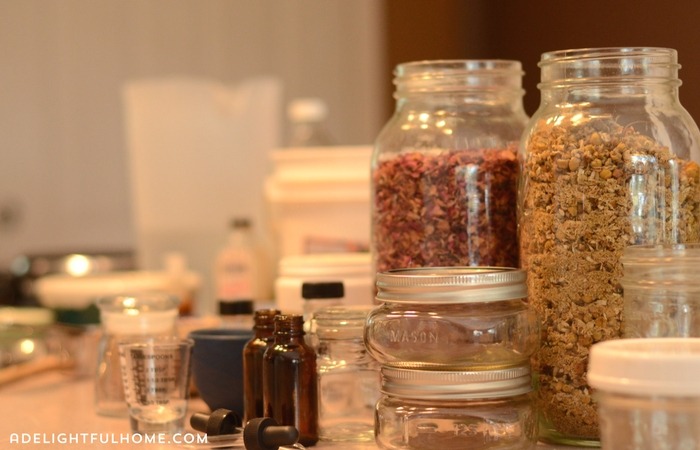 Ok, ready?
If you follow along in the order listed below, you should be able to complete this in about an hour. It took me an hour and I was messing with a camera and answer the front door!
First, we get the Hand Lotion started . . .
We are making the hand lotion first because it's the only item in this process that will need to be heated and cooled.
This is the most involved of everything we are making today. But don't be intimidated, all you have to do is measure, melt, and pour.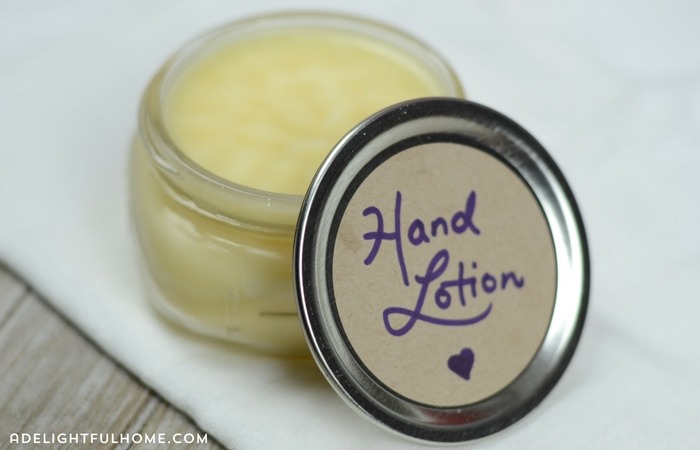 Ingredients
1/2 cup sweet almond oil (or sunflower, or olive)
1/4 cup coconut oil
1/4 cup beeswax
1 tablespoon shea butter
Optional: 1 teaspoon Vitamin E oil (will help preserve the lotion)
Optional: 20 drops lavender essential oil
Method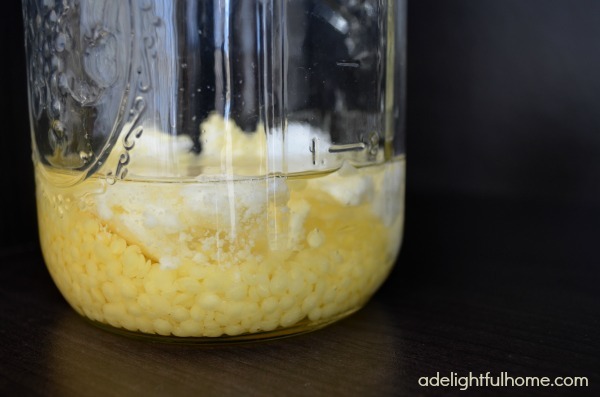 Measure all ingredients into a heavy jar (like a canning jar).
Place jar into a saucepan and add enough water to the pan so that the water level comes past the ingredients in the jar (don't put any water inside the jar, just in the pan around the jar).
Place the lid on loosely so some air can escape.
Heat the water on medium heat and allow the ingredients to melt inside the jar. This can take around 20 minutes.
Once melted, you will remove from heat and place jar on a towel (or other heatproof surface), let cool briefly. Add essential oils and stir, then pour into a jar.
Since we are making ten items in an hour, you will stay close by while the ingredients melt and keep an eye on it as you put together the rest of your DIY beauty products together. I'll remind you to check on it throughout this tutorial.
Next: Herbal Facial Steam
This simple herbal steam is so easy. You won't believe it. (Or maybe you will.)
Herbal steams are great for opening the pores, but the aroma is also seriously soothing. So, it's a skin care and aromatherapy treatment all in one.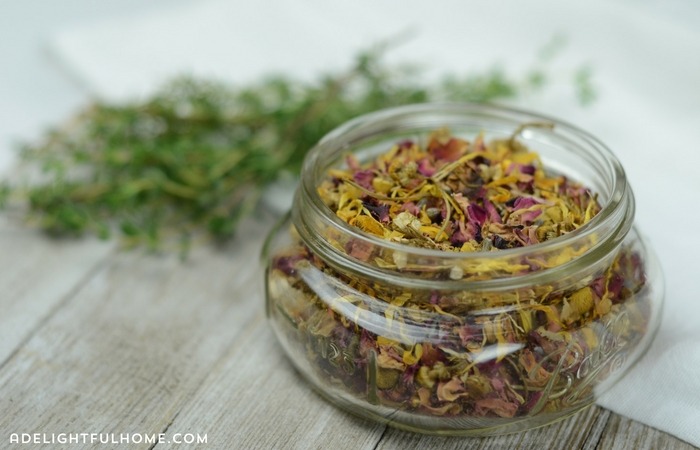 Ingredients:
1/2 cup of dried rose petals
1/2 cup dried chamomile flowers
Optional: 2-3 tablespoons dried lavender flowers
Method
In a small bowl mix all the herbs.
Pour into a clean jar.
To use:
You will need 3 tablespoons per use
Place herbs in a heatproof bowl
Pour one pint of boiling water into a heatproof bowl (use pure water, if possible, to avoid breathing in any chemicals from a treated water supply)
Place bowl on a sturdy surface (like a table) and lower face over the bowl (it's usually best to sit in a chair that is pulled up close to a table)
Place a towel over your head to create a tent over the bowl (the towel helps the steam stay close to the face and not evaporate into the air so quickly)
Stay here for about 15 to 20 minute
Cleansing Grains
I first learned about cleansing grains in Rosemary Gladstar's book, Herbal Recipes for Vibrant Health, and have been amazed at how well they clean and exfoliate the skin.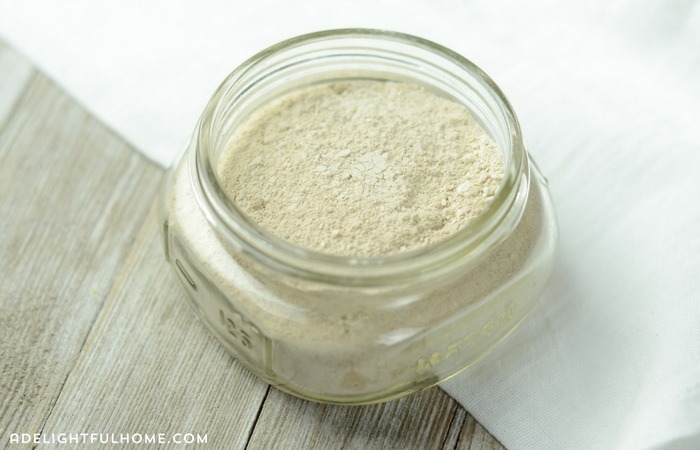 The wonderful thing about cleansing grains is they are extremely gentle. Much different to regular facial scrubs, cleansing grains can be used on a daily basis (and in place of a facial cleanser).
They can also double as a face mask. Just leave on the face for 15 minutes before wiping off with a warm washcloth.
Ingredients:
1/2 cup Kaolin clay
1/4 cup ground oats
1/8 cup almond flour
4 drops lavender essential oil
optional: ground sunflower seeds
optional: ground lavender and/or chamomile flowers
Method:
Grind anything that is coarse into a fine powder. Mix all ingredients together in a clean bowl, with non-metallic utensils (a bamboo chopstick or wooden spoon will work).
Pour into a jar and close lid.
To use:
Mix 1 teaspoon of mixture with enough water, cooled herbal tea, or hydrosol to make a paste. Massage into the skin, avoiding eyes. Wash off with warm water. Follow with a facial toner and lotion or moisturizing serum.
Facial Toner
Use to remove excess makeup and dirt after cleansing. Also helpful in closing pores after a facial steam.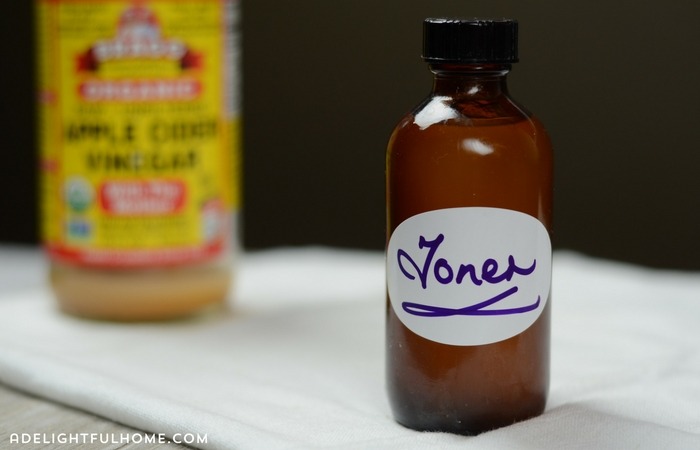 Ingredients:
1/4 cup apple cider vinegar
3/4 cup distilled water
Optional: replace 1 tablespoon of water with chamomile hydrosol or rose hydrosol
Method:
Pour ingredients into a glass bottle. Close with lid. Shake to blend.
To Use:
Put a little toner on a cotton ball and gently wipe over the skin, avoiding eyes.
Note: In the video I put the toner in a different jar. I later thought better of it and poured it into the bottle above. It works much better!
REMINDER: CHECK ON HAND LOTION
Go back to your Hand lotion. If it's melted, take off the heat and let cool briefly before adding essential oils. If not melted yet, leave to continue. Check again after the next product is made.
Moisturizing Facial Serum
A moisturizing facial serum is often used in place of face lotion. It's the only thing I've used as a facial moisturizer for the past few years. I find the skin soaks it up much better than other lotions and it feels extremely nourishing; like it's feeding my skin lots of good stuff. Which it is.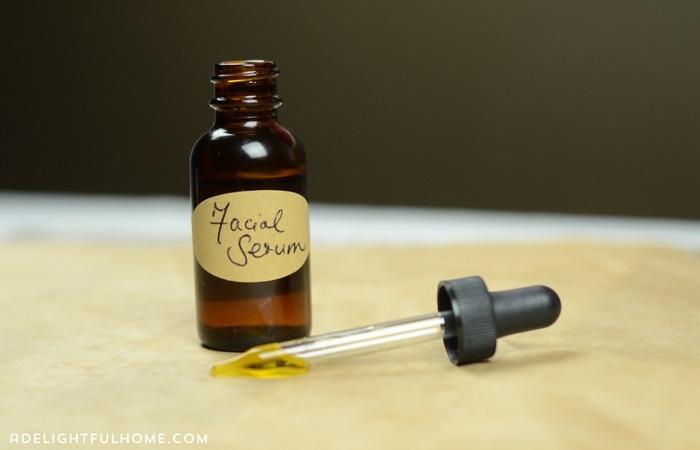 Ingredients:
1 tablespoon avocado oil
1/2 tablespoon rosehip seed oil
2 drops carrot seed essential oil
2 drops rose geranium essential oil or lavender essential oil
Optional: 1 drop frankincense essential oil
Method:
Drop essential oils directly into glass dropper bottle. Next, pour avocado and rosehip seed oil into bottle. Close with lid. Shake to blend.
Add a label.
To use:
Drop 3 drops into the palm of your hand and use fingertips to gently massage into face. Best used after cleansing and toning the skin.
Note: I got a delivery as I was finishing recording; this cool little funnel: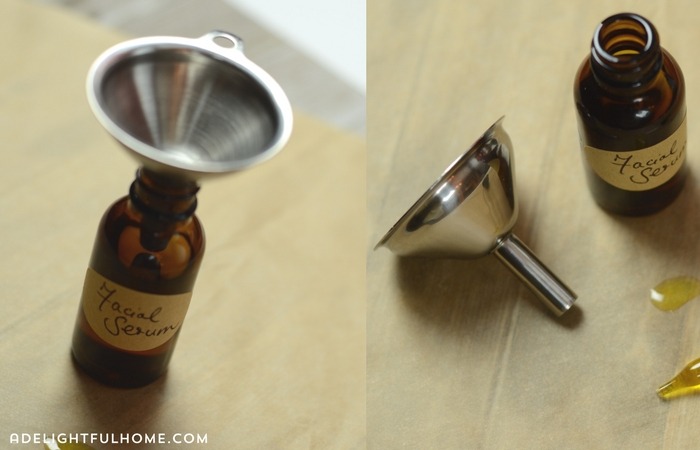 Makes pouring the oil into the jar SO MUCH EASIER!
Moisturizing Eye Serum
Eye serum is made exactly the same way as facial serum, just using slightly different oils.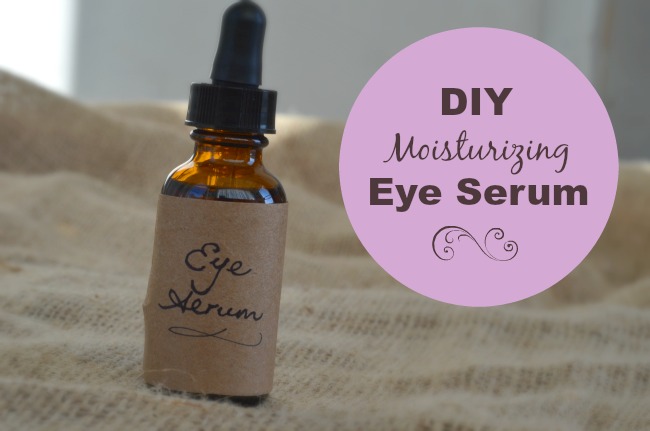 Ingredients:
2 teaspoons jojoba oil (where to buy)
2 teaspoons avocado oil (where to buy)
2 teaspoons apricot kernel oil (where to buy)
2 drops carrot seed essential oil
A dropper bottle or other small container for storage (these can be found here or here).
Method:
Measure each oil and pour directly into the dropper bottle.
Place lid on bottle and shake to combine.
Add a label.
To Use:
Apply a few drops to fingertips and gently massage into are around the eye.
Face Mask
Face masks are super simple to make. In fact, you could skip this and just use the cleansing grains as a mask. But if you'd like to change it up and have a different product for face masks, use the following recipe: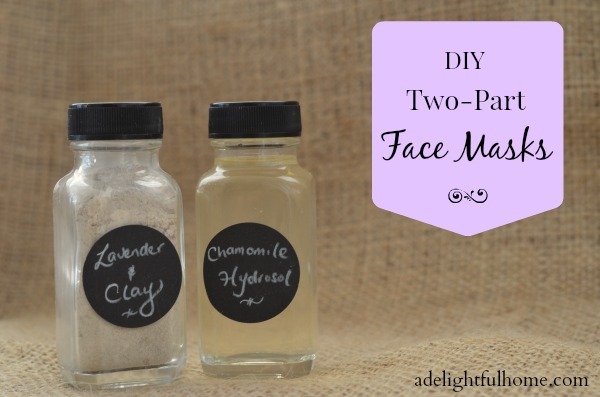 Ingredients:
1 1/2 tablespoons lavender flower powder
3 tablespoons white cosmetic clay (also known as Kaolin clay)
Chamomile hydrosol – can be substituted for another liquid, such as rose water or carrier oil (avocado, almond, olive or jojoba oil would all be good choices).
Method:
Mix the lavender flowers and cosmetic clay in a small bowl. Use non-metallic utensils only.
Place into a clean jar and label.
Pour the hydrosol (or other liquid ingredient) into a jar and label.
Hair Mask
A hair mask is a fantastic way to moisturize and nourish dry hair. This mask uses coconut oil, which is extremely emollient. This mask is best reserved for use when you don't need to go out right afterward!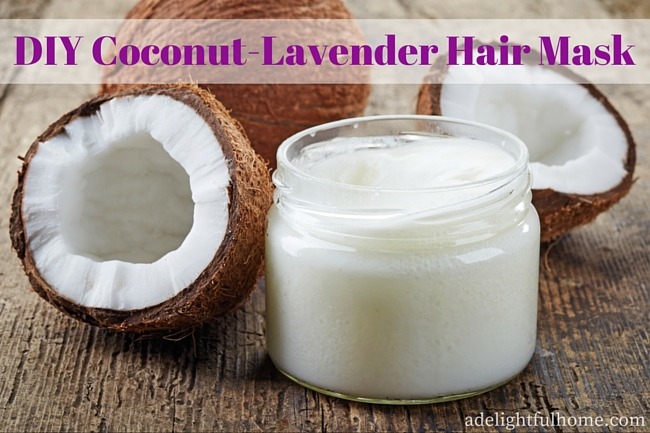 Ingredients:
10 drops lavender essential oil
1/2 cup coconut oil
Makes enough for 1-4 uses, depending on hair length.
Method:
In a small bowl mix the coconut oil and lavender essential oil.
To Use:
Apply the coconut oil-lavender mixture to dry hair and allow to sit for 15 minutes.
Wash out with warm water and a gentle shampoo.
If you have any trouble getting the excess oil out of your hair, try using a vinegar hair rinse.
Hair Rinse
Great for removing residue. A perfect follow up after a hair mask.
Substitute rosemary for other herbs, if desired. In the above video, I actually use thyme.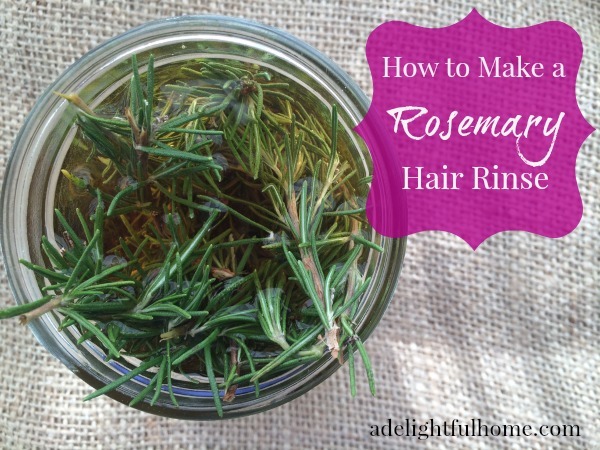 Ingredients:
Apple cider vinegar
Fresh rosemary (or rosemary essential oil for a quicker version)
Mason jar and non-metallic lid
Method:
To make your rosemary hair rinse, place enough rosemary in your jar to fill it. Not jam-packed, but nicely full.
Pour apple cider vinegar over the rosemary so it is completely covered. Place lid on jar and leave rosemary to sit for about three weeks.
If you want something quick (as in, you want to use it right now), brew a strong tea using rosemary or add 10 drops of rosemary essential oil to the vinegar and shake to blend just before use.
To Use:
For ease of use, pour this mixture into a spray bottle or squeeze bottle and keep it in the shower. Spray hair all over and allow to sit for a few minutes before rinsing out.
Keep away from eyes.
Brown Sugar-Vanilla Body Scrub
Great for exfoliating the skin. If you don't wish to use as an all-over body treatment, try using body scrub on hands. It's a great way to revitalize tired hands.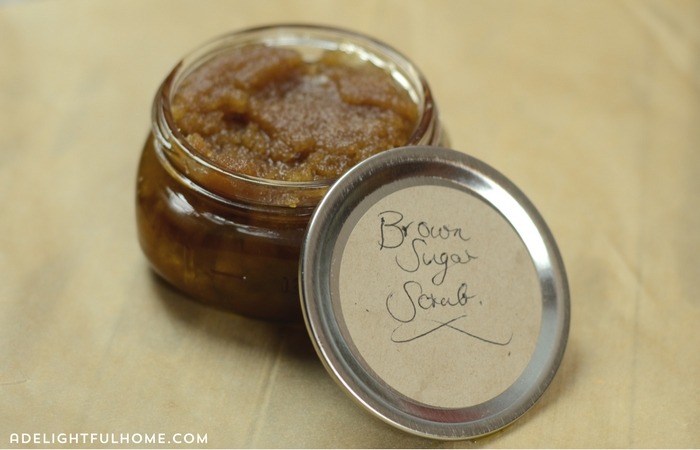 This recipe is adapted from one in my ebook, The Body Scrub Bible.
Ingredients:
1 cup brown sugar
1/2 oil (I use grapeseed, sunflower, sweet almond, avocado, or light olive oil) I use avocado oil because it's what we are using for most of our other products in this tutorial. It makes things easier and faster!
1 teaspoon of vanilla extract
Method:
Mix the sugar and 1/2 cup of oil. Make sure scrub is thick, but not too runny. Sugar scrub should hold together and not slide right off your hand. If it's too thin, add more sugar, if too thick, add more oil.
Add vanilla and stir to combine.
Package in a clear jar. Label with ingredients, especially if giving as a gift.
To Use:
If using as a hand scrub, place a small amount (about 2 teaspoons) into the palm of your hand and gently massage using the fingertips. Rub all over front and back of hands.
Finish HAND LOTION
Go back to your Hand lotion. Is it should be melted. Remove jar from water VERY CAREFULLY! You will need a kitchen glove or some other protection.
Place on a heatproof surface.
Let cool a few minutes and add essential oils, if using. Gently stir to combine.
Pour into a jar for storage. Will last for up to 6 months.
This will make approximately one cup of lotion. A small, wide-mouth canning jar works very well.
We did it!
If you enjoyed this post, please consider sharing on Pinterest.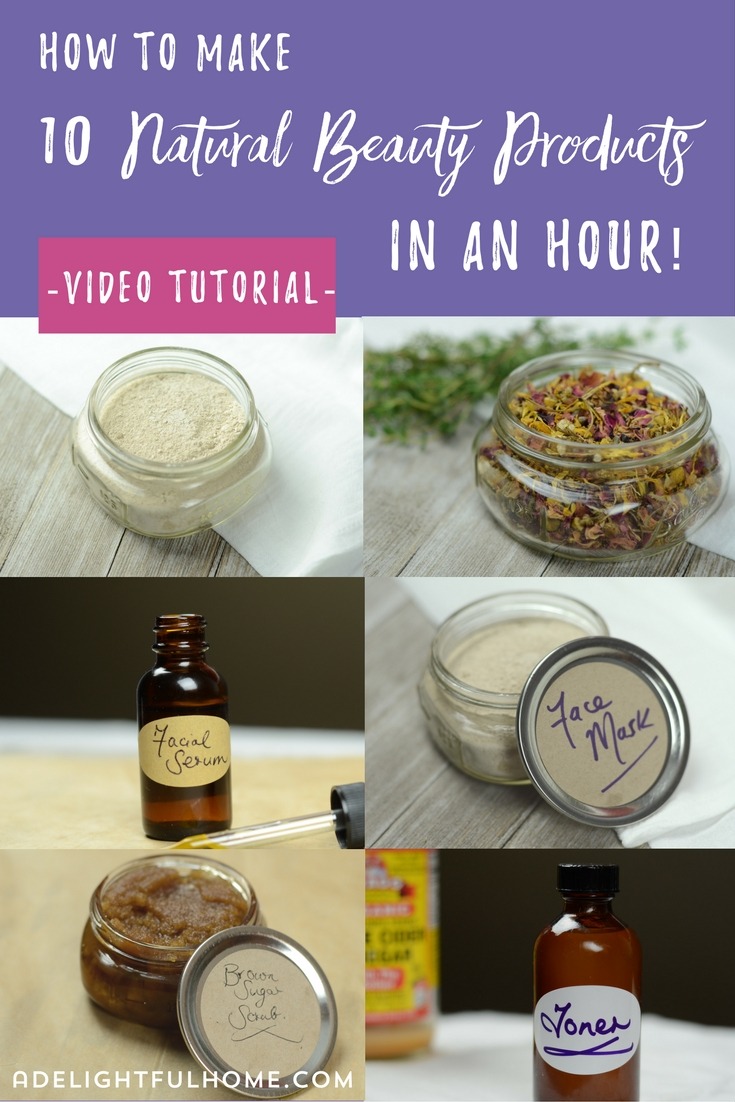 Need Supplies?
I get most of my herbs and butters from