This post may contain affiliate links which won't change your price but will share some commission.
If you've been interested in natural living for any length of time, you've probably considered switching to natural deodorant. You may have also heard that it can be a difficult switch to make.
Since transitioning from conventional deodorant to natural deodorant can be somewhat tricky, it's important to know why you are doing it.
It's pretty tough to do something difficult when we don't have a good enough reason, right?
Today we will discuss the top three reasons to make the switch and I'll share my best tips for making it easier.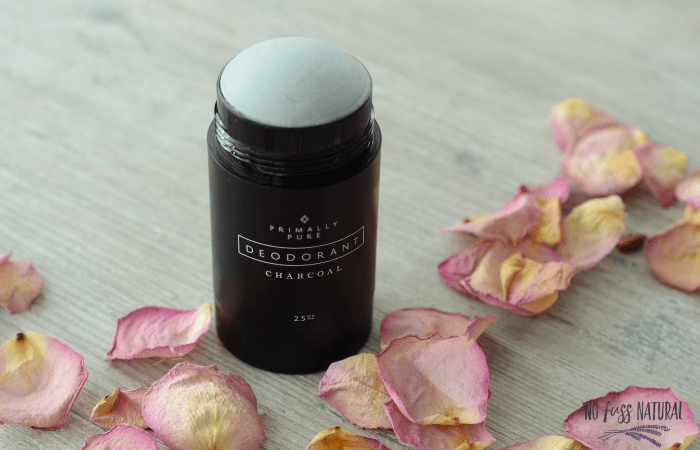 So, let's get right to it:
Why use natural deodorant?
You might be wondering, what is actually wrong with conventional drugstore deodorant? Can it be that bad?
These are important questions to answer in order to see if making the switch is truly worth the effort.
One of the biggest reasons to use natural deodorant is that it is one simple way you can reduce your exposure to toxic chemicals, therefore reducing your body burden.
Which chemicals are found in conventional deodorant?
According to Primally Pure, the following chemicals are readily found in many deodorants available today:
Aluminum – Linked to Alzheimer's disease and heavy metal toxicity
Parabens – Endocrine/hormone disruptors, found in 99% of breast cancer tissue sampled in this study
Propylene glycol – Classified as skin irritant by the EWG
Phthalates – Endocrine disruptors linked to permanent birth defects
Triclosan – Linked to liver toxicity and thyroid dysfunction
Formaldehyde contaminated synthetics – carcinogenic
Fragrance – Cocktail of chemicals creating skin sensitivities and irritations
One of the biggest offenders here is Aluminum. Besides the fact that it is linked to Alzheimer's disease and heavy metal toxicity, Aluminum blocks your pores to prevent sweat. This sounds good but actually interferes with the body's natural and necessary process for detoxification and overall health.
How to Choose a Natural Deodorant
When making the switch to natural deodorant, there are a few things to keep in mind. Sadly, it's not as simple as going to the store and buying the deodorant that says "organic" or "natural".
Many companies are extremely skilled at greenwashing. Their main goal is to trick you into thinking you are buying something natural when you're not.
You'll need to look beyond the claims on the label and check out the ingredients. Even if a product says it is "aluminum-free" it may contain other harmful ingredients.
Watch out for harmful ingredients such as:
Propylene Glycol
Fragrance
Benzyl Salicylate
Phthalates
Triclosan
Because it's difficult to memorize all of these ingredients and terms, I suggest looking up any deodorant you want to purchase on the EWG Skindeep database.
This will give you a good idea of how natural and non-toxic it truly is.
Try it out
The next step is to give a natural deodorant a trail run.
Funnily enough, because everyone's body chemistry is different, a deodorant works differently for each individual.
Deodorants will even smell different on different people.
That's why your friend can rave about how well one deodorant works, but you find it doesn't work at all.
Tips to make the transition easier
Keep the following in mind when making the switch easier.
#1 – Avoid irritation by using less baking soda
Baking soda is a wonderful ingredient for fighting odor but can cause irritation for some skin types.
While it's not necessary for most people to avoid baking soda completely, look for one formulated with a less.
I like Primally Pure's formulation and find it works beautifully without irritation.
#2 – Keep it clean
Since you'll likely sweat more, it's important to clean your armpits in order to avoid bacteria build-up (which can also cause irritation and odor).
Wash off with gentle soap and spritz with Primally Pure's Everything Spray to cleanse the area and calm inflammation.
#3 – Leave plenty of time after shaving before applying
Because shaving can cause tiny cuts in our armpits, it's important to leave ample time between shaving an applying deodorant.
Applying immediately can cause irritation.
#4 – Consider an Armpit Detox
An armpit detox may help the transition to natural deodorant go more smoothly.
An armpit detox is especially helpful if you are experiencing any irritation or unpleasant odor.
How to perform an armpit detox:
Mix 1 Tbsp bentonite clay, 1 tsp raw apple cider vinegar, and enough water to make a paste (about 1 tsp). Optional addition: 1 capsule activated charcoal.
Note: if you have sensitive skin, use water in place of the apple cider vinegar.
Place the clay (and charcoal, if using) in a small glass or ceramic bowl (do not use any metal) and add the apple cider vinegar and stir to combine.
Add water, a little at a time, until a spreadable, paste-like consistency is reached.
Apply the mixture to clean, dry armpits, in an even layer.
Warm off with warm water after about 10 minutes.
This armpit detox can be repeated as needed (even daily for up to two weeks as you transition to natural deodorant).
Note: wash off detox mixture immediately if you experience any discomfort.
Beautycounter's charcoal face mask works well for this too.
My Favorite Natural Deodorant (a natural deodorant that works!)
I've tried a lot of natural deodorants.
The number I've tried is up there with the number of natural shampoo's I've tested! It's a lot!
My hands-down favorite is Primally Pure's Charcoal Deodorant.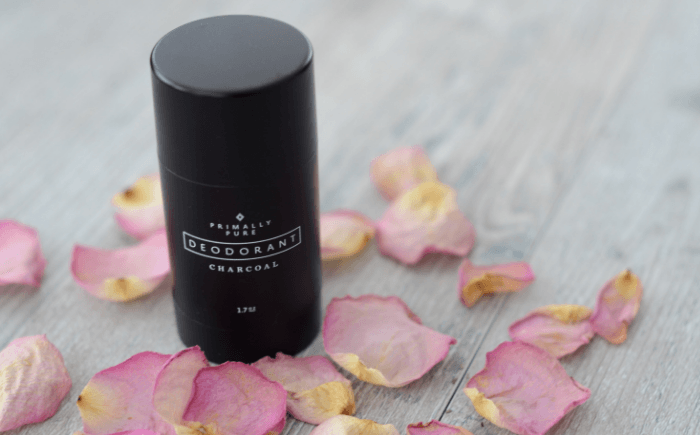 It's my husband's favorite as well.
Apparently, we aren't the only ones who love it; I just checked the product listing and it has 5 stars with 1008 reviews!
Primally Pure also carries deodorant in other scents, such as:
Geranium
Blue Tansy
Lavender
Lemongrass
Tea Tree
Unscented
Here's why I like it:
#1 – It contains a small amount of baking soda
As I mentioned earlier, baking soda can cause irritation for some, but it is also an excellent ingredient for fighting odor. Which is quite a conundrum for formulators, I'm sure.
However, Primally Pure has figured out the perfect balance of ingredients and has just the right amount of baking soda to combat odor.
It's also fortified with kaolin clay (a powerful detoxifier) and non-nano zinc oxide (soothes irritation).
I've experienced zero irritation with Primally Pure's Charcoal Deodorant.
#2 – Nourishing Natural Ingredients
Besides the odor-fighting baking soda, detoxifying kaolin clay, and soothing zinc oxide, this deodorant also includes grass-fed tallow, fair trade coconut oil, arrowroot powder, beeswax, and essential oils.
Activated coconut charcoal is another important part of the formula. It contains added detoxifying benefits while also deodorizing and disinfecting.
#3 – A light scent
I am extremely sensitive to smell, especially floral scents.
Even natural scents, like essential oils, can give me a headache. This issue has made a number of deodorants impossible for me to wear. Thankfully Primally Pure's Charcoal Deodorant scent is extremely light and not overpowering in the slightest.
It is scented with organic peppermint essential oil and eucalyptus essential oil. These blend beautifully together and make for a lovely, light scent.
I also enjoy that it is suitable for men and women. So anyone in my household will feel comfortable using it.
#4 – Goes on virtually clear and doesn't stain clothes
Natural deodorant (or conventional ones) that stain clothes are the worst! This one doesn't do that. Woo hoo!
#5 – It's made by a company I trust
As I've mentioned before, I think extremely highly of this company and love a number of their products (namely, the deodorant, cleansing oil, and dry shampoo).
Primally Pure makes effective products with minimal ingredients.
The founder, Bethany McDaniel, created these products because she wanted others to have skincare that actually works, yet doesn't damage health or well-being in the process.
She believes fewer is better when it comes to ingredients and strives to stay to this philosophy when formulating products. If you peruse their website, you'll notice Primally Pure products have few ingredients but are designed for maximum potency and effectiveness.
Everything is made with real ingredients that are recognizable. Your overall health is kept in mind, not just your skin.
Primally Pure Discount Code
Get 10% off Primally Pure with code NOFUSSNATURAL10.
Click here to take the deodorant quiz to find out which deodorant is right for you.