This post may contain affiliate links which won't change your price but will share some commission.
I hate to stress about chemicals flying around my kitchen; it is an extra thing to worry about and plain unnecessary.
Having my counter tops covered in chemicals and breathing in toxic fumes while I clean, is a long way from peace and joy for me.
Harsh, toxic chemicals can easily be avoided by making your own cleaners.  Don't roll your eyes at me.  I'm serious now.  It will take about the same time as it does to decide what to buy and throw it in the shopping cart.  Let me show you….
The recipe in the video above is one I use often.  The antibacterial and antiseptic properties of lavender and peppermint essential oils are utilized here, creating a pleasant smelling spray that has the power to kill germs and deodorize.  As you saw, it can be made in under a minute.
All-Purpose Disinfectant Spray

Adapted from the Fresh Disinfectant Deodorizer recipe in The Balanced Plate by Renee Loux.

What you need:

Spray bottle

¼ teaspoon lavender essential oil

¼ teaspoon peppermint essential oil

1 cup water

What to do:

Mix water and essential oils in a measuring cup.

Pour into spray bottle.

Screw on lid and start spraying!

It is also possible to pour the water directly into the spray bottle, then add the oils and shake to blend.

Keep out of eyes – the essential oils are very strong.

Option – sometimes I add a squirt of dish soap to the bottle for added cleaning power.

This recipe is intended to be a disinfectant and does not need to be wiped off.  However, I usually do since I use it to clean the counter tops.  But if using as a disinfectant only, then go ahead and leave it.  This works very well in the bathroom as well as the kitchen.
Pin this recipe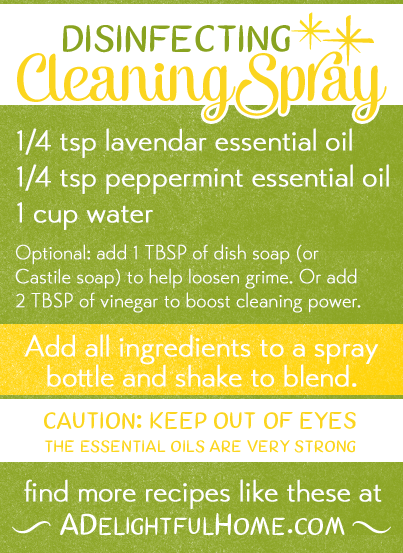 Another disinfecting spray I like to use comes from Karen Logan's book, Clean House Clean Planet
.  The superstar ingredient in this recipe is tea tree oil. I happen to like the smell, but be warned, it is very strong.  If you don't like tea tree, you won't like this one. If you do like it, then this should be a happy find.
Antiseptic Soap Spray

What you need:


3 Tablespoons liquid castile soap

Water

30 drops tea tree oil

16 ounce spray bottle

What to do:

Fill the spray bottle with water, leaving a little room at the top.  Add the liquid soap and tea tree oil.

Screw on the lid and shake to blend.

Use to disinfect door knobs, counter tops, toys, toilet bowls, and so on!

This is definitely a healthy alternative to Lysol!
I purchase most of my supplies from Mountain Rose Herbs. (And have for at least three years.)  They have an extensive selection of essential oils (as well as other products) of very high quality and reasonably priced.
Links to Mountain Rose Herbs are affiliate links.