This post may contain affiliate links which won't change your price but will share some commission.
Nothing works quite as well as tacking the word pizza onto the front of a meal to get kids excited. My 3.5 year old daughter is generally pretty good about eating what she is served, but, salad was one of the things that she struggled with, I think it was a combination of it being so different from other foods and the fact that it can be a bit unruly when trying to get it on a fork.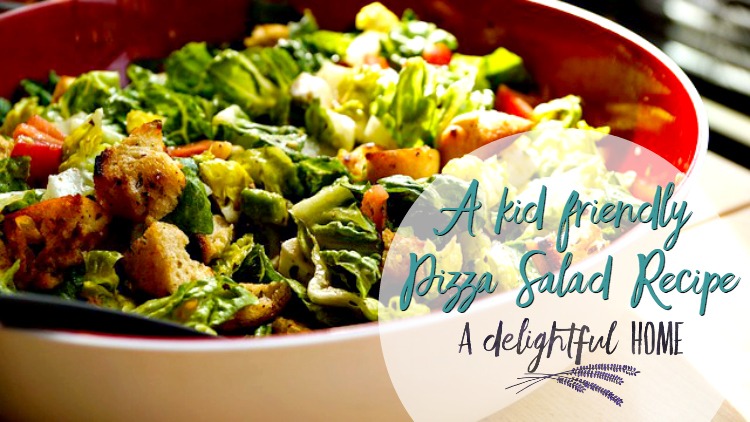 I decided to play around with the idea of salad and see if I could come up with something to get her interested. With that Pizza Salad was born…and I have to admit, it tastes a lot more like pizza than I thought it would!
For other salad recipe ideas take a look at Stacy's 25+ Summer Salad Recipes round-up post.
Pizza Salad Recipe
*This recipe is in 3 parts, the salad base, the dressing, and the optional (though I think they really make it) garlic bread croutons.
Salad Base:
2 cups Spinach
2 cups Salad greens (whatever you like)
1 Bell pepper
1 cup of Cherry tomatoes
½ cup Black olives
½ cup Button mushrooms
Nitrate-free pepperoni (optional)
Shredded mozzarella cheese
Shred spinach and salad greens finely, smaller than you would normally when making salad. I know that sounds strange but it makes it much easier for kids to eat and I found that to be really important for my daughter.
Chop (again smaller than usual) the rest of the veggies and toss in with the greens.
Top with a handful of chopped pepperoni and shredded cheese.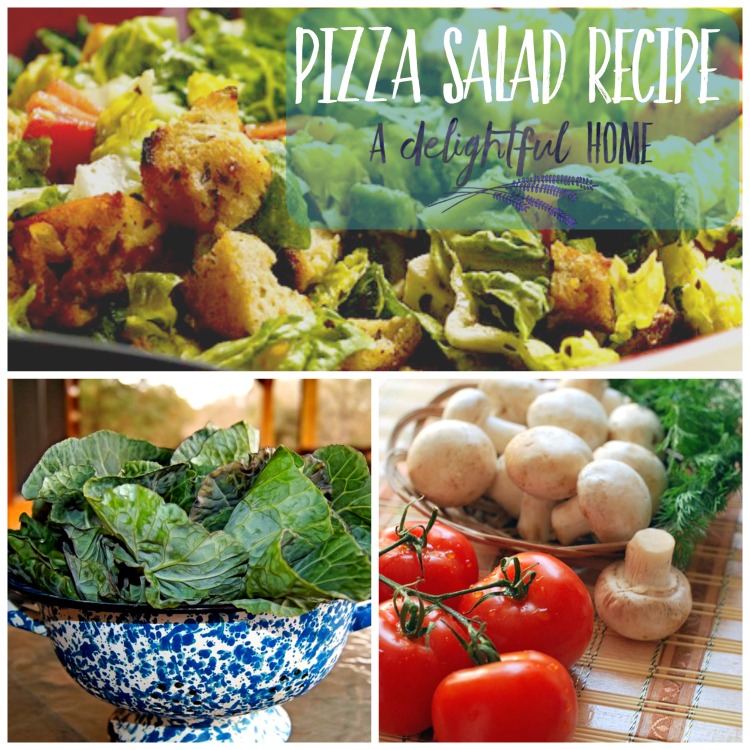 Dressing:
2 Tbs Honey
½ cup Olive oil
½ cup Apple cider vinegar
1 tsp Oregano
1 tsp Basil
1 tsp Dehydrated garlic
½ tsp Dehydrated onion
1/8 tsp Crushed red pepper
Layer olive oil, water and vinegar in a jar.
Add seasonings (the crushed red pepper is optional but we like the little kick it gives)
Put the lid on tightly (ask me why I say tightly…) and shake. I usually have my daughter do this part as she loves to help.
Garlic Bread Croutons
1/2 loaf of Crusty bread or pretty much anything you have laying around
4 Tbs Butter
2 Cloves crushed garlic
½ tsp Oregano
½ tsp Basil
Lay slices of bread flat on a baking pan
Melt butter and mix in garlic and herbs
Spread on top of bread and broil until crispy
When they cool a bit, break them into small crouton like bits.
Put it all together and you have salad that is just enough like pizza to make the kids happy!  I'd love to know what how it goes over with your kids and also if you have any other tricks to getting kids to try new foods.
You May Also Enjoy